Testimonial
Below you will find several testimonials from some of the past guests of HORSE AND SOUL CONNECTIONS.
Our hope is that these testimonials will convey a sense of the experience for participants that come here.
"It was a very special experience for me"
The place is paradise. Masha, Mark and Rita are just wonderful. People really feel the love for nature and horses.

I have a horse myself and am also out and about with my horse, coaching for mindfulness. It was a very special experience for me how the horses accepted me and how I was allowed to be with them. It opened my heart and caressed my soul.

Thank you for this great feeling.

Katrin

September 4, 2023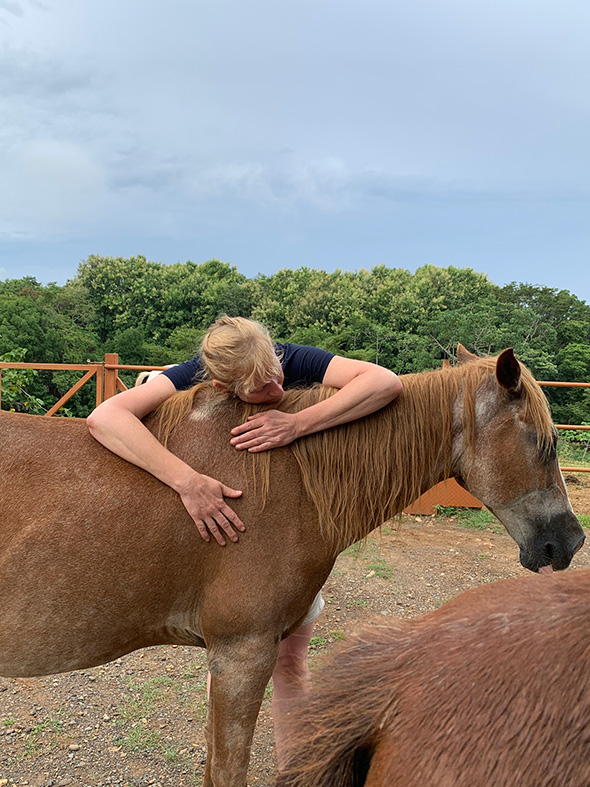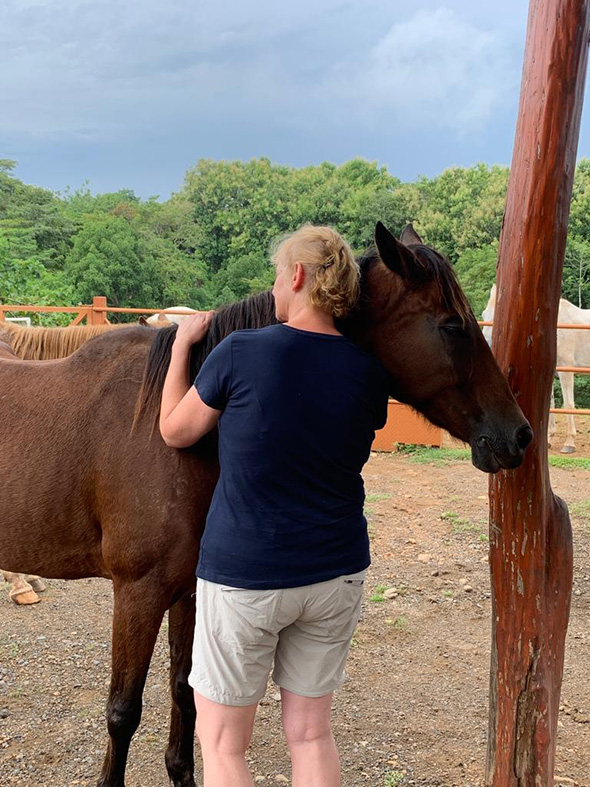 "I don't think I can adequately describe the depth and beauty of my experience"
I love writing and words but I don't think I can adequately describe the depth and beauty of my experience with these horses. It was definitely something beyond words. These horses are healers. They are not ridden and they're free to be there or not, to participate or not. It's at Finca Sweet Prince, the home of a wonderful couple Mark and Marsha who created Horse and Soul Connections with lovely Rita assisting. They offer horse healing and it is nothing short of magical. All I can say is that I didn't expect to have full blown conversations with the horses, and I definitely didn't expect to be invited to go flying with them! (In a shamanic way.) I was able to communicate with them telepathically very easily. They're always fully present and real, and they are teachers and healers if you listen and allow. I sat with Prince, the alpha male, nose to nose, circular breathing, I inhaled his exhale and vice versa for ages. I have never breathed so deeply (and I teach breathing exercises in yoga daily). He took me into a trance. Then he and Daisy, his girlfriend horse, literally invited me to go flying with them. I know, I realize this sounds ridiculous to some, but it's what happened. So we flew, free. They were teaching me about freedom, and how limitless we are when we allow ourselves to be. Tears flowed. Then I got onto a massage table. Prince & Daisy stood by my head holding the space, continuing to communicate with me, as gorgeous Rainbow scanned my body and rested her muzzle on my leg, sending me healing. I felt so held, loved & understood. It was quite extraordinary and I am forever grateful to those incredible horses for allowing me into their world so generously. I communicated to Rainbow that it must be hard having her mum gone, and she replied "I still visit her often." 💗 It was an utterly unique and unforgettable experience. I can't recommend it enough. Thank you Mark and Marsha for creating something so special, and Rita for your presence and guidance too. 🙏💗🐴

Jacqueline

January 2023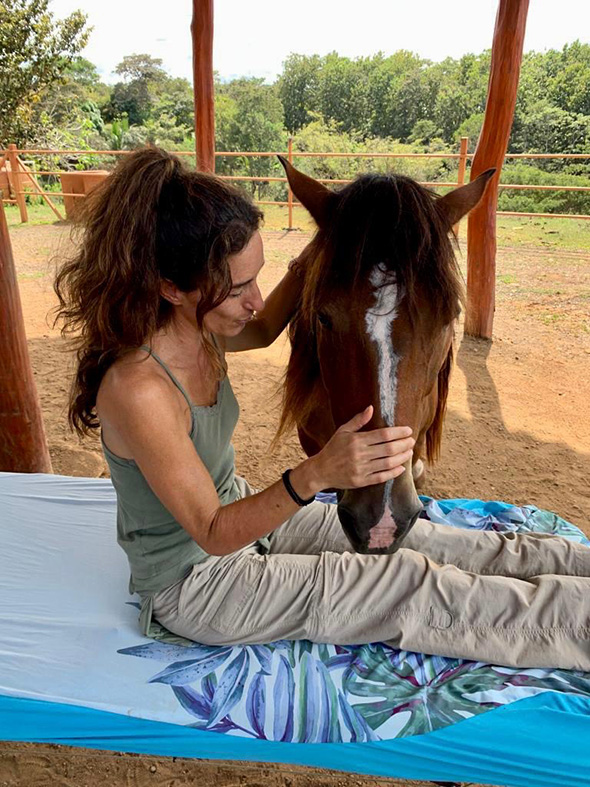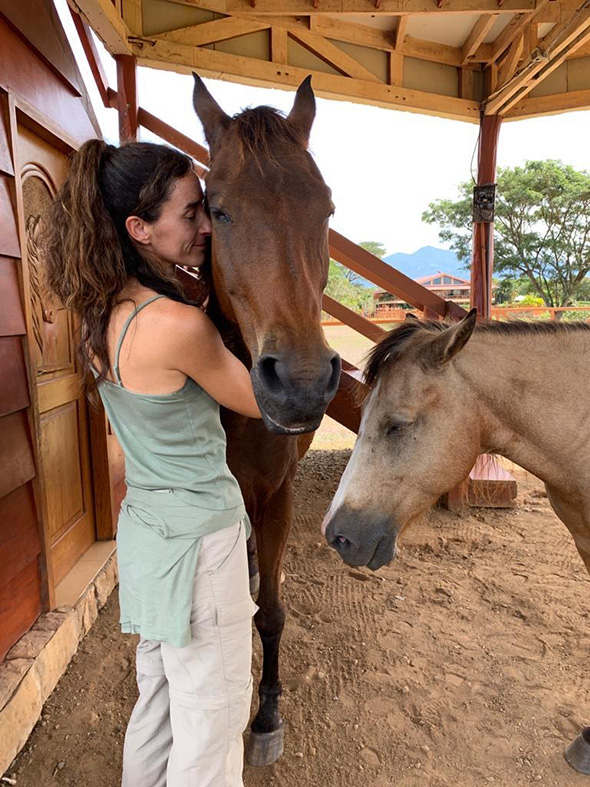 "The horses were beyond special... a big part of my life journey"
I highly recommend the Equine Experience at the Finca Sweet Prince. I had a truly amazing and impactful experience with the guidance of Marsha, Mark and Rita and their beautiful stable of horses. The Finca is a magical place where I had a once-in-a-lifetime experience with the counselors and the beautiful and loving horses. I will never forget my time with Prince, Daisy, Sammy, Sunshine, Rainbow and Chocolate. The horses were beyond special to me and I consider them a big part of my life journey. The experience completely exceeded my expectations and my connection to the horses was very special. While it is hard to describe what you can/will expect, I can say that this Equine Experience is beyond special and one that you would want to experience if you want to learn more about unconditional love, want to understand yourself better and continue to learn. What a great and special place. Take a chance on this special experience in Costa Rica. I'll hold my Finca Sweet Prince memories for the rest of my life. Forever grateful!

Mathias

January 4, 2023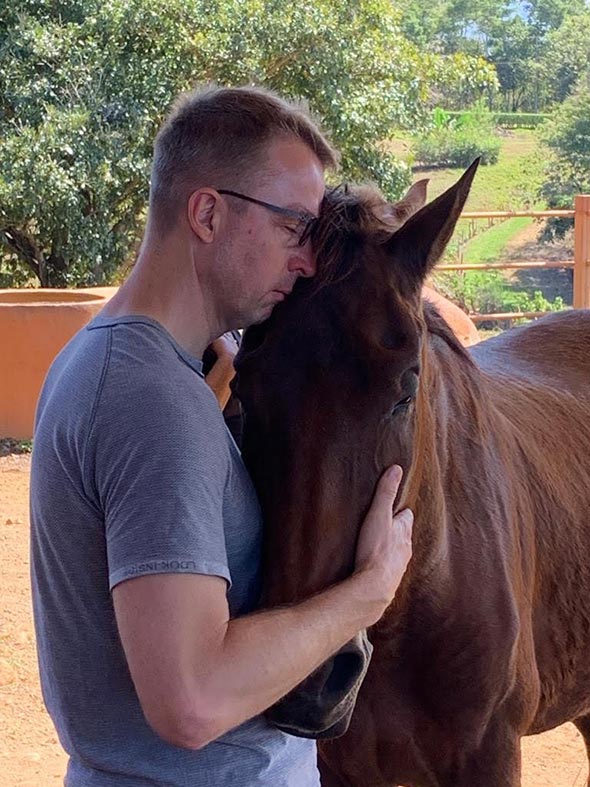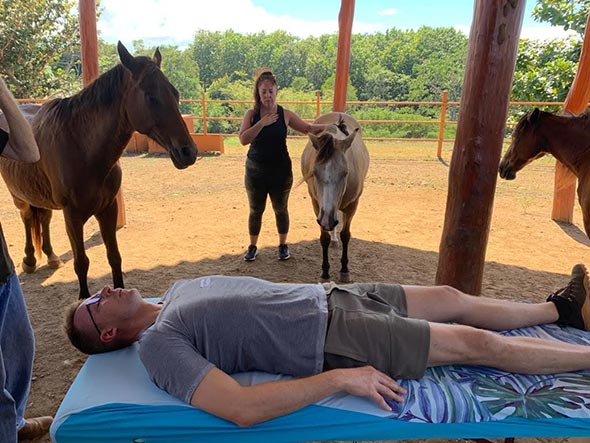 "It is a must, must experience to lighten your soul"
For a truly special experience, this place will deliver above and beyond. Magical, you are completely absorbed by the property, Mark, Marsha, Rita, and the main attraction and talent, the horses. I was transported to the present moment with such grace and love on this ranch. It is a must, must experience to lighten your soul, discover your being and connect. Once you visit it is abundantly clear that the humans and horses work together in harmony to make you feel at home and loved!

Suzanne Youngquist

January 4, 2023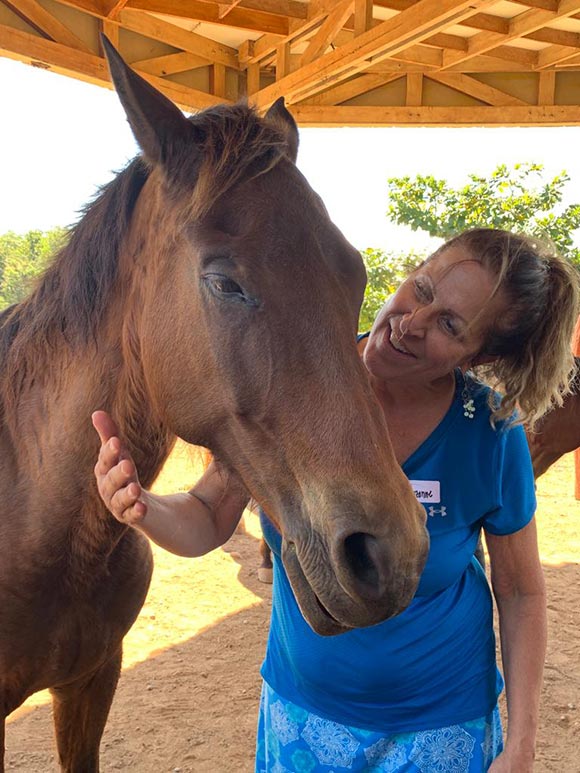 "I will carry this experience with me"
Thank you!

I definitely recommend this experience to everyone! These beautiful creatures have so much to teach us and I was so thankful to be in their presence and learn so much from Mark, Marsha and Rita. I will carry this experience with me and just thinking about it brings me back to that sense of calm and peacefulness. We really have so much to learn from these amazing animals who are full of unconditional love and wisdom.

Leanne - Jaco, Costa Rica

October 8, 2022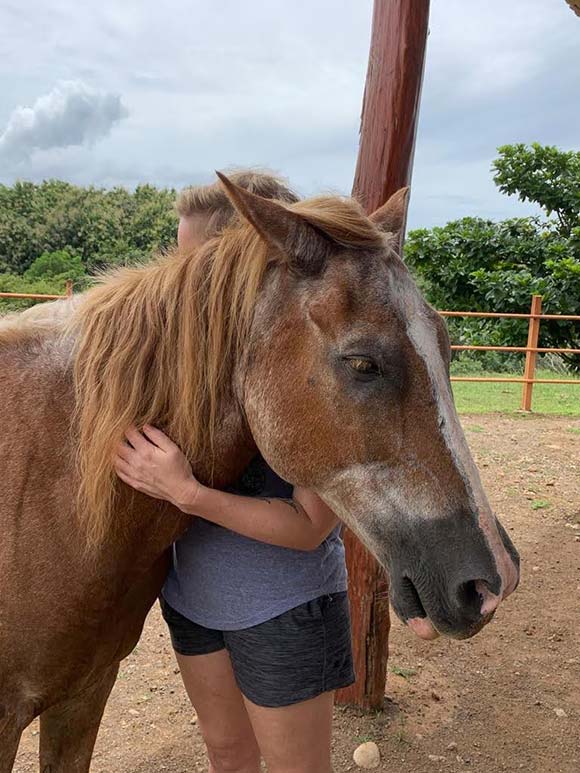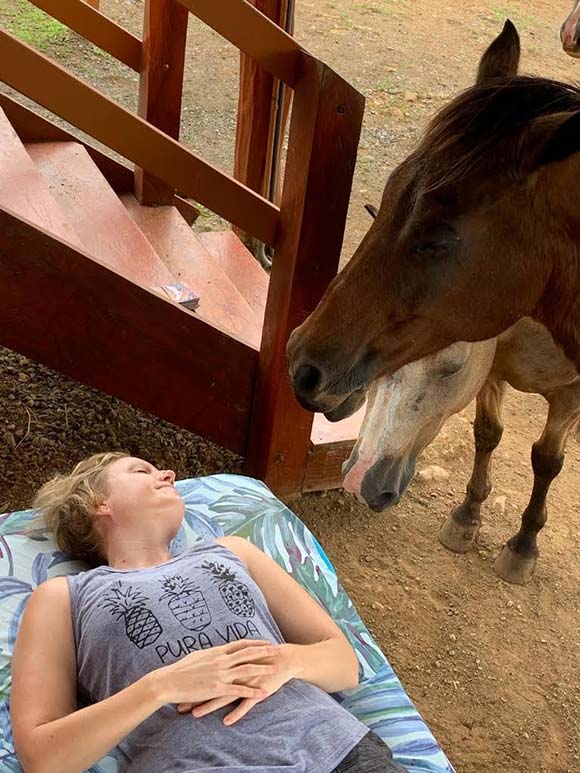 "A most beautiful and moving experience"
A most beautiful and moving experience at Mark and Marsha Friedman's equine therapy center in Garabito, Costa Rica. The gentle beauty of the horses coupled with Mark and Marsha's informative and clear introduction into the philosophy behind the equine experience made for a memorable day, Highly recommended.

Rose and Michele Capasso - New Jersey

August 2022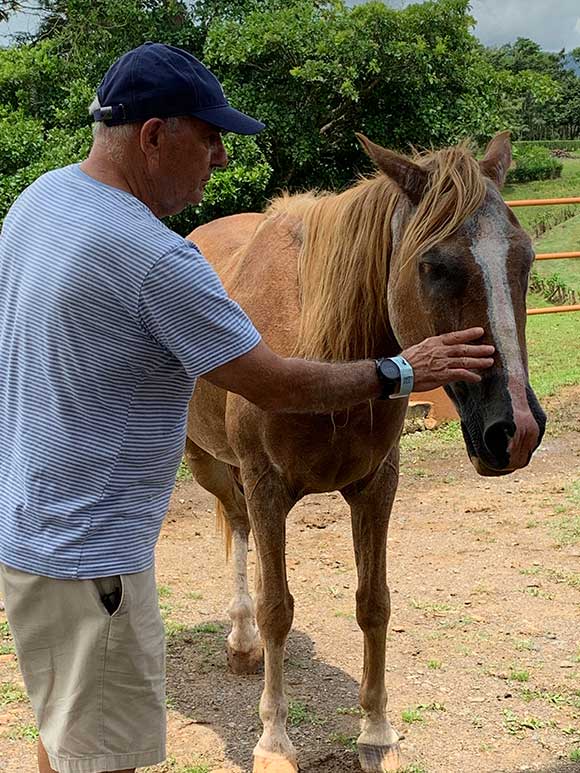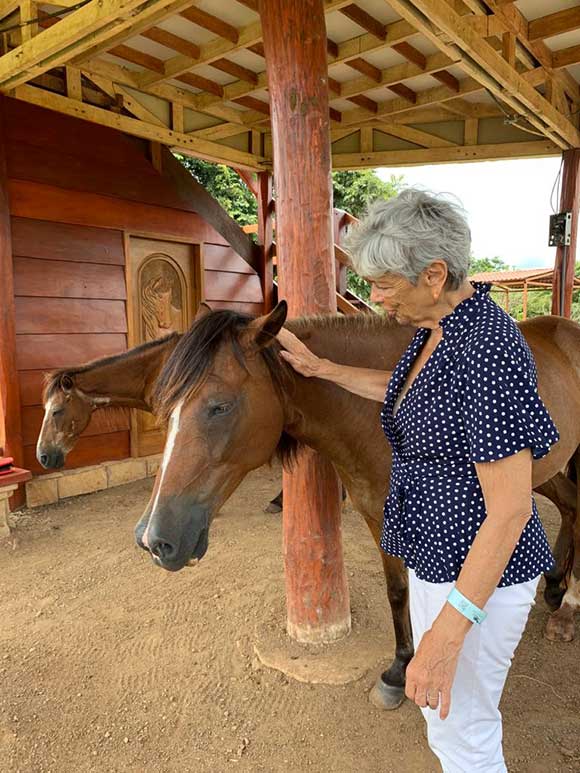 "What a once in a lifetime experience!"
What a once in a lifetime experience! Since returning from Costa Rica, I have shared this experience with quite a few friends and each time I get emotional because I can't believe the love and trust that I now understand with these beautiful creatures. The whole day was spent allowing us to gain trust with these gentle giants all the while not realizing the healing process that I was receiving and experiencing. Whenever my day starts to get stressful I recall my time spent with "Prince," and I feel better instantly. Thank you for teaching me the spiritual connection of these amazing animals.

Sonya T. - California

June 2022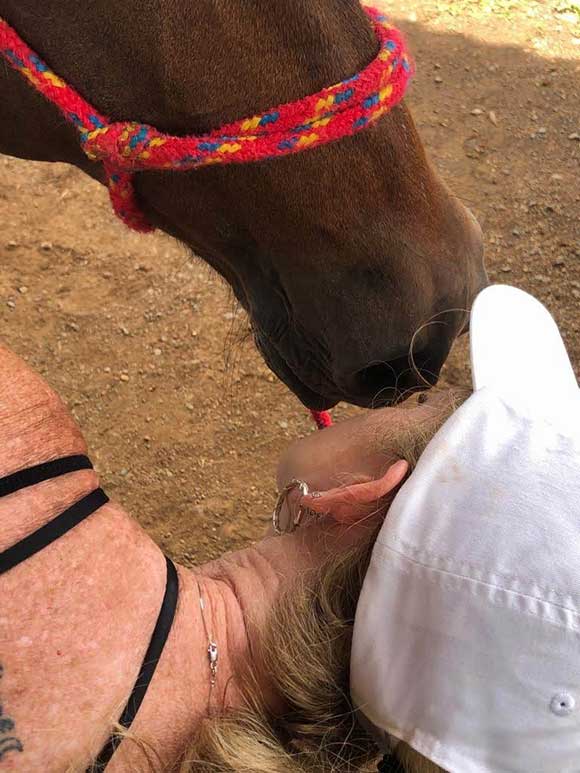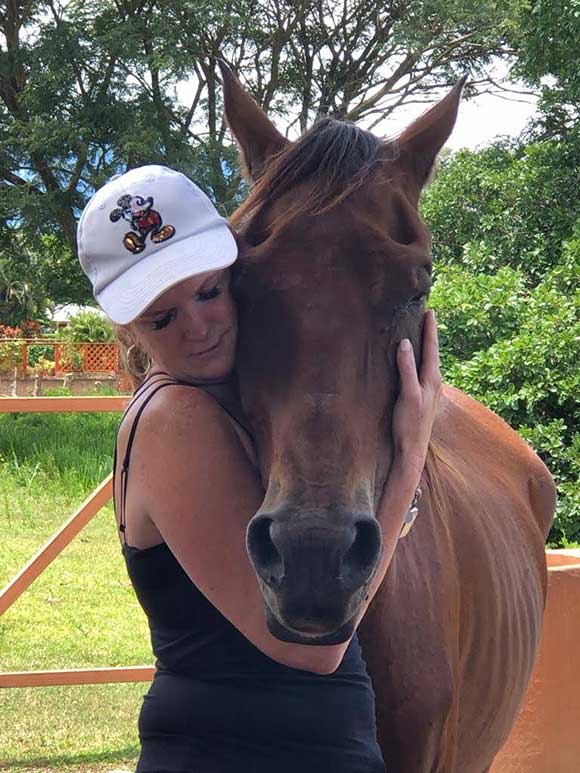 "I highly recommend the experience for anyone"
My wife Erin and I were visiting Costa Rica during a challenging time for both of us. After spending time with the horses, I can safely say Erin and I left feeling less burdened by the challenges we were experiencing in our lives. Rita and Marsha were great guides and hosts. They were patient and spent time helping us understand the purpose and the philosophy behind their style of equine therapy. I highly recommend the experience for anyone but especially for folks going through or recovering from a difficult time in their lives. Trust me, the experience will help.

Erik and Erin - Washington DC

June 2022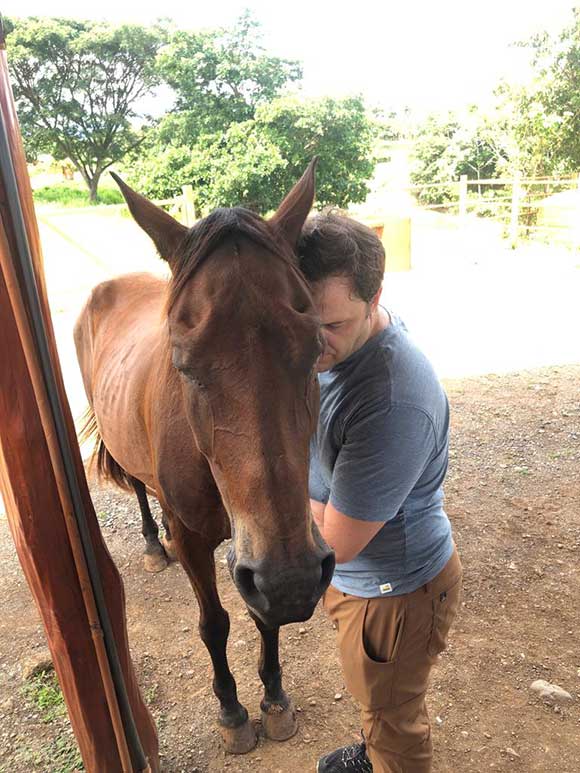 "A healing mirror of my heart and hurt"
The visit was healing and calming while at the same time revealing of what I hold and carry in my emotions and inner life. We were warmly welcomed by Marsha, Mark, and Rita and immediately sensed the connected space we were part of. A thoughtful talking session about the horses while enjoying the Pacific breeze and beautiful scenery set the tone for a gentle and healing experience meeting and connecting with the horses. In presence with their strong peaceful energy, I became acutely aware of the feelings that felt different than peaceful. This revealed emotions and heaviness I hadn't perceived before. The easy harmony of the herd are still with me as a gift and place of solace when I want to center on presence and love.

Ana

April 8, 2022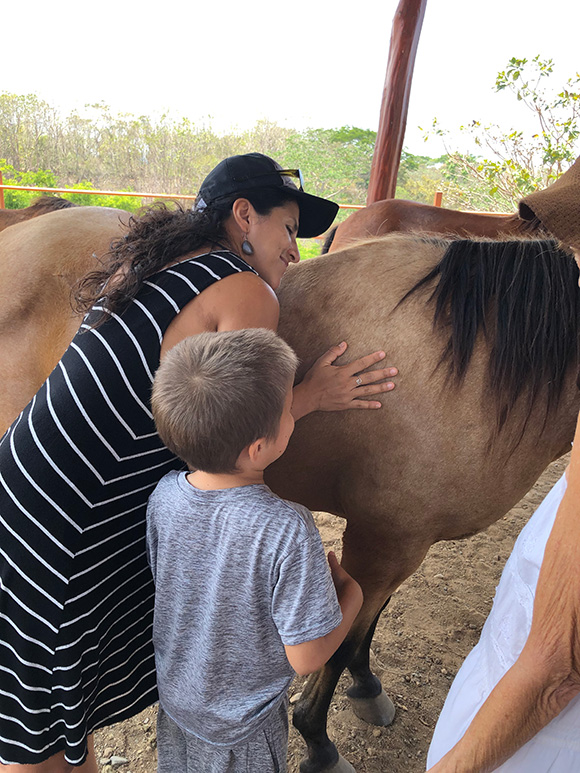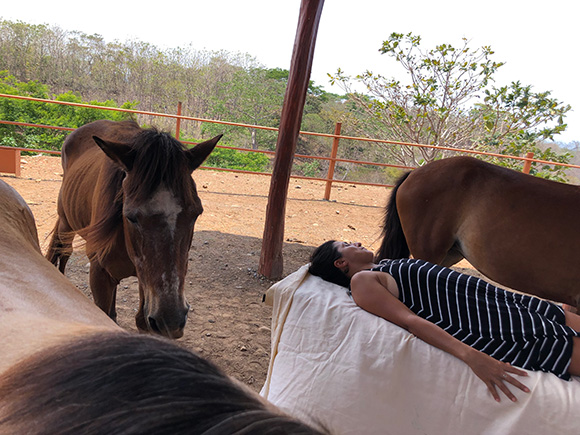 "FEEL THE MAGIC FOR YOURSELF"
Do yourself a favor and take a day off from the sun, sand and surf of the beach to play with horses. Take a short road trip to the Tarcoles area and experience Horse Connections Costa Rica. Spend an amazing time learning about the horses and their magical healing abilities and then feel the magic for yourself. You chose whether to spend a half day or full day hanging with these amazing creatures doing what they love!

Pura Vida

PS Prince is my fav! 😉

Todd

December 28, 2021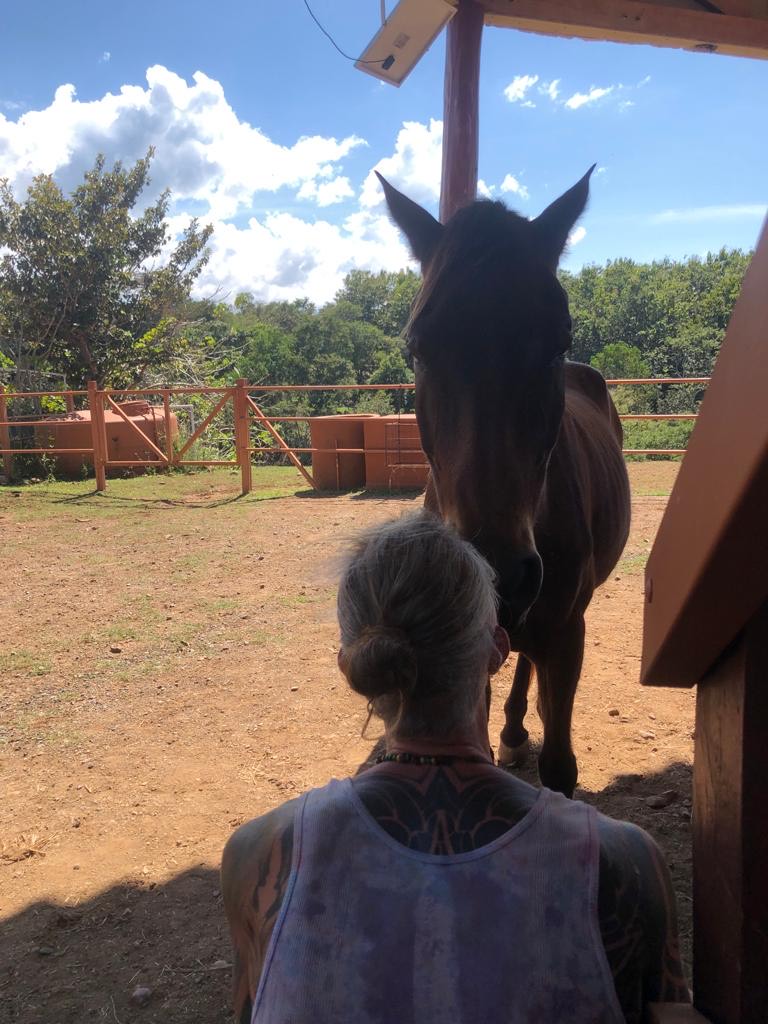 "Complete Peace and Harmony"
My experience with the horses was magical. Their quiet, silence, and stillness felt like a continuous meditation, so relaxing. I received very subtle affirmations. Not only were my dad and grandfather's spirits invited to join me, but I was given messages of peace... that all of my hard work, efforts, challenges and prayers in my life, were well meant, and that my growth from those lessons in my life... have manifested into a reward of complete peace and harmony.

That was my magical gift with the horses..... complete peace and harmony.

Thank you and Mark for doing what you do and for having these beautiful beings there for people like me. Much love and blessings...until next time

Lynnie March 2020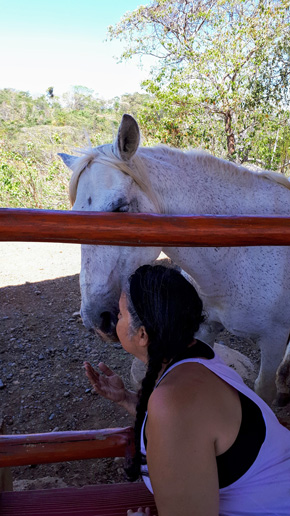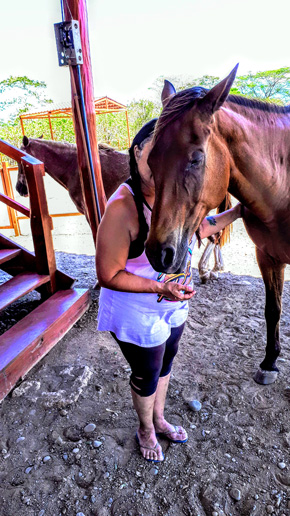 "I Didn't Ever Want to Leave."
Marsha

Thank you for sharing your beautiful soul and those of your sweet horses. What a pleasure to be so close and personal with them and to share their healing love. I didn't ever want to leave. I do so appreciate your standing in strength as I had my little breakdown.

The card, Underbelly, that Cici chose for me is so perfect for the work I am doing now in A Course in Miracles which leads to love after healing those wounded and defensive parts of myself. Those parts that want to separate me from others when I judge others. My spiritual trip to Costa Rica keeps affirming my work is where I need to be.

Thank you again.

With warmest regards, love and peace to you.

From my heart to yours,

Mary Anne Clark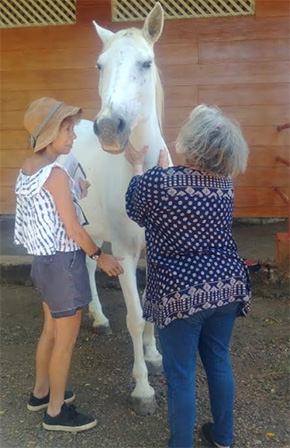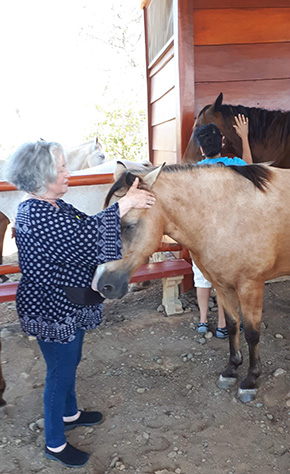 "Enlightenment...healing of a special kind"
It had been a grueling year. I needed to get away, to the water. There's nothing like watching the sun set, the sound of the ocean, splashing in the waves and offering up prayers to the 'Angels of the Waves' to soothe my soul, clear my mind. I was more than ready to unburden, retain what's good, let go and let God. Inspiration, clarity of purpose was my destination.

One of the things about life that I cherish is witnessing a prayer being answered in the most unexpected wondrous ways. Little did I know that a chance meeting with Marsha and Mark Friedman would lead to a life altering experience that is still influencing my life today, positively so.

Marsha and Mark, spiritual guardians, introduced me to their healing horses. We had an early start. I joined two other new friends, seekers for what most certainly felt like an adventure that beckoned us all. As we wound our way through the roads of Jaco, Costa Rica heading to the Sweet Prince Ranch, I stilled my mind. I banished expectation, the world as I knew it and opened my book to a new chapter. I could feel a shift in my consciousness as we approached.

What lied in wait was a tumbling of emotions spilling out of me as the eyes and calm demeanor of the horses healed my soul. I felt a bit apprehensive at first as this was my first encounter with horses so up close and personal. However Marsha, Mark, and Rita were present interpreting and guiding. There was nothing to fear. In an uncanny way collectively these royal horses, spiritual warriors brought forth an energy that was transformative, magical. I left feeling whole, realigned mind, body and spirit.

Sharon Rose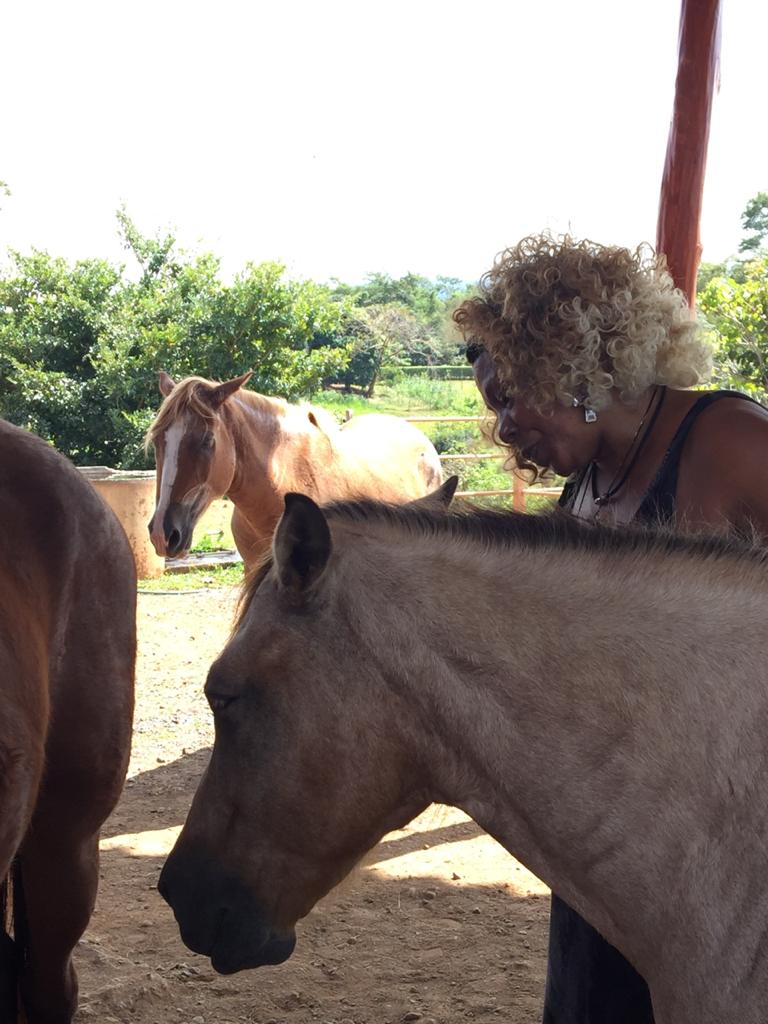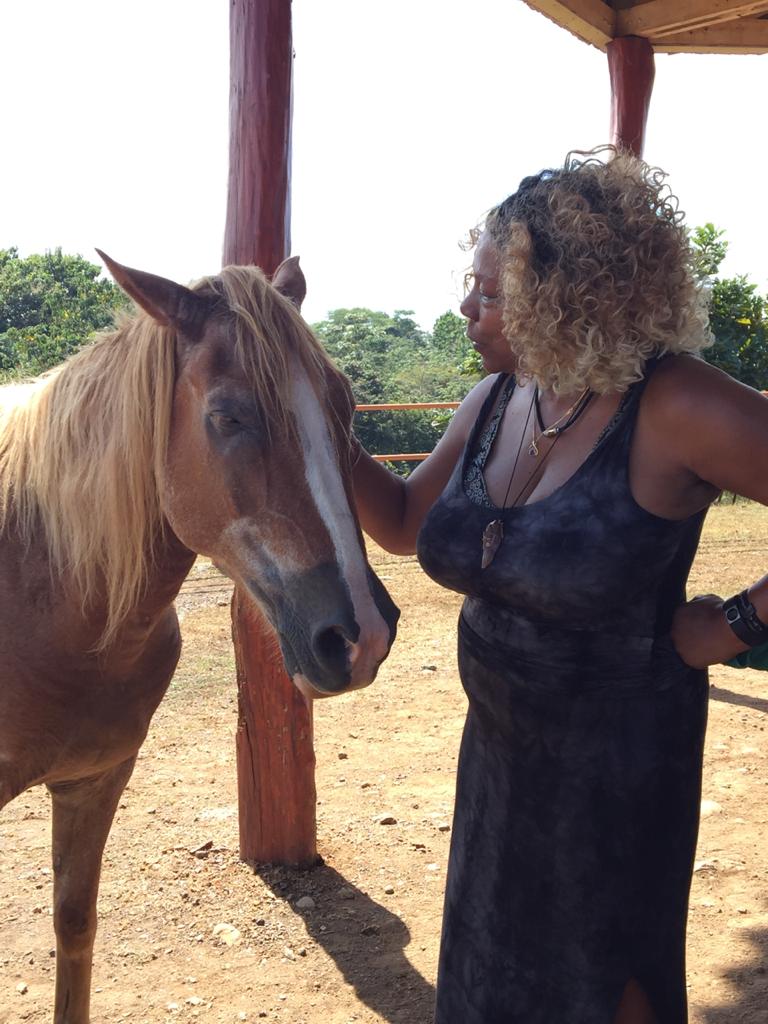 "My Soul and Heart are Full of the Horses"
I woke this morning feeling absolutely amazing!! Actually got 3 compliments from different people. I feel light! A weight has been lifted from my body.

My soul and heart are full of the horses!!

I can invision them and hear their thoughts! So magical!

Thank You.

I cannot express how I amazing I feel!

Much Love to You All!

Bonita

November 2019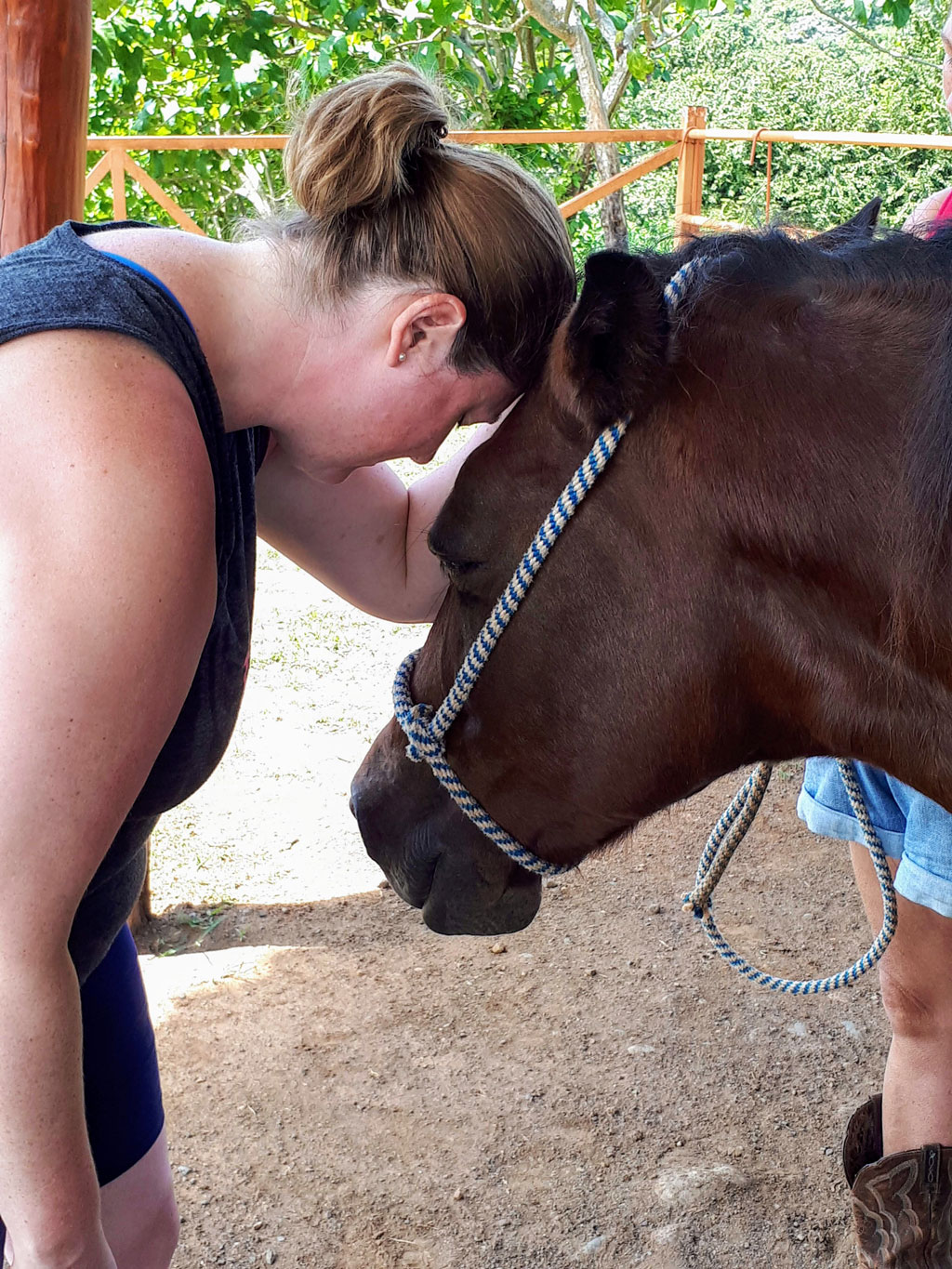 "Today was magical!"
Thank you for everything

Xoxo Caroline

November 2019
"I left the ranch feeling like i could float away"
I am so grateful for my time spent at the Ranch. As soon as I pulled up, I could feel that something was about to move, the Earth was going to shake. I booked a trip to Costa Rica 9 days before my departure with nothing in mind and nothing planned. I just knew that there was something there waiting for me to download. I was at the middle of a crossroads and in search of some silence for answers. When I saw the Equine Experience, I was intrigued and open to the possibility that I may get some insight here. Right away Marsha and Mark made me and my friend (who I had met the day before) very comfortable!

They took us to the beautiful pagoda with some blueberry tea and spoke a bit about what we may experience. When the horses galloped their way up the hill to greet us I was overwhelmed. I made my way over to Sugar and Rainbow and was gently petting them, when all of a sudden Daisy comes charging at Rainbow and nips her right on the butt. Sugar came to Rainbows rescue by nipping her right back, but Daisy took that as an opportunity to nudge me in her direction. I've never seen an animal so intensely trying to grab my attention... I spent the next probably 40 minutes with Daisy (although I had no concept of time) and she just rested her forehead against mine for a while. I couldn't help but cry. I'm wasnt sure what about. I since have an idea but I think it was even more. But something released and opened in me that day. When i came into the experience all I wanted was to feel lighter, less stuck in the mud, more free. And I left that ranch feeling like I could float away.

Thank you so much for the space and this mode of healing ♥️ So much love to Marsha, Mark and these amazing beings

Brynne

September 2019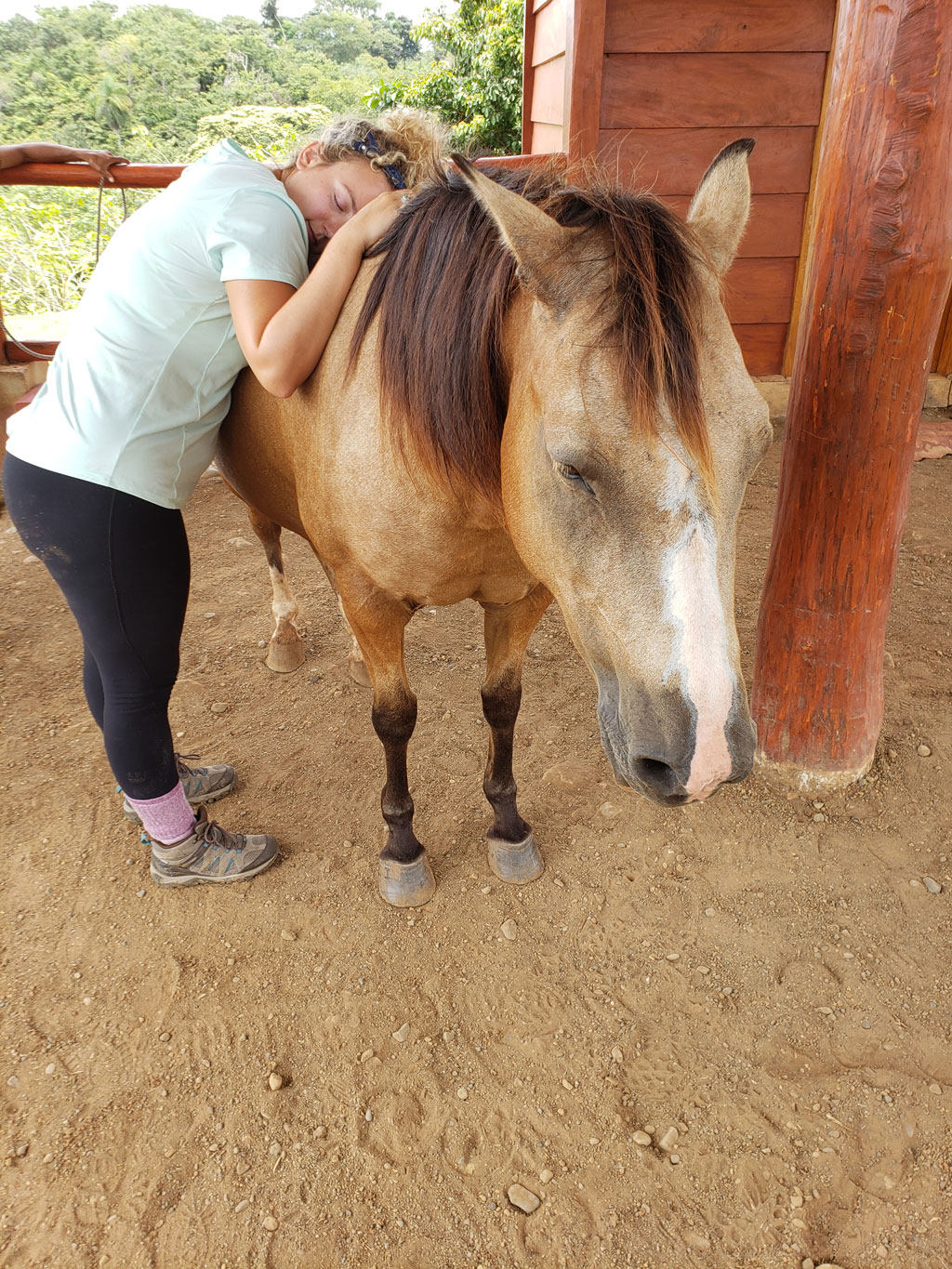 "IT JUST GETS BETTER EVERY TIME"
The moment you drive onto Finca Sweet Prince you feel the peacefulness of these horses. The first breath you take when you get out of your vehicle fills you with an energy that is so empowering, you feel like nothing can harm you here. I have been here many times and it just gets better every time! Marsha and Mark welcome you so lovingly it's like coming home. It never ceases to amaze me how easily the horses welcome us into their herd and how they know who needs what and from which horse.

Thank you Sammy for helping me release the guilt I felt over running out of my dad's hospital room in denial of who was in there. I am forgiven.

The mother/daughter team, Sugar Plum and Rainbow provided so much support and comfort that I was able to come to the realization that there were deep feelings of abandonment that I had suppressed for 40 years which they helped me release while also comforting me over the guilt I felt over my inability to be there for my daughter when she needed me most. Crying on Sugar Plum's shoulder as Rainbow rubbed my back with her muzzle allowed me to let it all go and find love for myself. Thank you both so very much!

And finally, Captain, my Captain! My soulmate, my rock and my unicorn! I hadn't expected to be with you during this session but the others all knew you were the one I needed to go through the spiral with. Thank you for the love and compassion you always show me and for helping me let go of the self-doubt. No words can express the love and gratitude I feel for you!

I LOVE YOU!

Rita

Aug 2019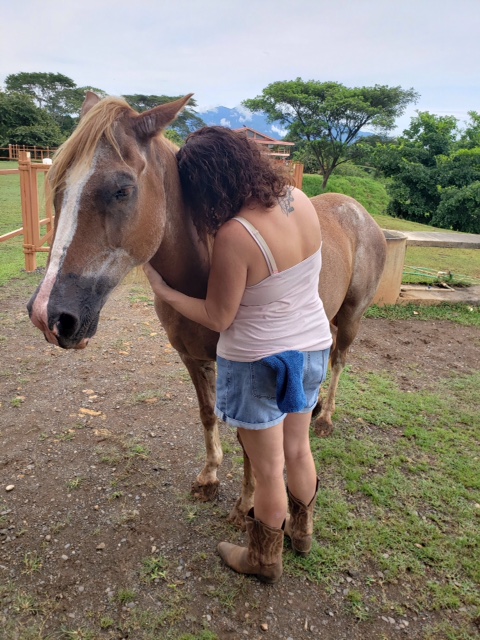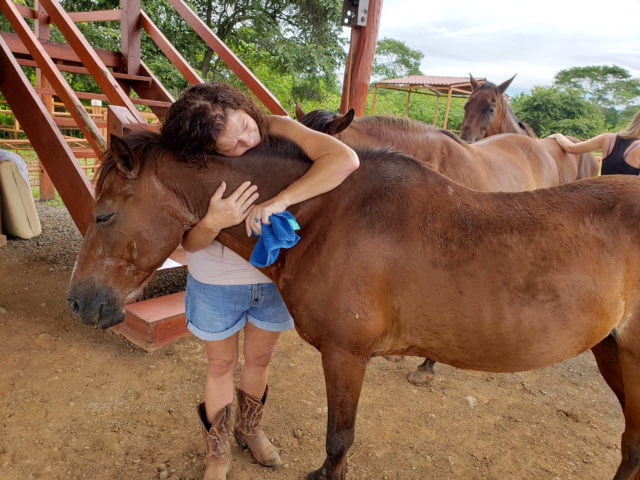 "ONE of a KIND EXPERIENCE"
Horse healing with Mark and Marsha and their beautiful herd was the most incredible, weight lifting, life-changing, one of a kind experience I could have asked for. They take the time to get to know you, make you feel most welcome, and the horses will give you exactly what you need. Unconditional love, as though time stands still, you will feel yourself heal from whatever ails you. As an animal lover myself, you know that these horses are happy, healthy, well loved and well taken care of. In return they will take care of you, just as Mark and Marsha do! I cried, I laughed, I was changed for the better. I even got a horse kiss! You must experience this for yourself because it truly is unexplainable how amazing it is! It was meant to be.

Thank you again for every thing and do keep in touch. I am so glad we met! Meant to be!

Much love and good vibes ( and kisses and smooshes to all the horsies! )

Becca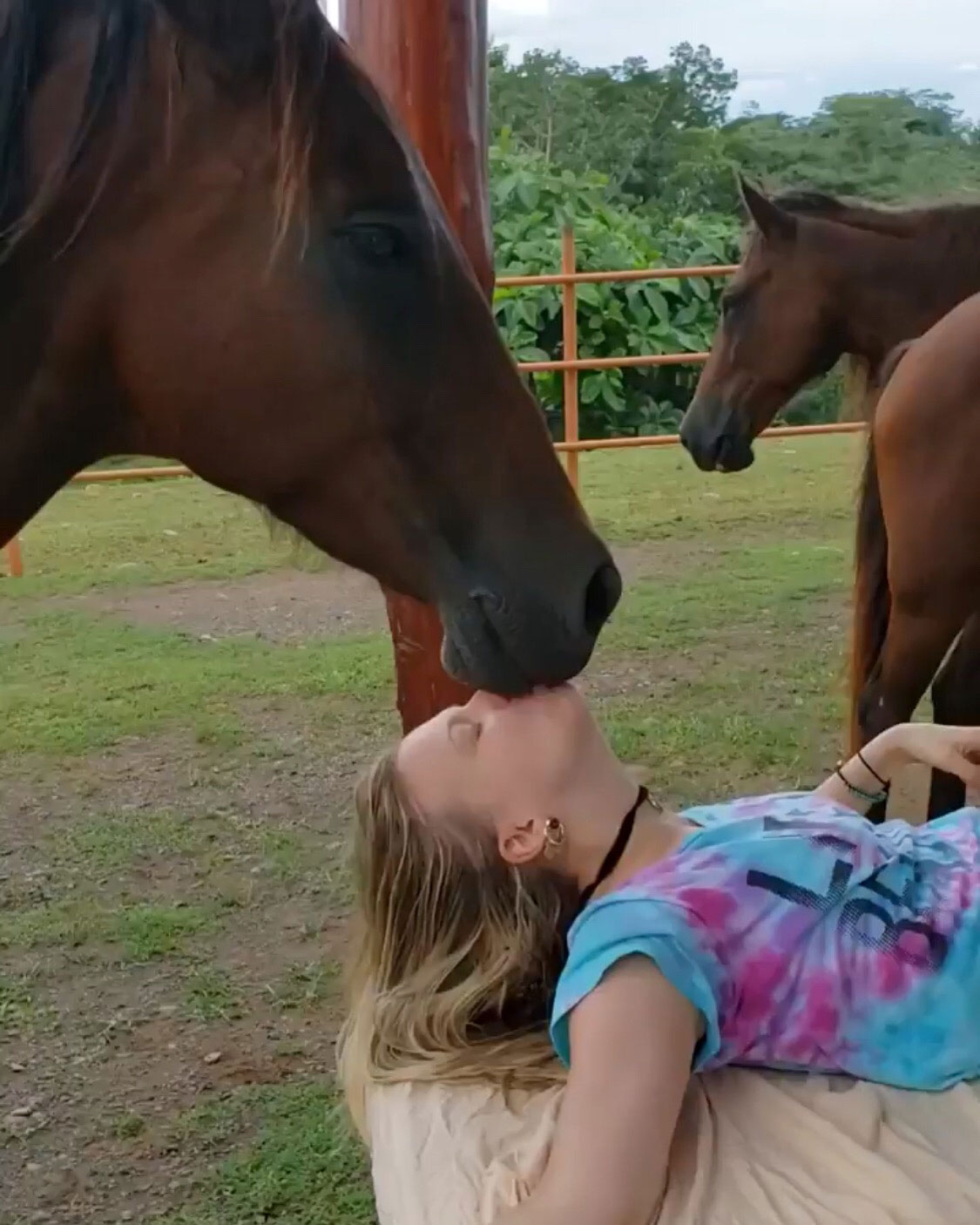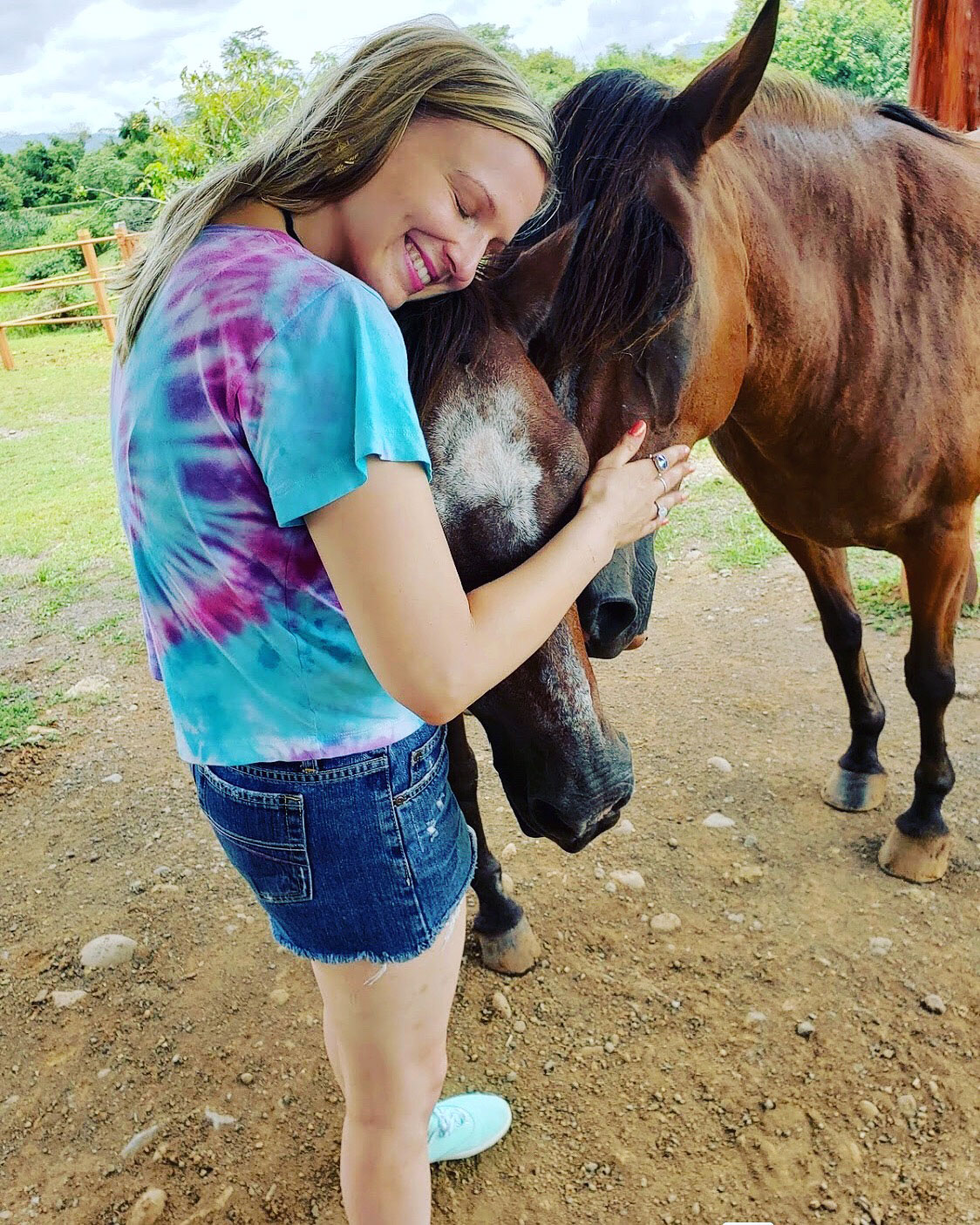 "This Must be the Secret Power of Those Who Love Unconditionally"
If someone told you with absolute certainty that there are experiences in life in which our heart can physically expand, and gave you an opportunity to confirm it, would you take it? When I met these horses I stood by this truth. Without doubt, we have the power to allow ourselves the possibility of loving bigger, greater and better!!

When Mark and Marsha put me in front of their herd of six horses the first thing I felt was this sensation of being completely naked, followed by a sense of urgency, the immediate need to cover myself up, quickly, they can see me! But wait, I don't mind being seen, I enjoy the attention, why does this recognition feel so different?

Sooner than I expected I was brought into a space of being loved for whom I was, in my most raw form. A simple human, standing in front of them, with nothing to offer but my limitless-self. They expected nothing of me and before I knew I had surrendered to a new form of being.

Everything I had built to become a "good" person, fell apart as if I had been born again into just energy, into a new form of concsiousness and that was enough for them to choose to accept me. But wait! You don't need to see my life CV? It's pretty badass if you ask me. I have degrees, stamped passports and possesions which I can impress you with. I have meditated and searched for god. Surely you think I am a special spiritual being with so much to offer. Society has told me these things define me and make me worthy as a person.

My dear equine friends, in my next visit, could you teach me to connect with others, the way you have with me? In this unique and safe space you offer I heal through your simplicity, through your presence, and through your love. I can see the light you found and I become perfect and infinite just the way I am. This must be the secret power of those who love unconditionally,.. right?

I say : lets give it a chance........hoping you will agree with me on this one.

Tanya

May 2019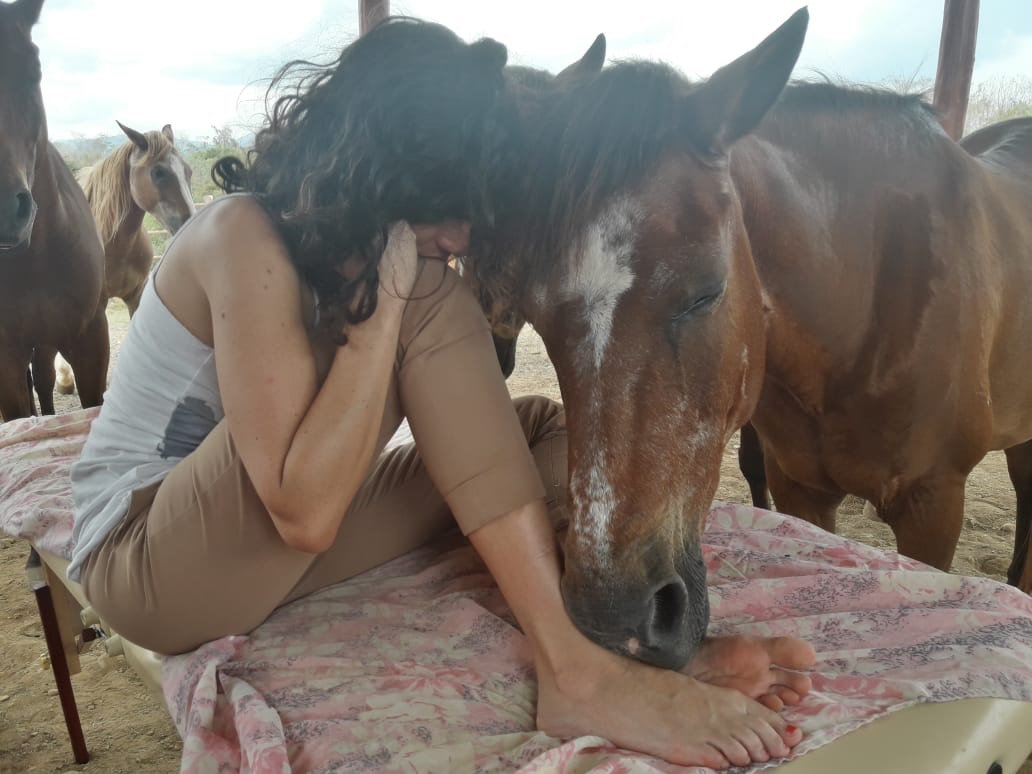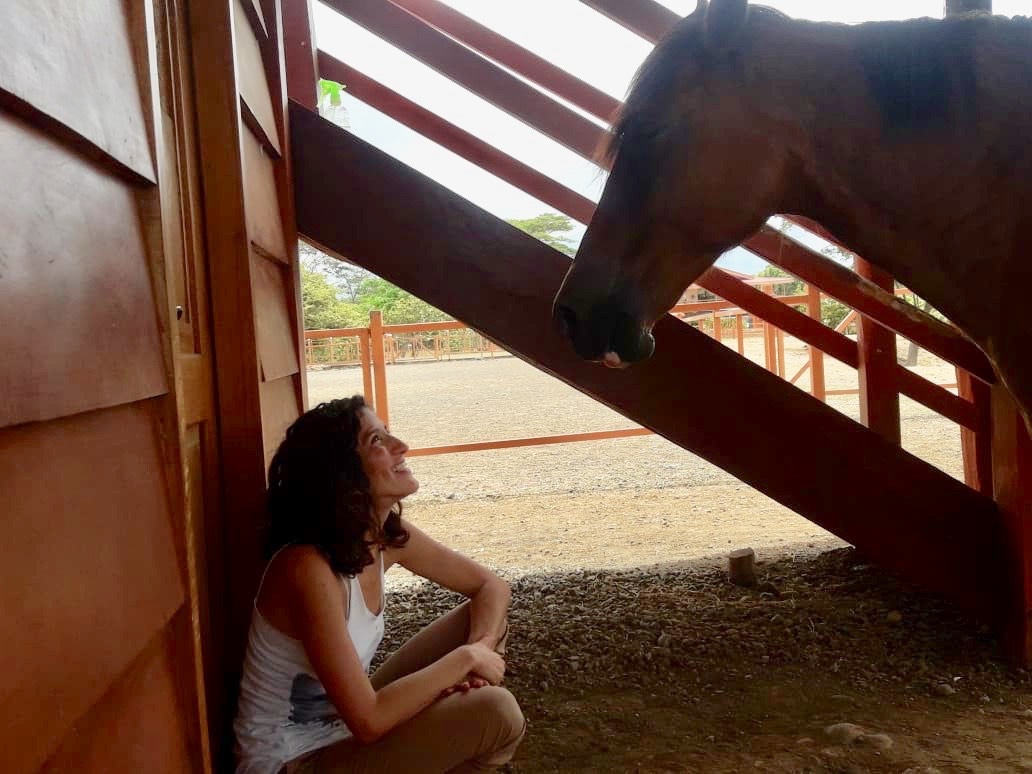 "Marsha and Mark, Namaste. Your HORSE AND SOUL CONNECTION is the balm."
I had decided that when I booked a session to hang out with horses that I would have an open mind. I believe only an open-hearted person would even consider chatting with a horse or any animal for that matter, so it was my ego centered mind that had to be quieted my heart was all in.
The ride to meet my horse messengers was an adventure that deserve its own testimonial.
The long and short of it is that I would take that ride a thousand times to be in the
company of those magical, magnificent horses. I encourage anyone taking the ride to your oasis to enjoy the ride especially if they're not driving it's well worth it
Once I arrived at HORSE & SOUL CONNECTION I knew it was going to be an
exceptional experience. The property is beautiful. The land and structures are integrated and meld. The house is welcoming, elegant, spacious and emanate love and joy. I relaxed. I knew the worse that was going to happen after meeting you, Marsha and Mark was being loved to death. Y'all have a passion and love for what y'all share through your horses. It was evident from the moment I arrived until the moment I left.
After introductions, formalities attended to and information about exactly what to expect, I was biting at the bit (couldn't help myself) to meet the horses.
Euphoric loosely describes the feeling I felt when I walked into the herd of horses. Sugar Plum, Prince, Rainbow, Sammy, Sunshine and Daisy. They ceased being a herd and became a CIRCLE of love to me. I felt their separateness but it was overshadowed by the oneness and integration of their collective energy. The strength of their cohesiveness pulled and reassured me that no matter which one I convened with it would be like convening with all of them. There was no rushing, crowding or jockeying for my attention. There seem to be a quiet acknowledgment that I was there but it was up to me to make the first move.
From my first step into the circle until my last one I was accepted, led, educated, loved,
reminded, chastised, comforted, reassured, counseled, and breathed nostril to nostril by the exceptional circle of horses I spent half a day with.
By the conclusion of the time I spent with your beloved circle of horses I was happily
satiated, filled and enchanted. I experienced unexpected healing in my heart in regards
to my son's death thank you Sunshine, insight about issues I was ambiguous about thank you Prince, confirmation that I was to continue to trust the process thank you Sammy, know your purpose and live it thank you Daisy, you can never get or give too much love, thank you Rainbow, enjoy life all is well thank you Sugar Plum.
I was gently pushed, nudged, followed, and allowed to lean against the circle as I became part of the circle. I left feeling complete and transformed by the experience.
The horses willingness to communicate with me heart to heart was a gift. The connection heart, horse and soul are part of me now. I feel their hearts beat one with mine when I think of them. What joy to carry this circle of love inside of me, forever. I'm grateful.
Thank you again Marsha and Mark for creating such a loving, healing environment. I look forward to my next visit.

Thank you Sunshine, Prince, Sugar Plum, Daisy, Rainbow and Sammy for saying YES!!

From my heart to yours, love
AMAZON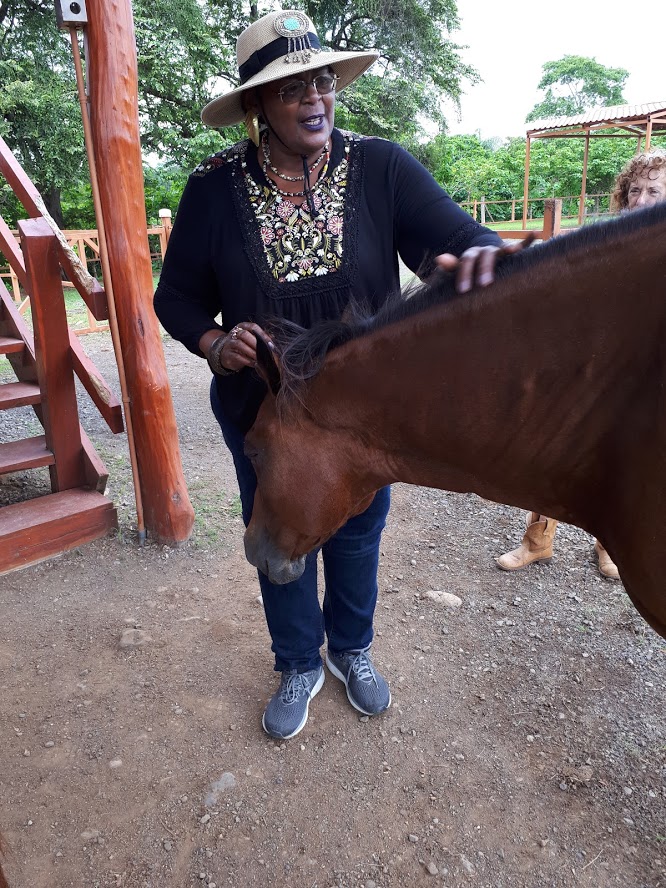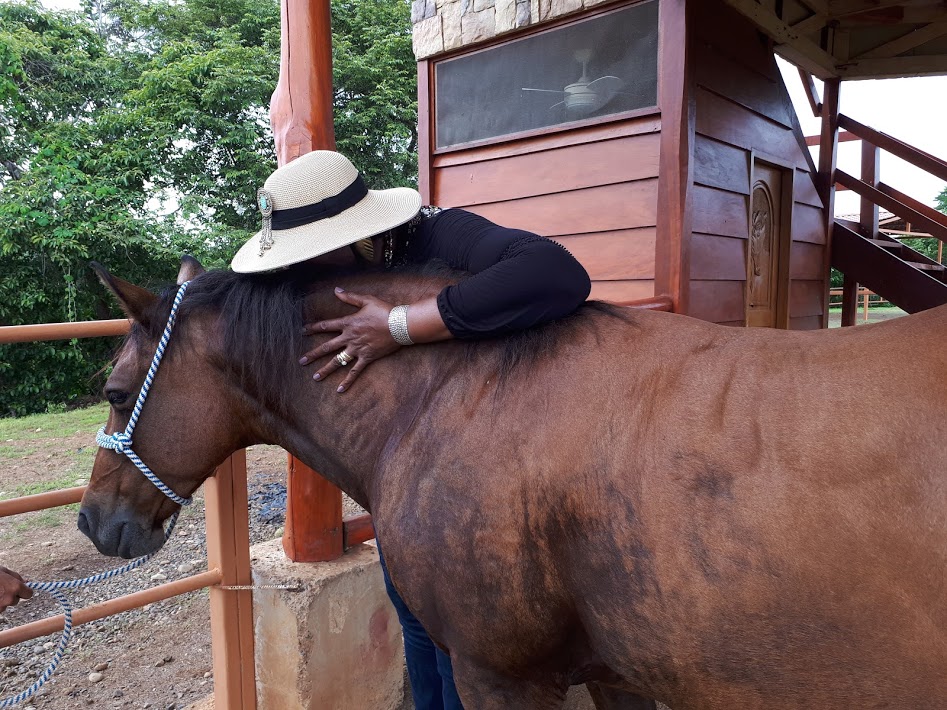 "HORSE & SOUL IS WORTH THE TRIP"
You know those people you meet for the first time but it feels like you've known them forever...that's how I'm going to introduce my new friends Rita Rempel and Marsha and Mark Friedman. They were the greatest hosts and their horses are powerful healers. Anyone looking for healing with horses experience should plan a trip near to Jaco, Costa Rica. Horse and Soul is worth the trip! Thank you for an amazing experience!
Loads of love and thank yous!

"My encounter with the horses"
My encounter with the horses at Horse and Soul Connection was truly life altering as it
paved the way for some self-realizations that were a long time in coming for me.
These began with a complete physical softening and relaxation of my heart. As an
empathic person, I feel the energy of people and their emotions as physical sensations
within my heart –which never gets a complete rest – even during meditation. By holding
a palpable vibration of unconditional love, the herd at Horse & Soul Connection enabled
even the smallest residue of heart stress to melt away.
We humans are rarely, if ever, capable of generating a space of total, unconditional love
so it's likely that we don't have the experience of being in our bodies without any source
of internal or external energetic stress. I now know what a truly peaceful heart feels
like, and what feeling to come back to when stress is starting to build.
The magical healing space created by the herd and their loving caretakers, Marsha and
Mark, also allowed me to see myself from an unobstructed perspective, revealing
aspects of my growth and awareness that I could not see before.
What can I tell you except COME. Let the incredible healing power of these horses
reveal who you really are. You may be lovingly surprised by what you discover about
you.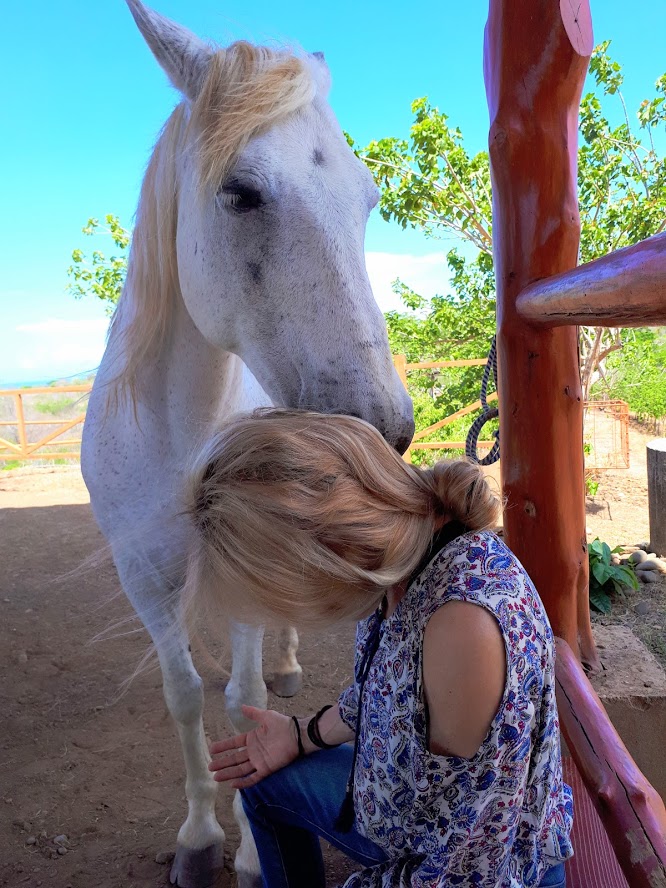 "LOOKING AT LIFE THROUGH A NEW SET OF GLASSES"
My recent time spent with Marsha, Mark and the Healing Angels ( horses), was one of the greatest life changing experiences I have ever experienced. From the moment I arrived, I felt an environment of safety, without judgment or criticism, but only of warmth, safety and the encouragement to be myself, to talk about whatever I needed too and to be open to whatever was going to occur. Because of the love given to me by the human's and horses, oh those horses and their healing powers, I feel transformed, rejuvenated and able to see life through a " New Set Of Glasses".!! I am and shall always be eternally grateful...
Thank You Laurie May 2019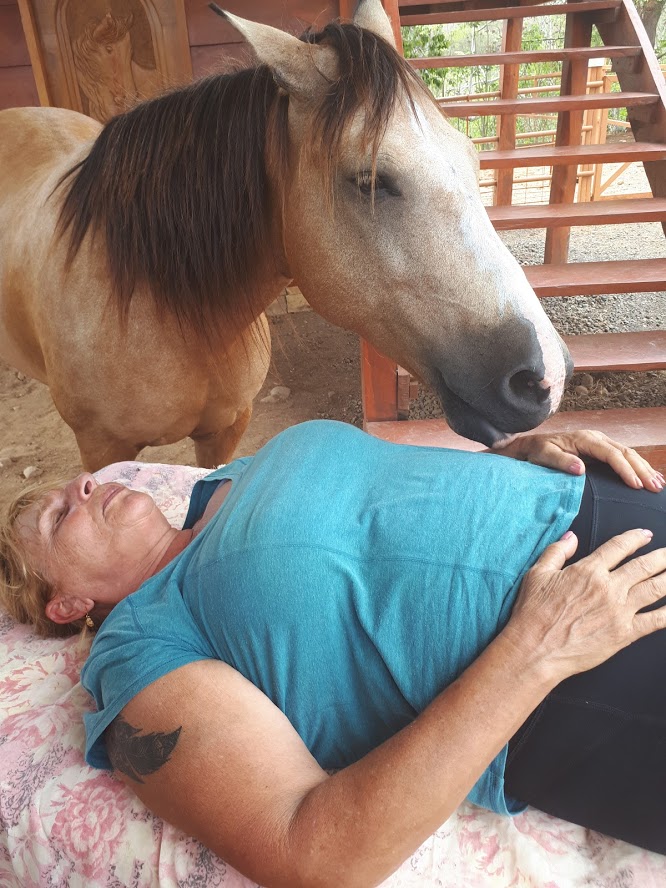 "I TRUST THE HORSES"
I am so grateful to have had the time with you and your herd... I feel so much lighter today and have a new direction to walk. Prince was so strong with his message for me to let go and trust the love they hold. My head still believes it is the director and I am not worthy, however my intuition is stepping in. Rainbow emphatically spoke about getting out of my head when she rattled the table above my head. The feeling I have of Prince and the rest holding space and telling me quite emphatically that I am OK and on the right path. I trust the horses.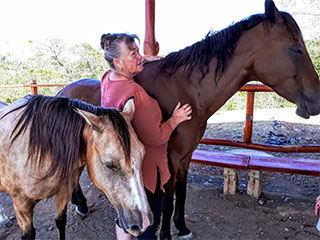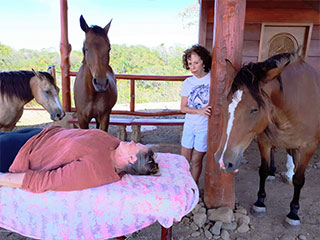 "THEY KNOW WHAT WE NEED"
When I heard about this St. Louis couple with therapy horses just down the road from me I did some research and spoke with a neighbor and friend, Rita, about it. I literally had goosebumps...but I am a born skeptic trained in Human Medicine.
Rita shared some actual experiences and I was one of those people that silently said, "whatever!" but then just had to try it. Cathy, my girlfriend and I have both been through too much with ex-spouses and we both have difficult sons. That is what I "asked" the horses to help me with. Give me the strength to get her out of my head forever and to accept Travis my son for who he is. I also asked to have closure with my Mom. I never got to say goodbye to her when she passed at 94 and it hurts every day.
The next day I had to attend an HOA meeting and the chairs were painful so I got up and stood against the wall. When I stood, I noticed something was very different...
Marsha and Mark did explain that the horses have an ability to move "energy" around and get rid of much of the negative energy. Yea...and they CAN!
That difference when I stood was that nowhere did my spine hurt. During the pre-session where Mark & Marsha discussed what was going to happen I had to lay on the floor because my spine was on fire. I even wondered if it would be best to do this another day. No...Let's do this.
It's been four days now and I feel 95% better and can do anything now. I look forward to the next weeks and months just to see what other changes occur in my life. It remains to be seen what will happen with the other three things I asked for. I never asked them to focus on my back. That would be...crazy!
When we return for another session with the herd of six, I will just let them do what they were put on this planet for. They know what we need and we always need something. When I told some friends about Prince they immediately wanted an explanation. I said sure...right after you explain to me how your computer works!!
George & Cathy Jaco,Costa Rica
February 2019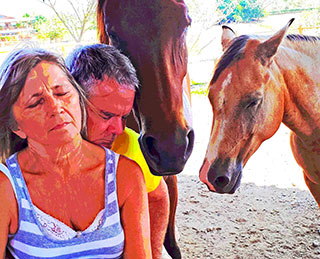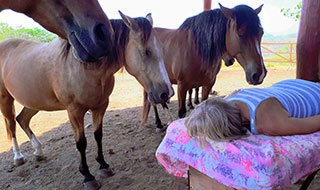 "A Life Changing Experience"
"Spending time with Marsha and Mark's horses is a unique experience. Very different from your typical equine excursion. It is a privilege to interact with horses that have been so loved and cared for. Marsha and Mark are so tuned into the deeper parts of their equine family and they generously invite you to share in knowing these beautiful creatures. Prince in particular, is one of those very special animals that you will remember forever. His soul is without question extraordinary and the energy he shares is life changing. You will leave the ranch enriched and feeling great!"
Elizabeth
January 2019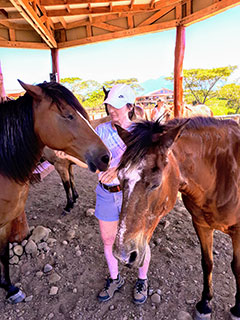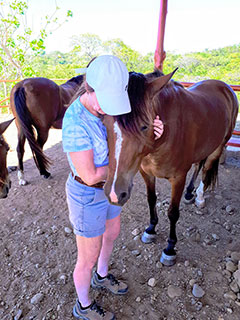 "It was definitely was a healing experience for me"
Iheard about the horse connections from a yoga retreat that I had planned to go to in Costa Rica. I remember reading about this and thinking to myself what an amazing experience this would be, how unique. I wasn't sure if I was able to make it , but the it must of been meant to be because everything unfolded as it should. Upon arriving Marsha and Mark made me feel instantly welcome in their home and provide a lot of information about what was going to happen. The first thing I noticed was the beautiful energy as I walked outside, nearly like sacred land, so peaceful. I didn't have any assumptions going into to this but I was amazed by the whole experience. The time spent with the horses was just so special, gentle but powerful , exciting but calming, truly unique. All of the horses are special in their own way, Prince definitely exuded an old soul energy, the master healer. However there were 2 horses in particular I connected with the most. Sammy, the shy one, just observing from afar we connected in a way where we understood each other, he is a loner like me, kindred souls. Then there was cheeky Romeo, what a flirt he was, pulling my hair, giving me little nibbles on my head and body, so gentle but so funny. Without sounding weird it was nearly a romantic interlude haha. He would look, then when I looked at him he would turn away, then come back cheeky when I turned away, so cute ! It definitely was a healing experience for me , hard to put into words really. I was given the messages I was seeking and the signs that I should return to Costa Rica one day. Thank you Marsha and Mark for what you provide for people, it's just pure love.
Blessing to you both . Hugs from Australia
Michelle x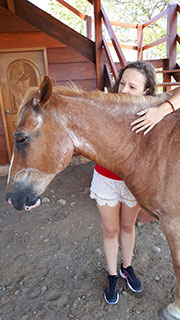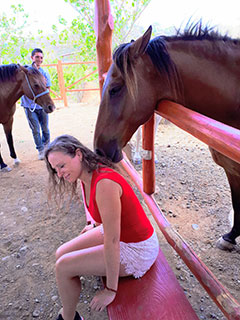 "The Love and Trust was Beyond Words"
I went to the healing horse ranch in Costa Rica. I went in with no expectations. Just sitting with Marsha and Mark, I started having visions of the past with powerful horses that were with me in the early years, like Braveheart times of battle. The horses on the ranch ran up the hill to meet us with so much love, power and vigor. We walked down to meet them. A horse named "Prince" walked right up to me with the calmest, loving presence. I instantly broke into relieving tears. I had known this horse for centuries, and it was so good to see him again. He did not leave me for about a half hour, and I did not want him to. We put our third eyes together, as I embraced the his forehead. The love and trust was beyond words. We both had smiles on our faces. Marshaand Mark are some of the most intuitive, loving people I have ever met. I am beyond grateful to them, and their knowing of what horses truly are. Horses are angels on the Earth. I will keep all of them in my heart, with the most grateful love. Thank you with all my heart!
Love,
Paul Joseph Casey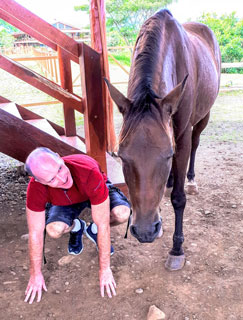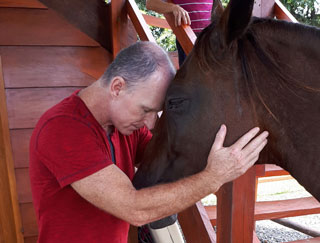 "I Felt Liked I Wanted to Live Forever in that Breath"
Marsha and Mark have created an amazing opportunity not only to learn more about horses' social network and behaviors but to discover their loving, healing energy for oneself. Horses have healing energy, who knew! The love I felt coming from the horses was remarkable. They are so patient, still, interactive with subtle communication like eye fluttering, yawning, moving forward or away. I felt no fear, only reverence. I loved reverse breathing into the nostrils of two of the horses; smelling their fresh green breath was delightful, I felt I wanted to live forever in that breath. I was amazed at the stiffness of their ears, the liquid brown of their eyes, their long eye lashes. When I laid on the massage table, five horses stood around me and the Matriarch Sugar Plum pushed her nose into my thigh muscle and held it there for 30 minutes or so. I held my hands close to the muzzles of two of the other horses, sweet soft lips and noses. I thought about my mother and grandmother, surrounded as I was by a mother and daughter of the horse family. I cried and felt the connection between generations and species. I felt advised to stay in the moment, be kind, stay in a place of love (the nose on my leg felt like a message to STAY PUT), appreciate how safe I am, know I am loved. To feel so loved is precious and astonishing. You will know you are lovable, the horses are very specific about that. Also that you are part of a herd and can give that love right back.


I highly recommend this experience. Marsha and Mark's guidance will help you relax, understand what is about to happen, and open up to the experience. Lovely!!!
Kathleen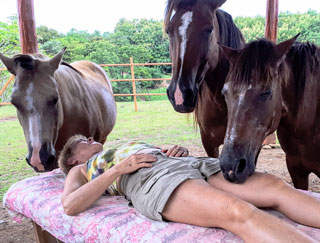 "MY EXPERIENCE WITH THEM WILL BE ONE I WILL NEVER FORGET"
I didn't have very many expectations when I signed up for Horse & Soul Connections, other than petting some horses, but my experience with them will be one I never forget. Masha and Mark are some of the warmest people I have met, making you feel comfortable in their home. We were able to connect as a group which really creates a deeper understanding of yourself and your relationship with others. I cannot adequately explain the emotions I felt though this experience, other than to say it was very emotional, healing, calming, transcending, beautiful and one-of-a-kind. I was able to overcome my fear of horses and truly admire the beautiful intelligent beings that they are with the guidance of Marsha and Mark.. Thank you so much for the beautiful experience!"
Janet
April 2018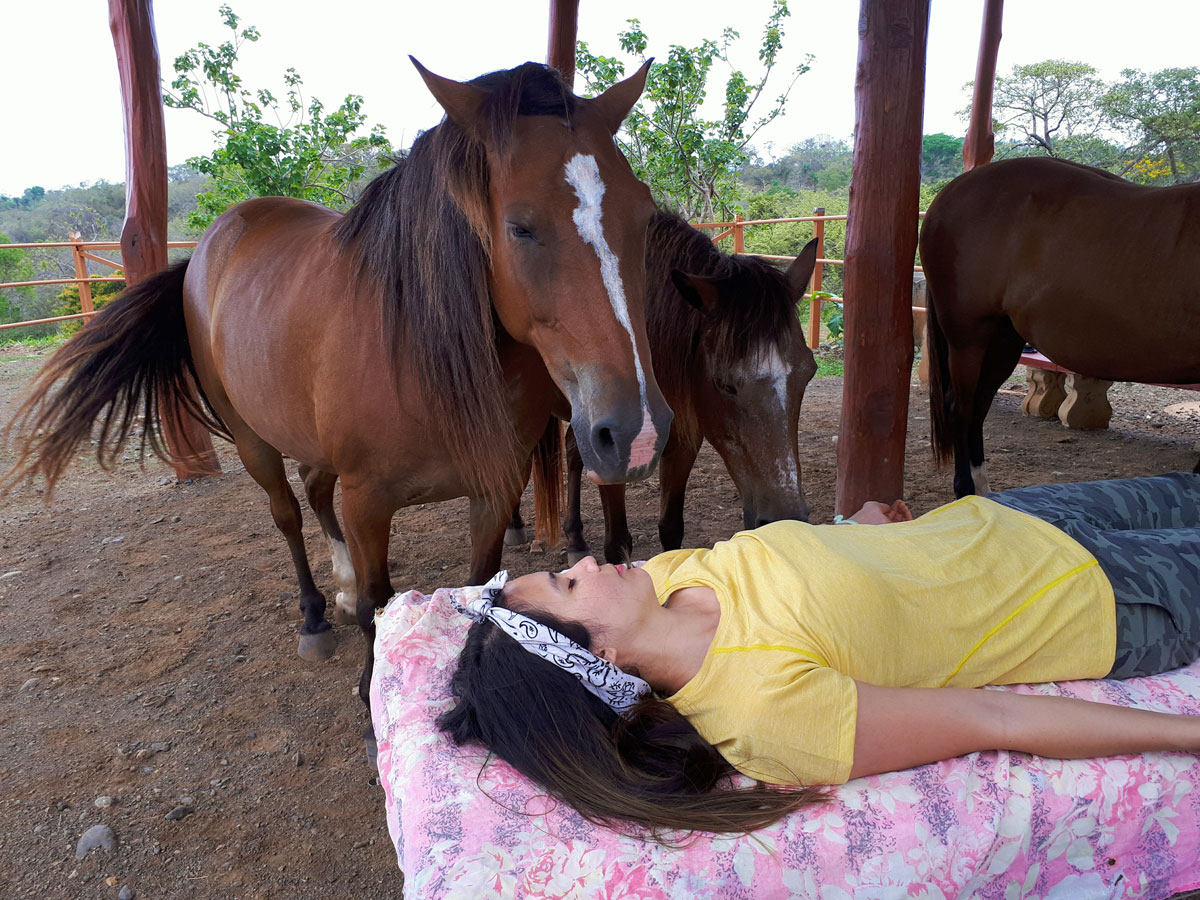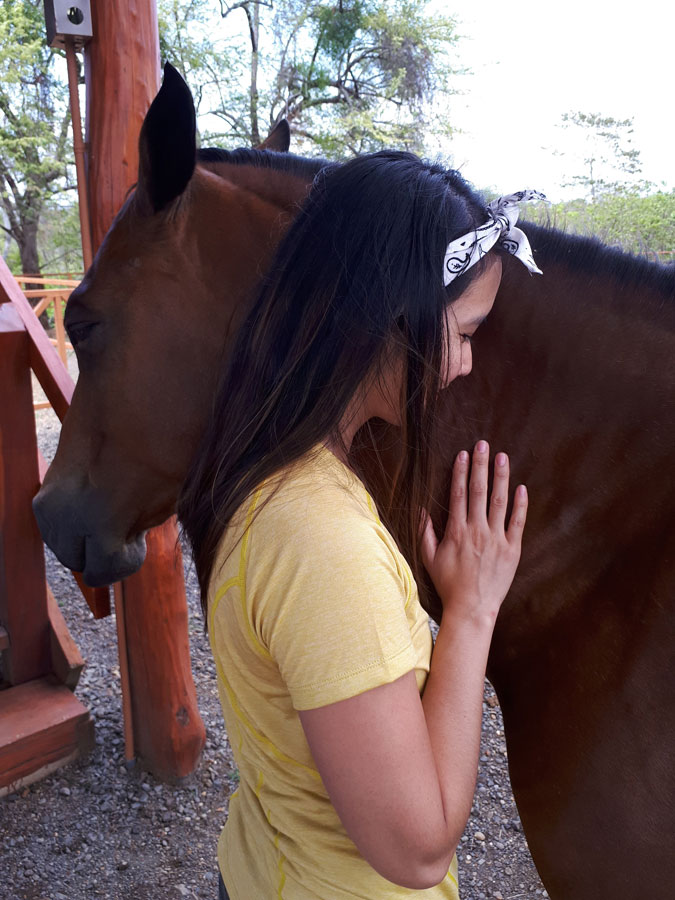 "I've visited three times now and will return as each session has provided a different life lesson."
I can't say enough about Sweet Prince Ranch and the Horse and Soul Connection! Magical, Transformative, Divinely Inspired, Heart Warming....

Each visit is unique to the individual experiencing it but everyone comes away with a little more peace, a sense of well being and acceptance and an appreciation of just how intuitive and caring these majestic creatures are. Mark and Marsha are gracious hosts and gently tutor you in the language of horses so you can read their body language and interpret the messages they share.
I've visited three times now and will return as each session has provided a different life lesson as I've changed over the years. I've done yoga with the herd, shared breath and heart beats with different members, been given unconditional love and acceptance by all.
Sharyl Groves
March 2018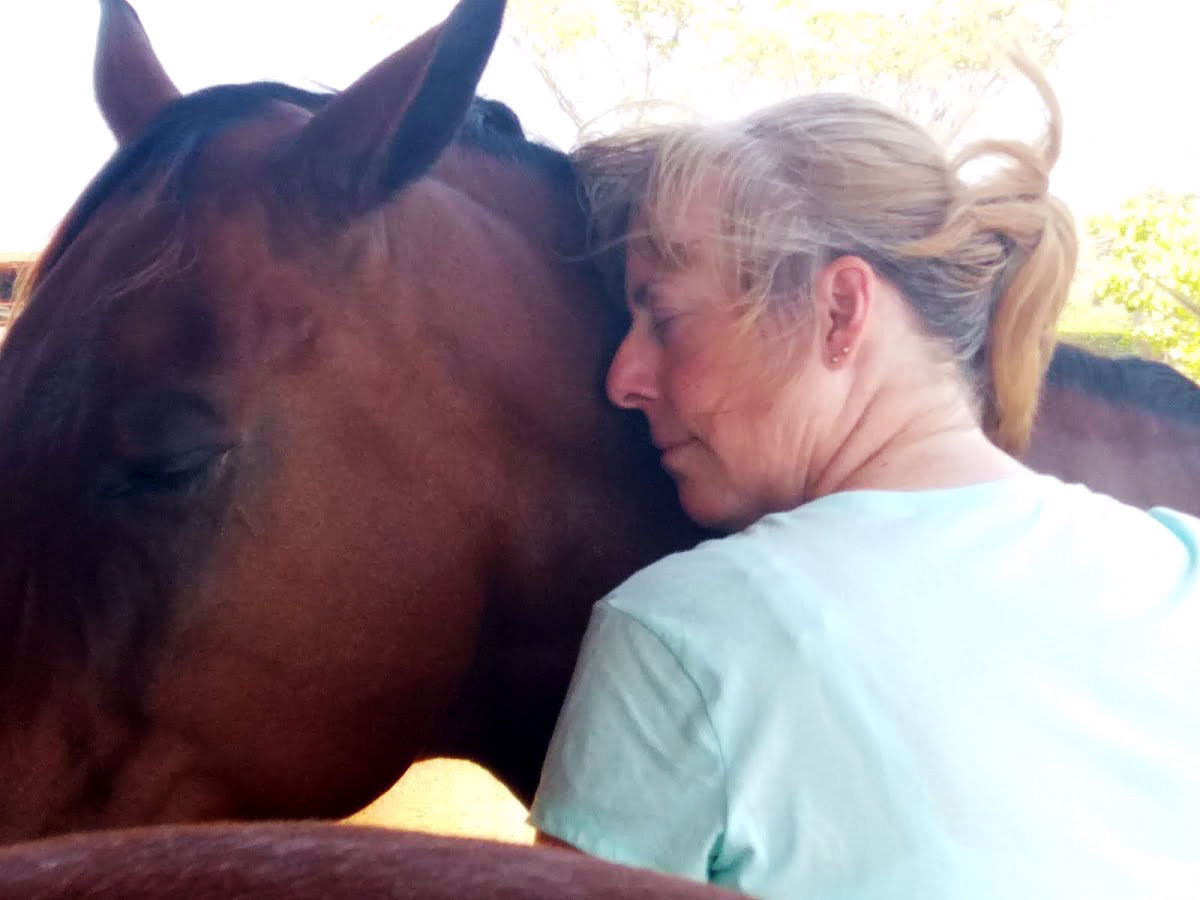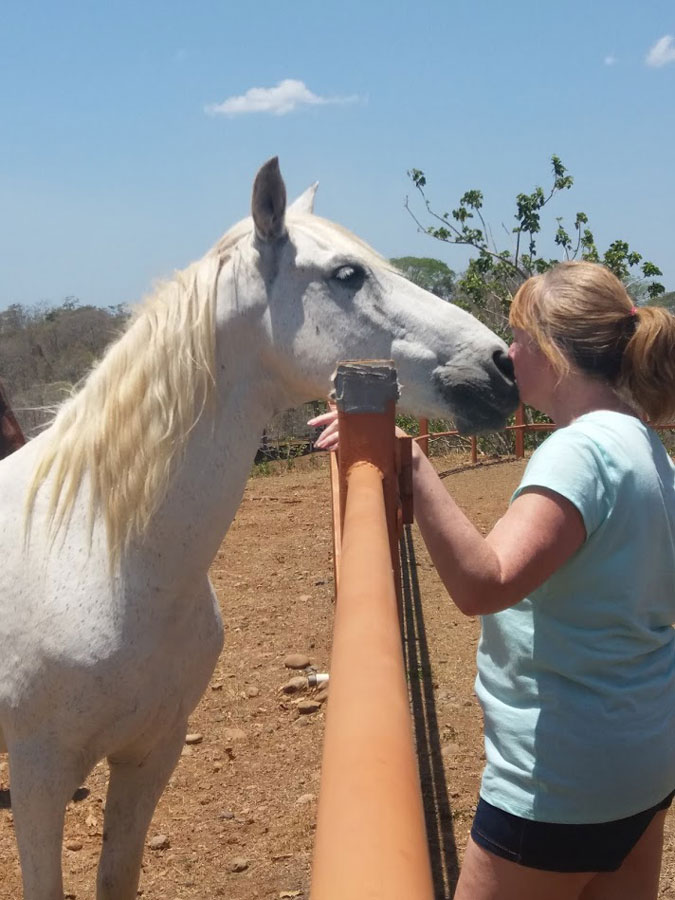 "was absolutely magical"
Yesterday was absolutely magical. Truly amazing. A day I will never forget.
I can't thank you enough. All of the horses were absolutely beautiful. There is a special place for each and every one of them in my heart.
Prince is definitely my protector but I know they were all there for me. I'm sure Dulce was a unicorn at some point and Sunshine with all of your love and encouragement is going to be amazing.
You are all so wonderful for sharing this special treasure with others. Thank you for that.
We will definitely stay connected and it would be great to see more of you.
Thank you for such a special day.
Sherri-lee
February 2018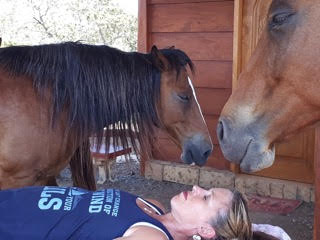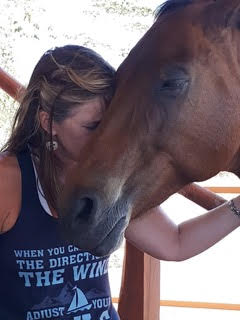 "Horse & Soul Connections is a very place"
My time there reinforced my passion for horses and reminded me, I'm in CR to protect my beautiful herd with love and affection. Also to give great distance between myself and the people in my life who need that from me. I thought going into this, I was just there to clear my mind of all the changes from the last 10 years. It was so much more then that!
I realized that day that I allowed my emotional self to keep me from breathing and it gets in the way of who I know I am, a caring, gentle and sensitive human being. I had an encounter with Prince the horse who taught me to breath, as I came from the bathroom in tears he must have noticed I was holding my breath, he breathed these heavy breaths into my belly, got close, leaned on me, eye to eye and asked me to breath. Thanks Prince!
Trust of humans is not a strong point for me, and I took some of my time here to smile near a horse that also has trust issues, she appreciated my feelings and seemed to enjoy me near her.
I spent a quiet moment with a horse named Sammy, who truly made my mind go free of chatter, another one of my not so strong points. What a moment to just be a horse!
I want to take time to share for the first time the emotions I have felt after my divorce, one daughter separated from me, asked me for space and no longer wanted to be around me. The pain I have felt has been nothing I can describe but emotional sadness. Instead of the space I bombarded her with chatter, tried to love and connect. That didn't work! Mommy horse came close to me with daughter behind. Lots of things happened, too much to tell. But in the end of this session the 8 yr old daughter came in to nurse. Yes nurse! I hear from her that the mother daughter bond is never broken, give her the space and time she needs and she will be back. A day I will never forget.
Shawna
January 2018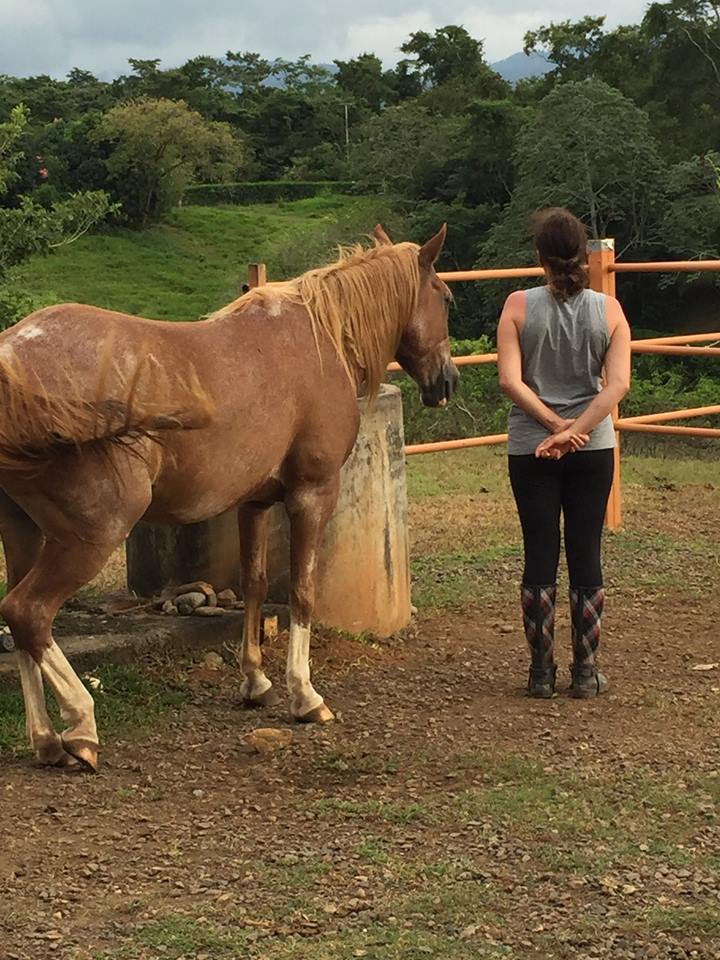 "Thank you for the photos"
The time spent at your ranch with the horses was honestly the highlight of my trip, and an experience that I will always remember. You, Terry, & Mark were so warm and welcoming! I hope to see Prince in my dreams. :)
Best,
Caitlin
January 2018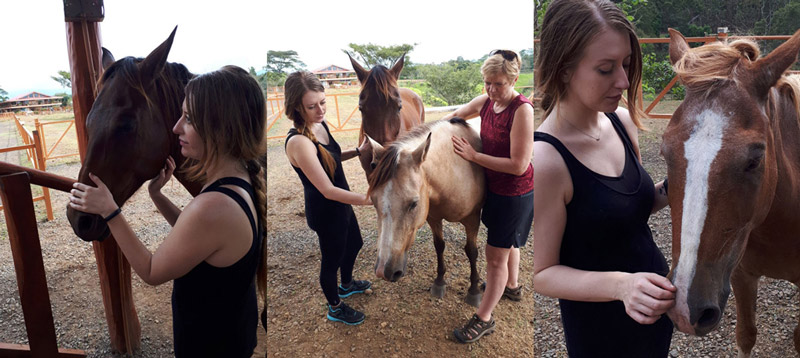 "Marsha, Mark and Sweet Prince Horses"
Thank you for the positive energy and relaxing warmth that I received at Sweet Prince ranch.
I came to you with the intention of learning how to build a deeper connection with my horse. We compete in dressage which involves a lot of training, traveling and the stress that goes along with it. I've always viewed myself as a considerate, loving and connected person with my horse–fair, gentle and an equal partner. And I believe my horse enjoys our "dance" as we ride our way up the levels in the schooling show circuit.
Marsha, as you shared your joy, excitement, fascination and love of horses, I began to feel like I was seeing these amazing animals for the very first time. Your love and respect for their autonomy is clear as a bell and deeply moving. You refreshed my appreciation for the true nature of these other-worldly animals which is to be in the present moment. They are not concerned about time, they don't worry and they accept we humans for the way we are. And they teach us to do the same.
My experience not only improved my connection with my horse but it also improved my connection with myself. Please give my love to all the horses and especially Sunshine who picked my card, "Mystical," which says, "remain in each present moment, staying in contact with your own self."
I remain your grateful friend,
Michelle
January 2018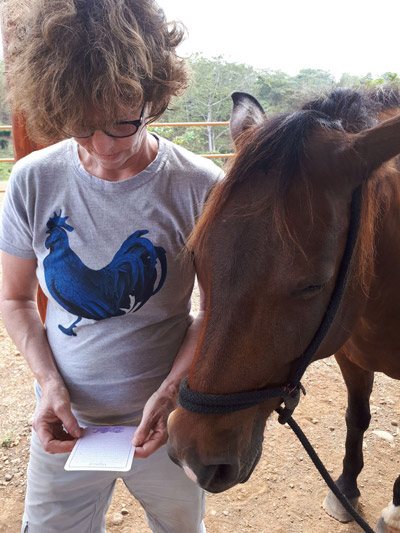 "Felt his Heart Open to me"
Standing next to Romeo, the gentle giant of the herd, I allowed my heart to
open and felt his heart open to me. In the flowing and healing connection
that passed between us I heard " when you don't feel heard, when you feel
weak or full of fear I will help you. Imagine me inside you as you speak
your truth or do what you need to do. I will be the image of the strength
and courage that does reside in you and always has."
Thank You Romeo!!!
Thanks again Marsha and Mark for having your wonderful healing place. Costa
Rica is lucky to have you!
Happy tears!
Marilyn
December 2017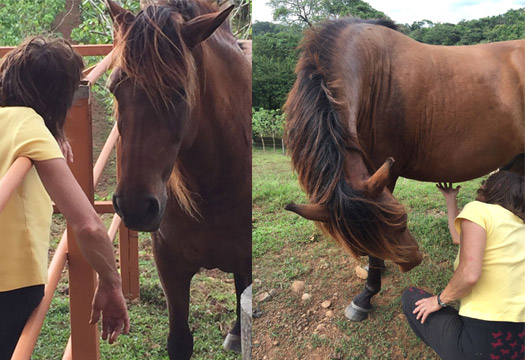 "The Horses Love to be Part of the Healing Process"
I came to Cost Rica for a life changing business opportunity. The new business adventure did not come through. Regardless, I ended up having life changing experience I had not anticipated or expected. I came to Mark and Marsha's ranch in need of guidance and a strong desire to challenge myself and change old patterns of thinking and decision making that did not serve me well. I have always had a love for horses but never had a chance to experience them on a personal level. It never occurred to me a spiritual connection with the horses was possible. Learning how they simply live an uncomplicated life. Their ability to harmonize and thrive with each other and live in the moment is a tribute to the pure spirit of the animal. A spirit and spiritual connection deeper than I ever imagined.
The horses love to be a part of the healing process. It shows in their gentle and loving nature. Trust is the first lesson they taught me. A trait most of us lack in. Learning to trust in them was powerful. These majestic animals were there for me to lean on, let go and release. I felt my heart open and energetically experience the unconditional love they wanted me to feel. It is a very spiritual experience. They sensed things intuitively in me both emotionally and physically. I was carrying a tremendous amount of stress in my stomach and abdomen. I was lying on a table with Prince standing over me. He intuitively and gently touched his nose on the exact area's I was experiencing the most pain. Lifting his head in a motion to pull that energy out of me and release it. I FELT the energetic release! It was amazing to experience. I did not know what to expect when I came to the ranch. I was definitely open to the experience but had no idea I would feel the level of connection I did with the horses.
The knowledge and expertise Mark and Marsha have in their profession is highly respectable and shows in their compassion with others and willingness to make a difference in the lives of the people who come to them seeking help. Their own love and understanding of horses is what makes the interspecies connection happen. The connection that occurs is real and powerful. The horses are teachers and healers. The combination is a life changing experience. It opened me up to new levels of understanding myself and how to live life on a daily basis.
I had the fortune to work with them on more than one occasion. My personal commitment to inner change being the driving force. I could not have put my trust in the hands of people more deserving of that trust.

August 2017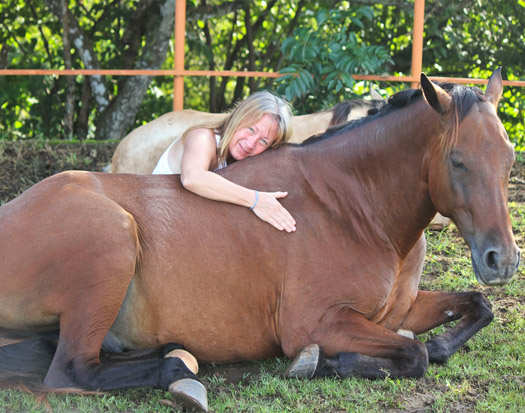 "Most Profound Healing Experience "
The equine experience with Marsha, Mark, and their horses is one of the most profound healing experiences I've ever had. Both Marsha and Mark are incredibly open, compassionate, and welcoming, and made me feel comfortable from the start.

Their herd is special, and this was a much different experience than I've previously had riding horses. These gentle, strong, supportive, and wise animals, are truly healing on both a conscious and subconscious level. I was taken by surprise at the level of emotion and connectedness that simply being around these animals provokes.
The time I spent with this herd was an incredibly deep healing experience for me, and the sense of love and support I received from these horses is something I will take with me forever. I am very grateful to Marsha and Mark and these truly amazing beings.
Love,

Chiara

June 2017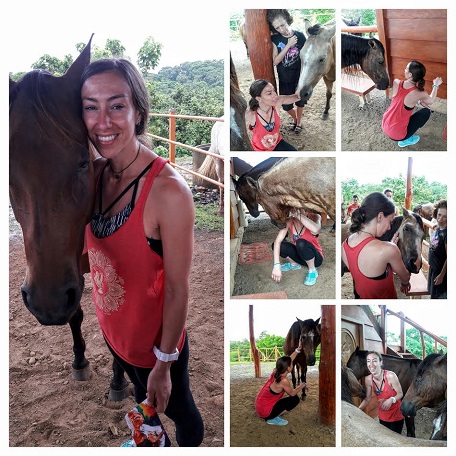 " Your horses healed something deep inside of me."
My experience with your horses was so special. The evening I came back to AmaTierra from your place, I got an email from my ex-husband that our cat had refused to eat a couple days and was very weak. I separated with my ex a half year ago, and I couldn't take my cat (Muffin) with me because of my current living situation. My ex takes care of Muffin very well and I often visit her.

The news made me very, very sad. However, somehow I felt I'm OK and thought "that's why I went to see the horses today and got this news today." I can't explain why that thought came to my mind. But, what I felt with your horses was unity. The unity of a whole universe, all my past, present, and future. I truly felt everything is fine. I'm here in this world to experience all joy, happiness, sadness, struggles...and those experiences make my life beautiful. I felt even death and life are just a part of unity.

Therefore, i was still able to enjoy the last night at AmaTierra instead of crying because I focused on the present. I learned to be present from your horses. As soon as I got to JFK airport, I got a phone call from my ex that I should visit him now. I went straight to his apartment from the airport. Muffin was laying down by the chair that I used to sit in. Although, she was not able to walk well, she crawled to me and lied down next to me. I slept next to her. The next day, she passed away in my arms after a few meows. I felt so much pain.

However, I truly appreciate our time together And, I appreciate my life.
All these experiences mean a lot to me. It's hard to explain, but the experience with your horses healed something deep inside of me. That's why I was able to accept Muffin's death as it is. I still feel pain, but this pain is worthy to my time with her. If I didn't visit you and lost Muffin, I'm not sure if I could be as calm as i am.

Words are not enough to explain what I felt from this experience. But, I think your horses are angels to show us the unity, the oneness of the world. I felt that. Thank you so much for the memorable experience.
I would love to visit you again and, please say hello to my angels!
Love,

Junco

April 2017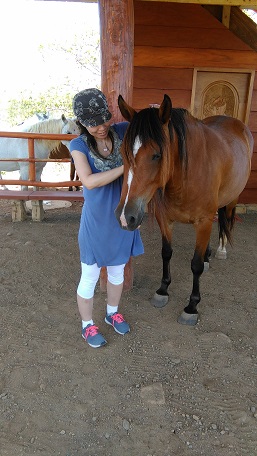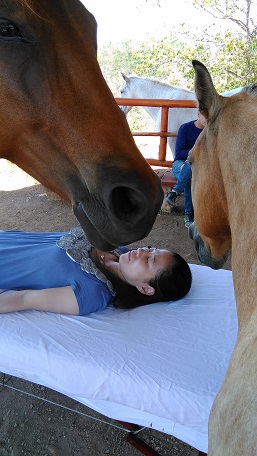 "The experience Marsha, Mark and the horses is literally engraved in my heart, I feel so blessed and grateful for such an amazing opportunity."
Still today when I close my eyes I see the stunning place in Costa Rica where all this happened and find myself diving into the warmth and magic of that atmosphere... and those creatures which embody beauty, fierceness and grace. May their pure spirit, kindness and honesty stay always with me.A

special thanks to Marsha and Mark to allow all of this to take place, it a special call for special people.

Here are the pictures of my lovely boy that is always with me 😍, hope to find a man as delicate, gentlemen and sweet as well as strong and reassuring as him.

Please give a kiss to my special boy Prince, thanking him for his big heart, I feel it 😍 Lots of love of course also to all the other horses which are fantastic as well.

With Love and Gratitude,
A huge hug, Marilena

March 2017 Switzerland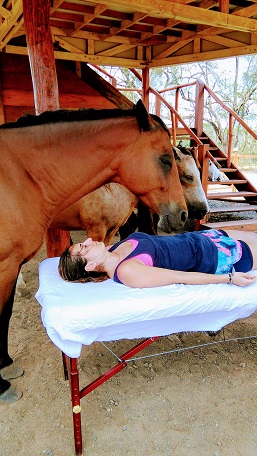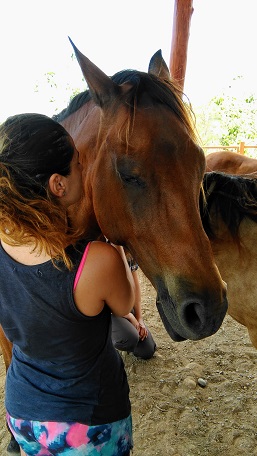 March 2017
"Life Changing! "
I cannot say enough to express just how wonderful it was to spend the day with Marsha and Mark and their wise and soulful herd of horses at Horse and Soul Connections in beautiful Costa Rica. I have always felt very connected to horses and was so very eager and excited to meet them and I felt that from them too when I saw the herd eagerly gallop from the field to meet and be with us!!

The unconditional love and acceptance that I received from the horses was so very healing and empowering. Sweet Prince and Daisy worked together as a team to connect with me and I was honored to be included in that special bond that they have.

Thank you again Marsha, Mark and your wonderful team of horses! This will be a memory that I cherish forever and I look forward to returning soon!

With Love and Gratitude,
Alison King

Ontario, Canada
March 2017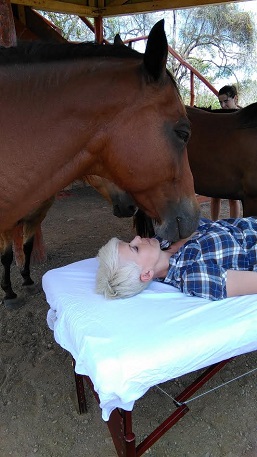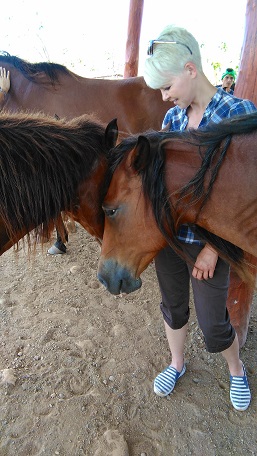 March 2017
"They Breathe with you, they Invite you Just to "Be".. to Be With Them"
I had heard over the past few years of some of other peoples amazing experiences at this farm, and with the horses. I am on a self-discovering journey each day and also continue to move into the unknown. I LOVE all animals and over the past 2 years, horses have been presenting themselves in my life on a more consistent basis. A friend was visiting me and I thought this would be a beautiful experience to share together.
The land at the farm is beautiful, and the more I ventured into the gazebo area, I could feel more of the magic of the land. I have had some fear of these majestical animals in my past, because I could feel the intensity of their energy and part of me doing this adventure was to overcome this fear. The experience with the horses is very hard for me to convey in words. The feeling of their presence was incredible. They breathe with you, they invite you just to "be".. to be with them and to be fully present in your life. My heart was overwhelmed with emotions and my heart was completely open to whatever experience this had to offer. The more present I was, the more I could feel and hear the messages being given to me. These horses don't ask anything of you, they are just there to be with you. This is such a big lesson for us humans.
Meditation has been a part of my daily life for many years now. As I laid on the table with my eyes closed I only felt my breath. During this healing/meditation/experience on the table with the horses, I was able to travel into the most deepest state of relaxation/meditation that I have ever experienced. It felt as if I traveled to another realm. It felt as if I was one with everything, all beings, all of creation. I probably could have stayed there for hours.
The months since my visit to the farm, many manifestations have come to be in my life that were told to me in messages and in the cards that the horses choose for me.
I am grateful to have been open to whatever the experience wanted to show and share for me. It will be one of the most memorable times in my life. Thank you to the horses, to the humans and to the land for sharing this with me and those who choose to come there.
You will be forever in my heart.

With Love and Gratitude, Jeanie Baker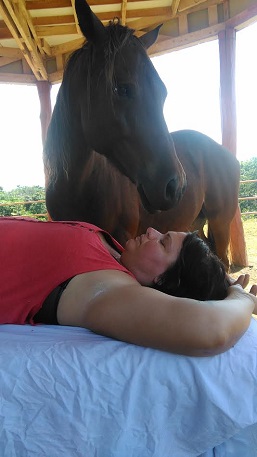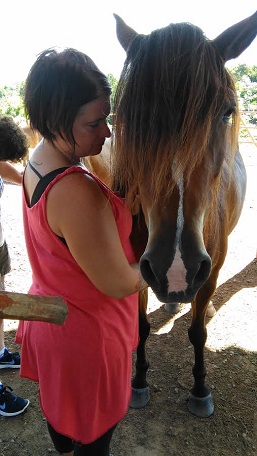 February 2017
"IT WAS VERY HEALING"
This was a profound and unforgettable experience of opening and healing, facilitated by Mark and Marsha and given by their small herd of horses. The horses are naturally conscious, willing, and available to be present with us and to communicate in a way I have never before experienced. Being prepared by Marsha's instructions and Mark's meditation made me aware of the potential to communicate and be heard and seen by the horses. It felt safe to open my heart to them, the pain and the love. Their presence is large, welcoming, and unconditional. With them flicking their heads at me as I stood before them, I felt them telling me to get out of my head and be present. I sensed them telling me when my thoughts, of being inadequate in this new situation, were unneeded. With their prompting, I was able to let go.
Part of the experience involves laying on a table among the horses so they can interact with you, and in my case, one horse whom I had been interacting with stood next to the table and gently stood with her head over my head. I felt nervous and excited, and as I gradually relaxed, she moved further over me and rested her chin on my temple, all the while communicating to me her openness, neutrality, and tenderness. It was very healing and a truly stunning experience. Later on, as I was continuing to stand among the horses, there was a moment when I remembered the powerful being who I truly am. I would highly recommend this experience to anyone who is sincerely willing to be present with life as it's expressed through these big gentle creatures.

Much love, Julie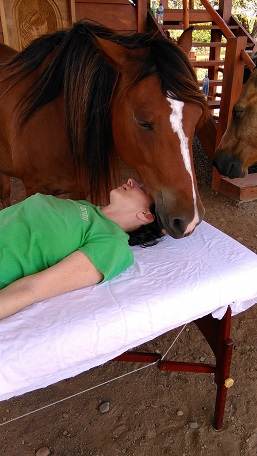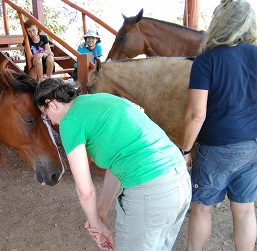 February 2017
"The Day Was Pure Magic"
Thank you, Marsha and Mark, for an incredible experience at your ranch with you and your beautiful horses. The day was pure magic! The setting took my breath away. I learned so much about horses and have so much respect for their intelligence and healing abilities. It surprised me how moved I was spending time with them. I was completely relaxed and peaceful by the end of the day. The phrase that continues to run thru my head is 'relaxed and ready'…a good philosophy for us all! Sending much gratitude to all of you!

Much love, Wendy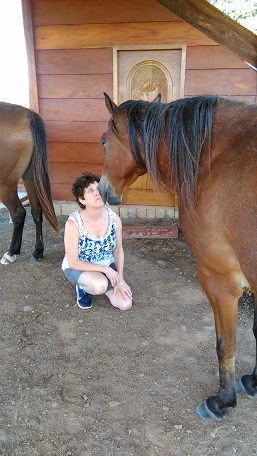 December 2016.
"A Truly Magical Experience"
Horse & Soul Connections came to our attention through the recommendation of Bob and Jill at Ama Tierra Wellness Centre. Horse & Soul is a modern facility with a beautiful view of the Costa Rican countryside and is away from the noise of traffic. Mark and Marsha are warm, attentive hosts who welcomed us upon our arrival. They explained and guided us through a truly memorable experience with their beautiful herd of horses. It expanded our understanding of horse and ourselves. Carol recently hiked the Royal Trail to Machu Picchu and described the Horse & Soul experience as equally rewarding. Very spiritual experiences. It demonstrated the relationship with humans and horses is much more than most people understand and they truly are great companions both physically and spiritually."

We would highly recommend Horse & Soul Connection to anyone visiting Costa Rica

Sincerely Phil and Carol
November 2016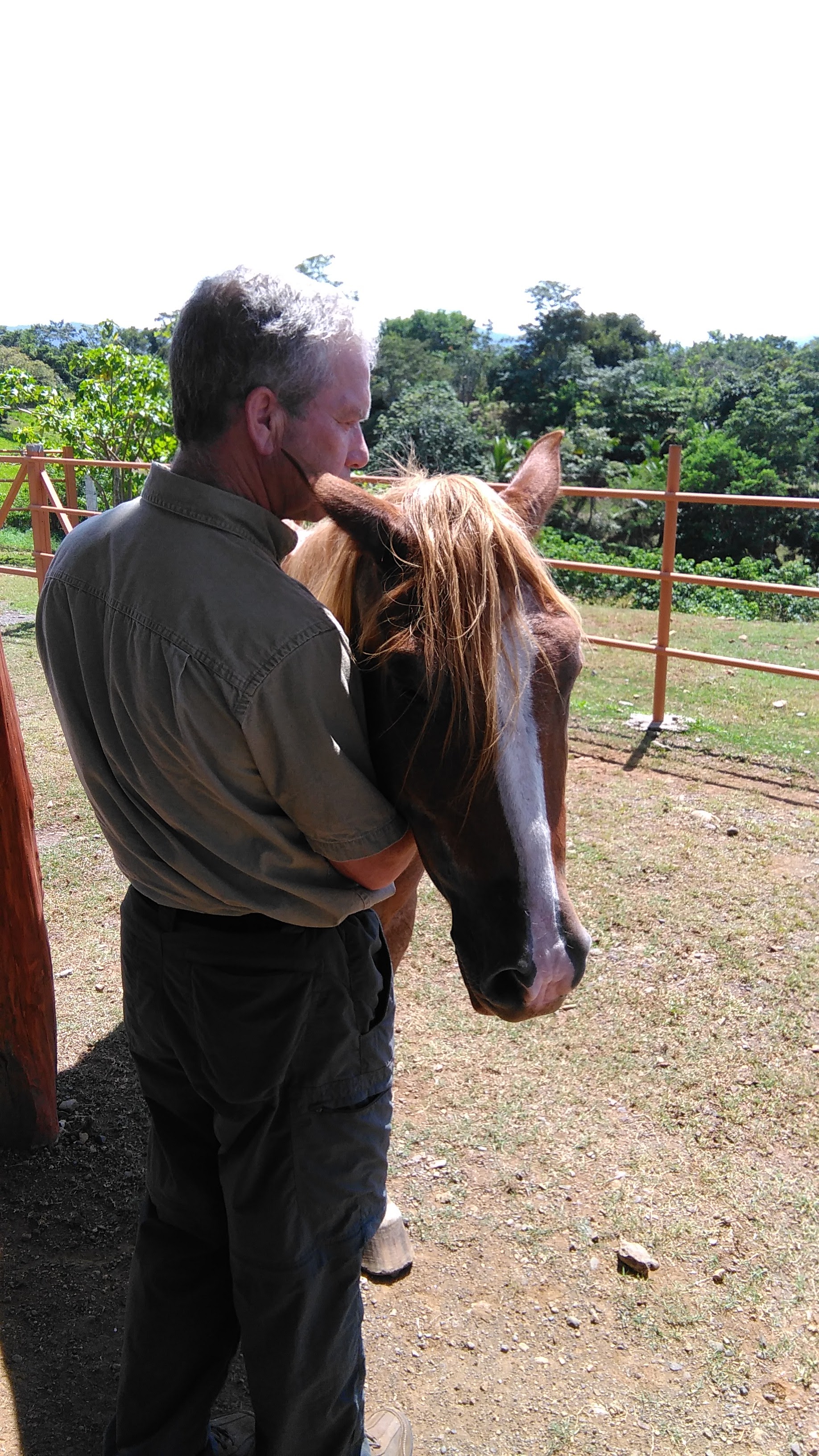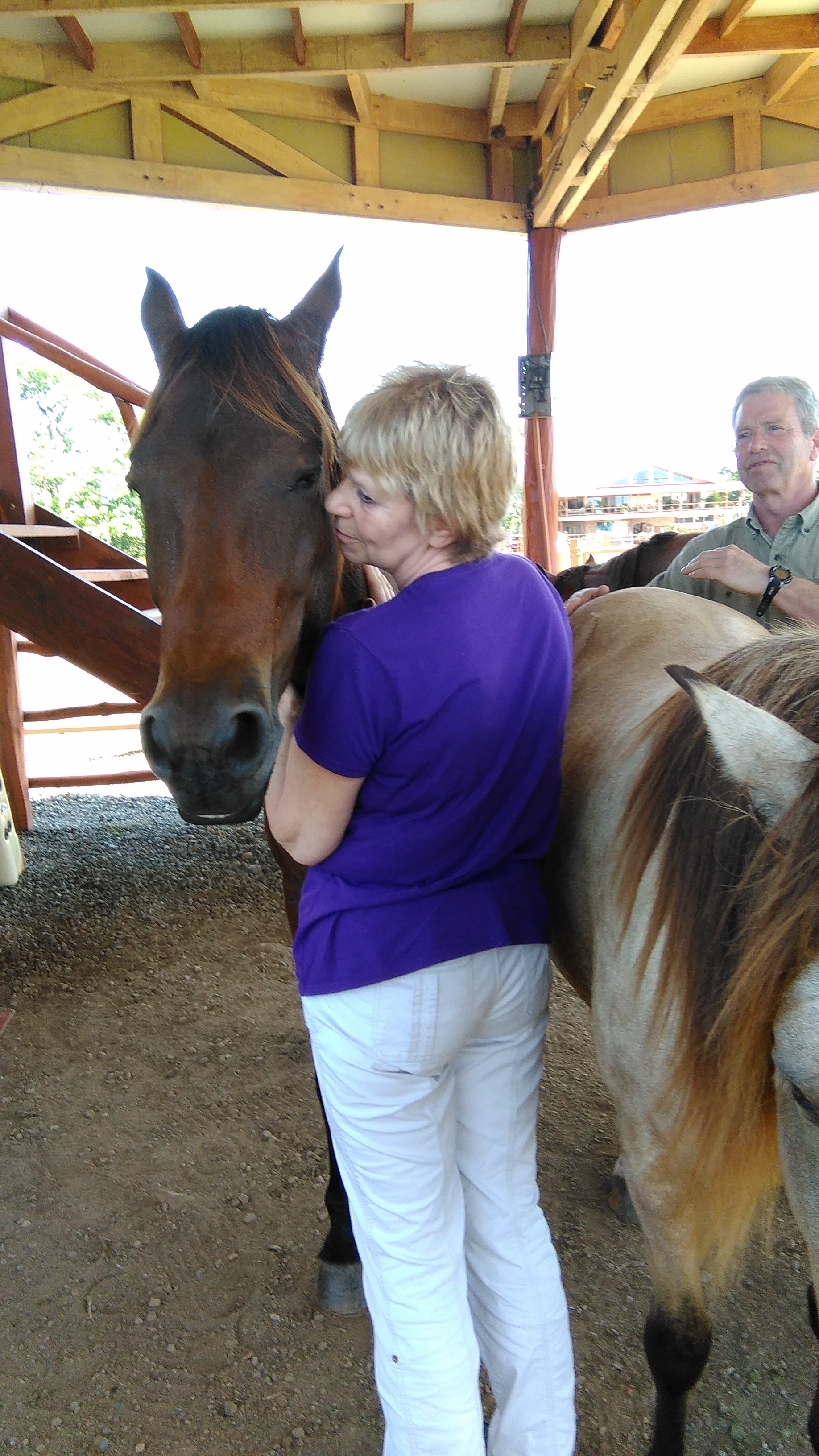 September 2016.
"YOU OPENED MY EYES AND MY HEART"
"I had such a great time. Wow...I am so grateful for the opportunity to meet you, Mark, and the horses. It was magical. You opened my eyes and my heart. Will see you again soon."

Much Love
Cindy
September 2016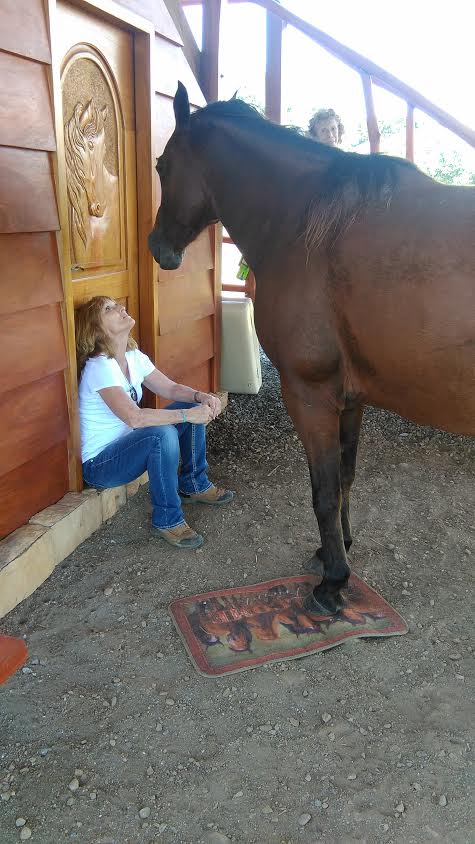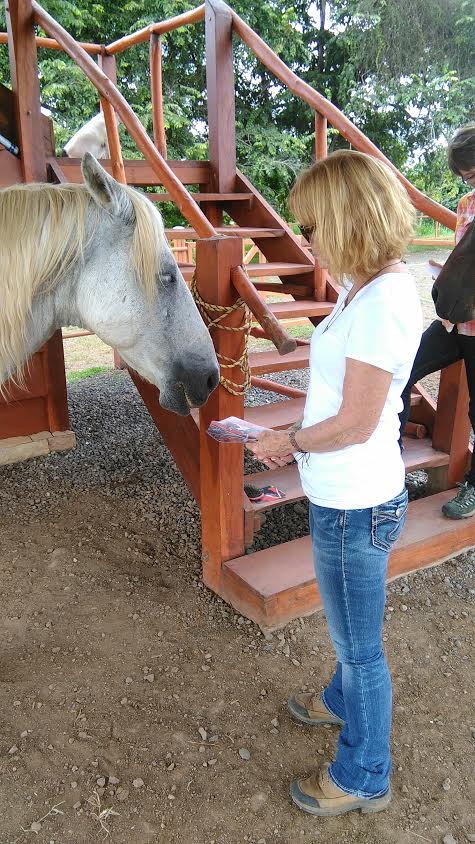 September 2016.
"WOULD RECOMMEND THIS EXPERIENCE TO ANYONE"
"Thank you to you both and to all the horses for a beautiful experience and not forgetting the wonderful Cookie, I shall definitely be filing this away in my super special memories drawer :-)! Here are some genuine heartfelt words I want to share with others about my experience I really did not know quite what to expect but I was hoping for something beautiful and I certainly got it! The whole experience was very special and magical. I am not used to being around horses but I felt completely safe thanks to Marsha and Mark and all the wonderful horses. i am struggling to find the words to describe the power of the connection I felt with one particular horse… I have never felt so completely present and in the moment as I did standing with her nose resting on my tummy. It's a moment that I will remember and treasure for a long time to come. Would recommend this experience to anyone - go with an open mind and heart who knows what you will find!"

Love to you all
Heidi
September 2016
xxx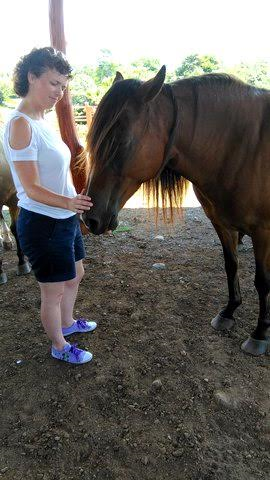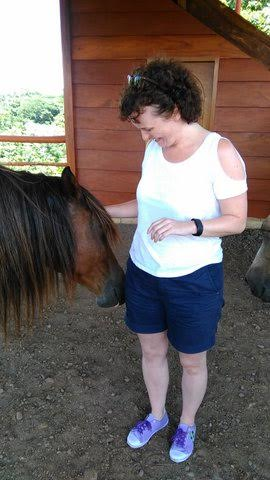 September 2016.
"Marsha, Mark and all the Horses"
I'm very grateful for the things you did for me. I truly feel like I've changed after meeting you and I believe in myself in a way I don't think I've done before and couldn't have even wished for. Thank you so much for letting me come and meet with you both and the horses. It was an amazing experience and it really helped me a lot! You are doing a great job. Once again, thank you! Best,

John Andersson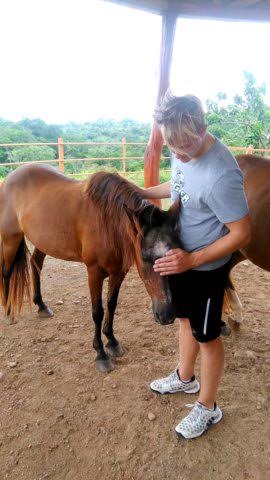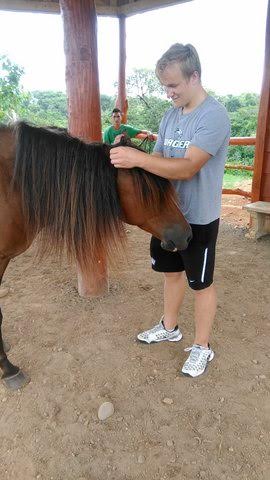 July 2016.
"The ladies from my retreat are still talking and sharing what a difference that day has meant to them"
What an amazing experience my group had at the Horse and Soul Connection's ranch in magical Costa Rica. I have been hosting retreats for over 10 years and by far the experience at the Horse and Soul Connection's ranch stands out as the best retreat I have ever offered, thanks to the owner's Marsha and Mark and their beautiful horses. I have worked with the US Army, Canadian government along with several thousand people within organizations and companies and Marsha and Marks approach to working with people of all backgrounds was superior.

Marsha, Mark and their magical horses were not only a highlight of our week retreat but continue to leave a huge imprint of change, growth and love in the hearts of the women I brought there from all over Canada.

From the first Skype call to the many thorough emails from Marsha, she and Mark carefully crafted a day filled with introspection, healing, amazing food and powerful soul connections between my clients and their horses.

They are both gifted psychotherapists, which gave me great comfort, and helped each woman have their own break through.

The ladies from my retreat are still talking and sharing about what a difference that day has meant to them. The clarity, changes and courage they now have moving forward in their lives is quite remarkable.

If you are looking at taking your team, group, family, or yourself to break through your limiting beliefs or being stuck, these lovely people and their horses will support your journey 200%.

No question, I highly recommend their superior skill set, their safe, gorgeous and picturesque ranch as well as their gifted horses.

I guarantee you will be very happy you made the connection!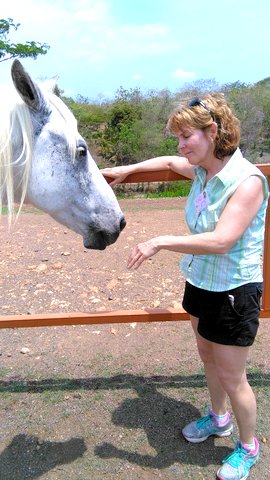 Cate Collins May 2016.
Powerful Journey Consulting
International Speaker/World Class Retreat Facilitator/ Leadership Coach
"THE HORSES WERE SO BEAUTIFUL"
Thank you so much Marsha and Mark for your kindness and generous time commitment when we attended your lovely home and farm to interact with the horses. It was a truly interesting, thought-provoking, and peaceful experience.

The horses were so beautiful and I now have an even better appreciation of just how soothing and therapeutic the interaction and connection can be.
I will be seeing my neighbours horses this weekend to give them some carrots, so I'll see if they notice any difference in my interactions with them, after being with their kind in CR.
You have a lovely home and I felt very comfortable with you and your husband. You are very kind and interesting people. I love people who love animals and treat them like family -it is quite evident your animals are extremely special to you.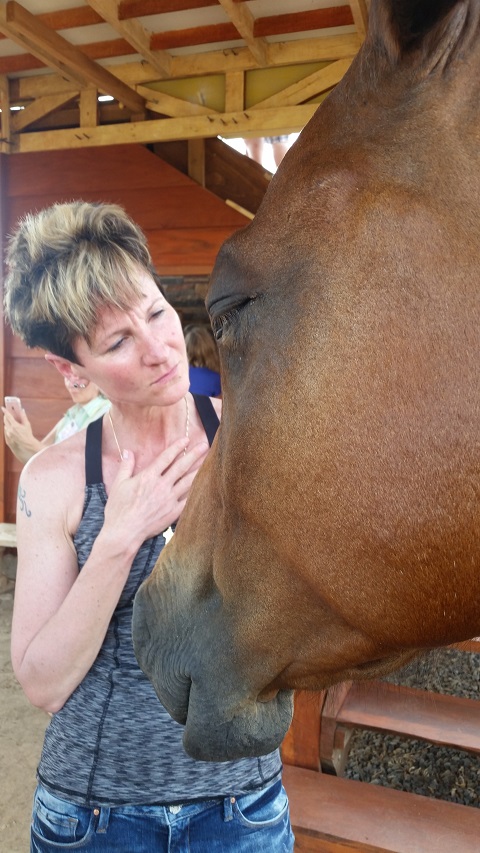 Jen.
Canada
May 2016


" THIS WAS A LIFE CHANGING EXPERIENCE"
On a recent retreat to Costa Rica our group of ladies visited Mark and Marsha's ranch. From the moment the herd came running to greet us, until we said our final goodbyes, we were all captivated.
I had never had much experience with horses but had recently heard a lot about their healing abilities. By the time we entered the last ring I hadn't really made a strong connection with any horse.
Then I met Dulcinea (Dulce). I was walking by myself and she started running in my direction. I thought she might be just trying to break free of the group but then she stopped, then she stayed. For me it was love at first sight. We breathed together and I felt we were one. And when I looked into her eyes I saw an old gentle soul. I sang the Austrian song "Edelweiss" to her. I did not know it at the time but edelweiss means "white and noble", a perfect
description of Dulce. And when I looked into her eyes I saw an old gentle soul.
It took me a few days to process the whole encounter but knew this was a life changing experience for me. Relationships with women have always been challenging for me and the fact that a female horse adopted me was so telling. Our connection was so strong and one that I could never remember having with anyone. But my
paternal grandmother came to mind. She died when I was around 10 years of age (over 50 years ago) but I remembered that she loved me very much as I did her. My experience with Dulce reminded me that I had connected with someone once and left me feeling hope that I could do it again.
When I returned home, Marsha shared some of Dulce's background and how she came to be with Marsha and Mark.
Living in poor conditions, she was being tormented by another horse next to her. Having been teased mercilessly in grade school, in my own way I could relate to her experience.
For me, this was a life changing experience that I will treasure forever. I can simply describe it as "divine". Mark and Marsha are beautiful people and their herd of horses are recipients of their love. The horses are happy, healthy and beautiful spirits. I would love to return some day to see them all and urge anyone who visits
Costa Rica to pay a visit.
Debbie F.
Oshawa, Ontario, Canada
April 2016


"My Experience Meeting the Horses was Magical"
Magical in the way that these animals had opened up for me new ways to understand people and have changed my comprehension of that world. Through them, surprisingly, I have been connected to the purity of our animal part as human being... For this incredible gift, I will be for ever grateful to the horses, especially Sweet Prince and the Mom and the Daughter horses and for sure, Mark and Marsha, who make that experience possible. Thank you so much ! XX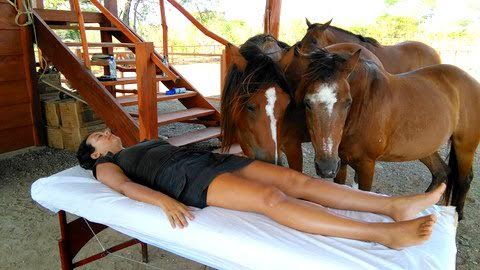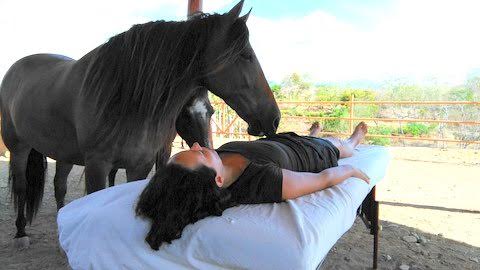 Mailany Charbonneau, Montréal, Canada
Writer of a spiritual book by chanelling procesS
April 2016


"The experience was incredible!"
I see you have something very special. It is the horses, for sure, but not only the horses. You and Mark are the team leaders. The horses love having direction from you. Your direction is conscious, loving, compassionate.... So, because this is where your hearts are, you are teaching all of us by example. It is teamwork. Today, I saw the horses in the space of raw intuition and true love. I saw you, Mark and Davie in total sync with the horses... Love is all there is. When we talk about common denominators. love is the root denominator.
I have never been in enclosd space with horses before without the horse being tied up. That was incredible.
I am sure more gifts and lessons will unfold, but to share space with these beings was a gift from heaven.Very deep. I LOVE the horses. This was a special day.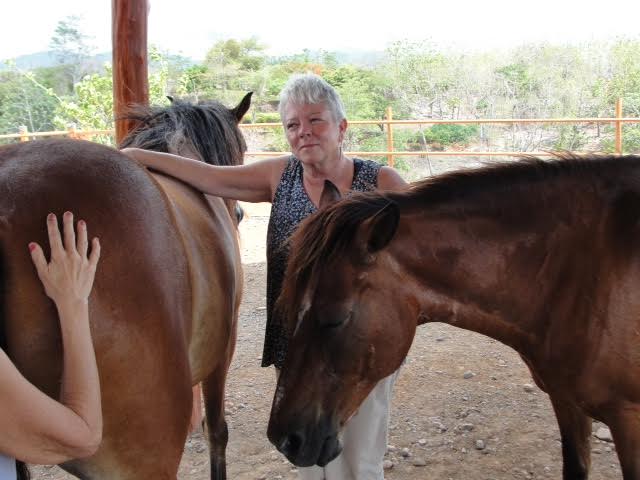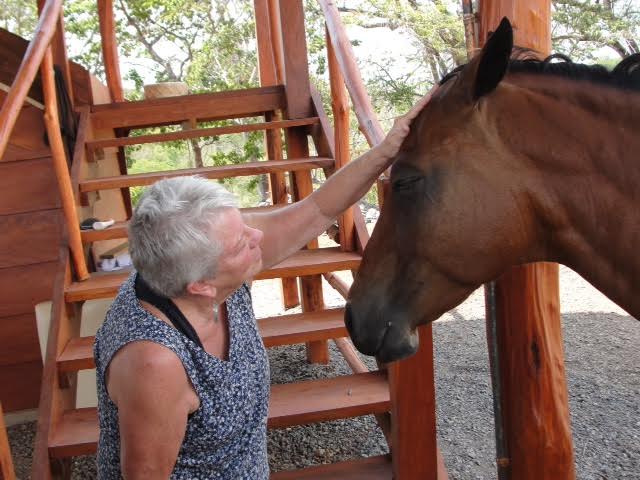 Judi,
May 2016



"Marsha and Mark and all the Horses"
It was so very touch to once more get connected to you through your email!! Nice pictures and incredibly deeply penetrating memories! Memories of connections to something vast, powerful and forever and everywhere present. Stillness, peace, groundedness. Thank you again to you and Mark for sharing with us what is very dear to you both, your heart, thoughts, experiences, your Horses. It was an experience of our life. We keep bragging about it to our friends. We also hope to see you again.
Warm wishes,
Aysa, Alex April 2016



"Your Horses are so Giving and they Exude Love and Peace"
Mark, Marsha I can't even begin to tell you how grateful I am that I was able to meet you and your horses! The peace and unconditional love they gave me was absolutely amazing! They provided answers to questions I had been asking myself for a long time and I can't tell you enough how relieved and peaceful I feel. My future is much more clear to me now thanks to them. I finally feel like I have direction and purpose and it feels amazing! Your horses are very special and you and Mark are wonderful healers and incredible people. I will be forever grateful to have had the opportunity to meet you and your horses and will carry this memory with me always. I would recommend this to anyone who is searching for answers or needing peace in their lives. Your horses are so giving and they exude love and peace. Anyone in their presence can feel it. It was the most amazing experience I have ever had and I will never forget it. You will always be in my thoughts, prayers and my heart!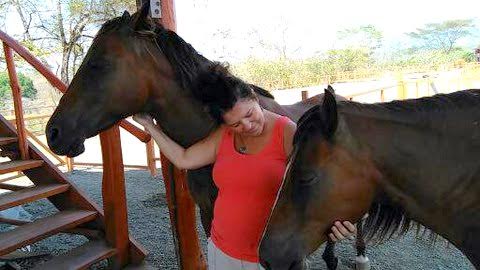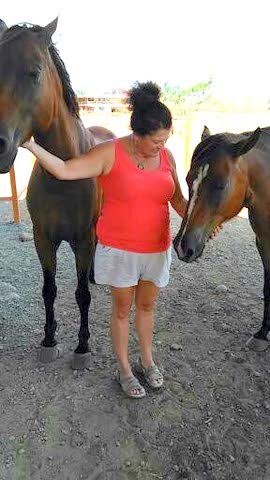 Many thanks
Love, Rita
March 2016



"An Experience to be Repeated"
Our two kids (6 and 9) really enjoyed being with the horses; it was so natural for them as it was surprising to me seeing them feeling so relaxed and happy around them. It was their first time ever.–
Watching our 9 year old daughter and my 6 year old son feel at ease among these big horses was something else, an experience to be repeated!
We all LOVED it!!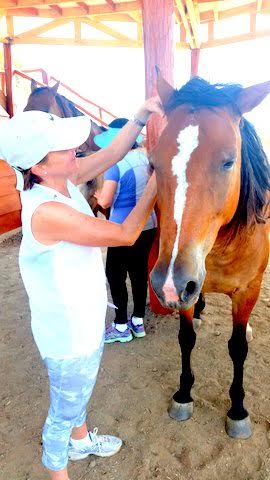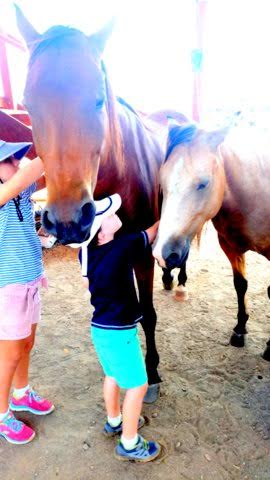 Javier Gómez Gabriela
Llobet April 2016



"Gracias Marsha & Mark!"
Really enjoyed your place & the whole experience! Your work is awesome! Thanks for sharing your home, hospitality & your amazing four legged friends.
Sheri
March 2016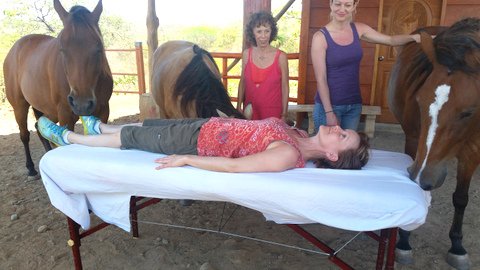 "There were so many OMG moments throughout our intensive weekend."
I booked an intensive weekend with my fiancé, Mike, to visit Finca Sweet Prince to work on personal and relationship issues that had been brewing for awhile. I searched the internet and was impressed with the equine assisted program offered at Horse and Soul Connections. As a Reiki practitioner and someone who has an open mind about new experiences, I enlisted the aid of psychotherapists extraordinaire, Marsha and Mark Friedman at Horse and Soul Connections in Costa Rica to get to the root of my deflated esteem and lack of self worth. They sent a detailed questionnaire for us to honestly and openly respond to so that our time with them wouldn't be whining about the past and wondering how did it get so bad, rather assessing what the issues were and how best to set up a strategy to tackle them. I loved that approach. Set goals and take action. When we got to Finca Sweet Prince, after a long drive from Tamarindo to Jaco, and a major, full on battle about pointless nothingness, we were a bundle of nerves, anger and negativity. The tension was palpable. We "smiled" and chatted with Mark and Marsha, but inside I was seething, at myself and at the universe. I was full of doubt and cynicism. I was my own worst enemy. A few hours later, after learning the language of horses and setting the structure for a hopefully productive weekend, we were introduced to the "team".
The team consisted of Sunshine, Prince, Rainbow, Sugar, Daisy, and Sammy. Clearly, the horses had done this before and circled around us to show us how it's done. Mike was harboring a fear of horses since childhood and was less than comfortable meeting the horses for the first time. As we entered the arena, the horses sensed Mike's discomfort right away and Prince led the team to surround him. He lowered his nose to Mike and placed it on him arm, as if to embrace him and say, "It will be ok. Trust us." I wasn't left out. The lead mare, Sunshine came gently over to me and stood looking me in the eye. In a stern, yet gentle way, her eyes spoke the same thing to me, "Relax and trust us." It was an incredible experience that I will never forget. The energy that was shared between the horses and Mike and I was nothing short of miraculous.
There were so many OMG moments throughout our intensive weekend. The morning started with talk therapy with Mark and Marsha and a lovely guided meditation. Then we would spend time with the horses. On the second day, there was a massage bed in the middle of the ring and we were instructed to take turns climbing on it and allowing the horses to heal us. Another incredible experience. Both Prince and Daisy went straight to my right foot and hovered there, nose to foot, while the other horses formed a complete circle around me on the bed. I had had surgery on that foot 3 years ago and had been having on-going issues with it, forcing me to cut back on exercising, running and long walks. I laid there for who knows how long, and when I felt ready, I climbed down and let Mike have his turn. The first thing Prince did was to put his face directly in Mike's face, only an inch away, snout to mouth. Daisy hovered around his midsection. Prince stayed above Mike's face until his fear of horses subsided and he realized he was in a safe place. Prince didn't move for the better part of 15 minutes. Meanwhile, Daisy planted her nose on Mike's naval. The exact spot where Mike had had a kidney removed 3 years ago due to kidney cancer. It was remarkable, the inherent knowledge the horses had and their ability to heal and teach us how to be present.
I will summarize by saying that the connection with the horses and the "work" that was accomplished with Mark and Marsha that weekend was a wonderful stepping stone to becoming aware and starting to work on our issues. Mike and I left Finca Sweet Prince holding hands, smiling and feeling lighter than we had in a very long time.
Jackie Hartnett & Mike Sassorossi
Owners and Co-Founders of Revive Wellness Center at Langosta Beach Club
www.ReviveWellnessLangosta.com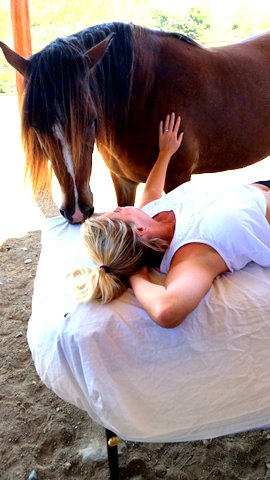 "A Christmas Gift to Self"
Awhile back my dear friends Lisa and Allison shared with me about their amazing experience at Horse & Soul Connection. I have always been drawn to horses for their beauty and presence, so once I learned about this horse healing session I felt I had to try. Since Christmas was just around the corner I decided that my gift to myself, to my sister and a good friend Tatiana was going to be a little trip to Orotina Horse and Soul Properties for a healing session with their horses.
On December 23rd we arrived at the ranch where first we introduced to the horses' stories and informed of how this project was started. We also got very important information on how to read the language of each horse and what to expect from our session.
Once we got to meet the horses we immediately realized that they were in charge. Each horse chose one of us to be his partner in the session and I was chosen by a very pretty horse. He approached me and my first reaction was a mix of respect and affection.
After the first couple of minutes of "OMG… he is a big horse. I hope he is not going to bite me," I began to feel such a loving protection for him. We spent the next hour just holding each other and it was such a profound sensation of unconditional love that the tenderness of the moment brought tears to my eyes.
After getting to know one another we each took turns laying on a massage table to receive healing from the horse. My experience was just ..profound …for lacking better words. I lay on the table with my eyes closed and one of the horses, Sweet Prince, tapped my foot with his nose. It felt like he was calling to me so I opened my eyes to look at him and for the next eternity or 30-minutes, we stared into each other's eyes until I had the precise feeling of looking into my mom's eyes.
My mom passed away last July so my response was very emotional – a great feeling of release came to me and so I just relaxed onto the table while the horses kept working on me. I opened my eyes to find Sweet Price in a sort of trance. He felt/ looked like a powerful shaman connecting with all the healing forces of the universe, just for me! It was a simply beautiful experience!!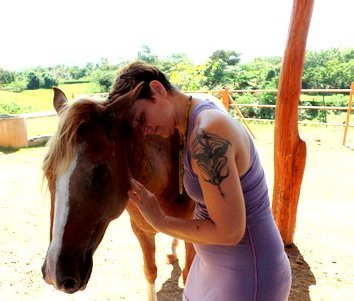 Evalinas December 2015


"Marvelous Day"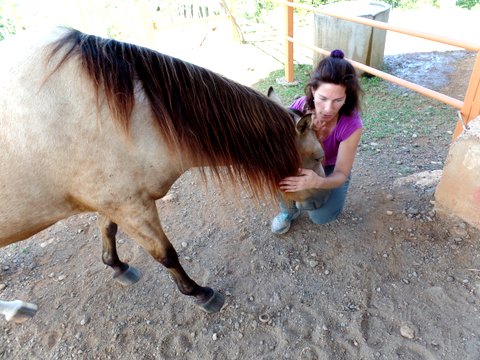 Your pictures of my mom's and my experience with your sweet horses are absolutely wonderful. Thank you! I have shared these more than any of my other photos I took in CR while there as I can simply not tell enough people about how unique and special that time with you and the horses was for me. As I reflect back on all of the wonderful moments I had on this particular trip, the time on your ranch happens to fall into #1. No kidding! I will never forget the special moments shared with each one of them but particularly with Prince and Sunshine. Of course, all of them are special spirits and I am so happy to have had the pleasure and honor to be in their herd for a short while. I wanted you and Mark to know how I woke the next morning feeling more at peace and easily 10 lbs lighter thanks to the clearing that the horses did for me. My heart beat with more ease and I felt like I could breathe deeper – I do not believe that this was a coincidence but a manifestation of all the work I did that week with the horse energy completing the energy restoration for me. I hope that you, Mark, the dogs and the horses continue to do the wonderful work that you do and make the world a better place as a result for a long time!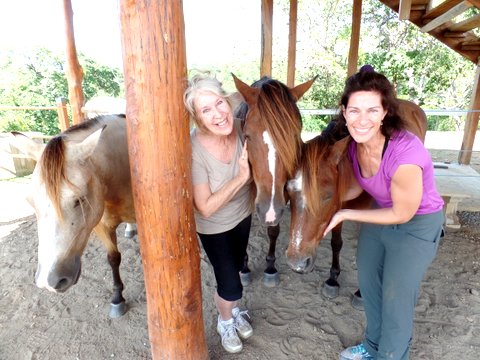 Sonia December 2015




"Marvelous Day"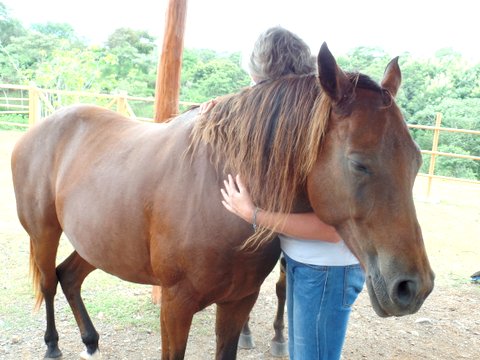 Thank you so much for the marvelous day in the company of you both & the herd. As the day progresses, I am more enlightened and blessed by the experience at your ranch. I slept so well last night & was filled with flying dreams. Thank you for the pics. I will always cherish them and the reflections on that LOVE filled day.

Blessings, Karen October 2015




"I Will Be Back Again"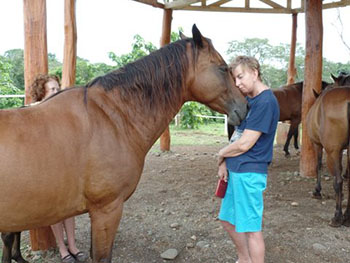 Wow, such marvelous experience I still can't believe it! It was really, really such a deep spiritual experience and the horses are incredibly sensitive. First we had the explanation, some facts about horse's history, character, life... then the meditation. And then we went to meet THEM!! Marsha thinks that they, especially Sweet Prince, remembered me...from the last time I was there. Which I believe! At a certain point they were all around me, I felt their presence inside me.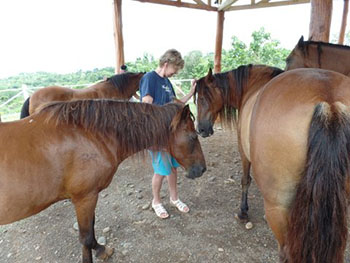 A horse is such an incredible creature, patient, sweet, and wise. Incredible how much I learned from them about myself. Marsha and Mark are real wise horse connoisseurs and very good friends with all the horses. The horses know it. I was so filled with their healing, information and love.
I will be back again!

Maria
Poland
July 2015


"My Prince has Come"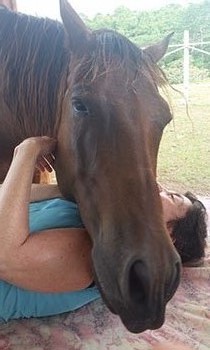 Doesn't this picture just say it all? Beautiful Prince and I knew each other pretty well because of my six previous visits, but I never expected this kind of intimacy with this gorgeous and gentle creature. With Prince's head on my heart, I felt so protected, accepted and loved. While I can't promise you will be that "up close and personal" with him, just being in Prince's presence is a life-changing experience. Being one of the herd while laying on the table was a new experience I will always treasure.

Terry
San Francisco
July 2015


"This Experience is Definitely a Spiritual and Reverent One"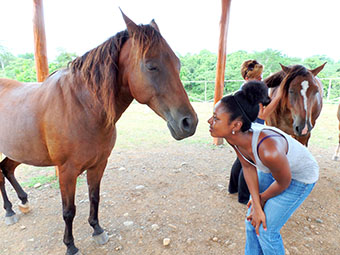 I had an amazing experience with Marsha and Mark at Horse & Soul. The property is absolutely breathtaking, and I immediately felt welcome by everyone there even though I was traveling alone. Marsha and Mark are very special people who truly want everyone to have a memorable once-in-a-lifetime experience at their property.
The informational overview and meditation at the beginning of the experience was a great way to learn about the spiritual connection that the horses have. We learned about what signs and signals we should be on the lookout for in order to receive validation, messages, or other communication from the horses. We also took the time to discuss our personal intentions on why we chose to come and what we hoped to receive from the horses.
Once we actually met the horses, there was an immediate change in the atmosphere. This experience is definitely a spiritual and reverent one, and I would encourage all interested in participating to come with an open heart, mind, and soul. One of the horses, Prince, was the first one that I connected with and the one that I had the strongest connection with. I cannot exactly explain how, but after spending time with him, I received all of the validation I needed regarding the new chapter in my life that I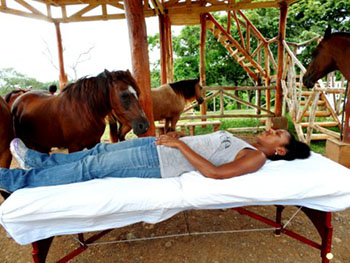 was starting soon. I wanted encouragement to know that I had made the right decisions despite not receiving support from everyone. Again, I can't explain exactly how this happened, but I immediately experienced a resounding "YES" as I approached and spent more time with Prince. These animals are so loving, giving, and nonjudgmental. They are clearly connected to a higher being, and I am so glad that I was able to experience that with Marsha and Mark leading the way.
If you are in Costa Rica and are interested in a memorable spiritual experience, this is something you don't want to miss.
Noelle Kelly
July 2015
"My heart felt so satisfied and fulfilled "

Thank you for an amazing experience with Horse Soul Connections. Today was my "little girl's" dream come true. I was able to express my gratitude, appreciation and love for horses. My heart felt so satisfied and fulfilled. Sweet Prince, Daisy, Rainbow, Sugar Plum, Sammy & Sunshine were incredible reflections of our true divine nature, pure LOVE & LIGHT. I received some very profound messages while being with Sammy and Sugar Plum. I asked Sammy, "What do I need to let go of?". His response was quick and surprising! Let go of the question!! As I sat with his answer the next day I realized the depth of his response. If you hold onto nothing, there's nothing to let go. Life is meant to be a joyous fluid experience with each new moment containing everything necessary for that moment. If we stay in the PRESENT, everything is given so there is nothing to hold onto and nothing to let go! WOW!
Sugar Plum, the eldest and leader of the herd, when asked if she had any words of wisdom for me, she simply conveyed, be yourself. YES! Drop the mask and be the wondrous being of light, peace and joy you were created to be! WOW! As I was hugging Rainbow I felt my heart expand and tears of joy dribbled down my face. On the massage table with the horses around me, I felt sweet sweet surrender and a deeper trust in myself and life. YES!!!
Afterwards we got to meet the "Three Amigos", Captain, Romeo and Sparky! The "boys" graced us with their youthful vitality. The energy was so peaceful that even the rambunctious dudes were in a relaxed meditative state. It occurred to me very strongly how each horse was a complete and unique being and how each of us has a special gift of presence to grace the world.
Thank you Mark and Marsha for the work you are doing with humans and horses. What a divine combo to help us see, feel and BE our true divine nature, PURE LOVE & LIGHT!!! You guys ROCK and we love you and ALL your 4 legged angels (Cookie too) TOTALLY!
P.J. Foy
April 2015
"Peace & love"

I touched horses in a way I've never done before and I felt touched by
horses (emotionally) in a way I've never felt before.
I love experiences that change the way I see the world. Thank you
Mark, Marsha and Davy. Thank you for my new horse friends. Horse Soul
Connections changed the way I see the world.
Jim Robinson
April 2015
"I do Feel Renewed and Strengthened After Being with Them"

Marsha and Mark I want to say thank you for a wonderful experience with you and all your four-legged family. I had such a good time with the horses, particularly Rainbow, Romeo, Sparky, Prince and Sunshine, who all helped bring some things from the subconscious to the conscious for me. I do feel renewed and strengthened after being with them and you both. Most importantly, I feel that my mum feels renewed and a strong sense of encouragement for her journey that's just beginning

I think that our trip to Costa Rica was so needed and it couldn't have been as emotionally profound without your help. I had many dreams with all the horses in them on my last night there. I missed all the horses on my way home, but Romeo holds a special place in my heart. I still miss his soulful eyes.

I hope that we will see you both and all your 'children' again.

Corinne April 2015. I have also come up with my three core values, which I think focusing on will help me in years to come.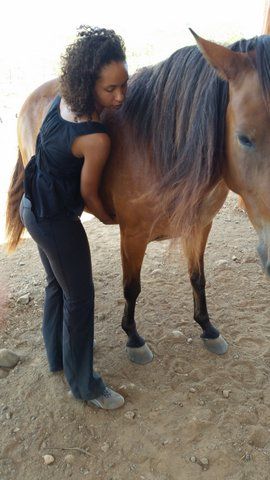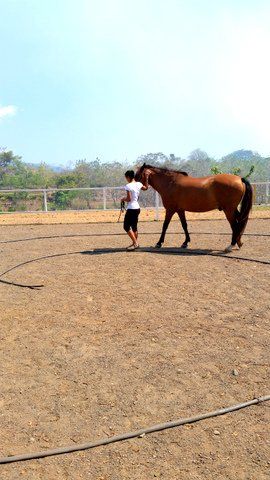 "The Horses Were Amazing…"

My daughter and I had the most amazing time with Marsha, Mark, Cookie (their dog) and the horses. Words cannot describe what a spiritual experience it was. Little did I realize that the week before I arrived, I would be diagnosed with breast cancer. With travel arrangements already made, my daughter and I decided we would still go to Costa Rica as it was a short trip, and my treatment could commence after I returned. The horses were amazing, as was Marsha, Mark and Cookie. People have used the word magical, and it really is a magical experience. I will share just one incident that happened during our 3 day adventure. Marsha tells you that when you lay on the massage table, the horses decide which of them will come. When I laid on the table, Prince came to my head, Daisy to my midriff. Sugar Plum, who was standing in a corner to herself, made it a point to walk around Rainbow (her very assertive daughter) and positioned herself at my legs. Part of the instruction is that you can get up at any time. After about 5-10 minutes, I thought I had had enough and raised myself to get up. Prince moved his head to block me, and began to breathe close to my face. I figured, "Okay, I'll breathe with you for a little while" and lay back down. My head was turned – looking into Daisy's serene eyes while this was happening. After my breath slowed down to match Prince's, I felt something on my legs. Sugar Plum was resting her muzzle on my legs and proceeded to lick my left leg. She continued to do this until I had absorbed her comfort and healing sprit (which I felt only after Prince had slowed down my breathing and made me relax).

Afterwards I shared with Marsha and Mark that the cancer was in the left breast, the same side as the leg that Sugar Plum had made it a point to lick.

There were many more "magical" instances that I witnessed and experienced in our 3 days together. I felt that three days really is the best length of time as it allows you to get to know the horses, and they you. My daughter, who is 26, felt that she could have spent a whole week there. And we are not "horse people". In fact in the beginning my level of comfort was 3 on a scale of 1 to 10. I highly recommend this experience to everyone!

Jeanine March 2015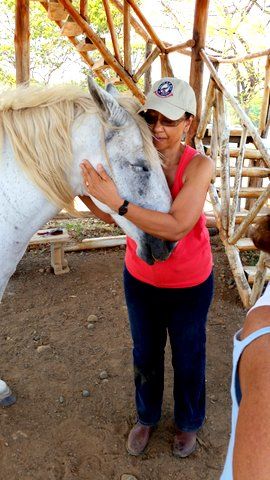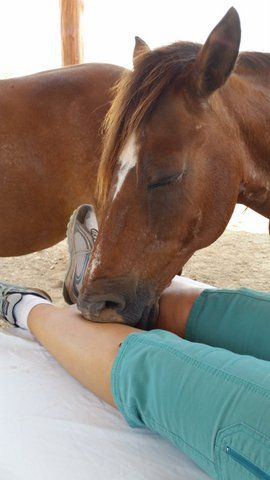 "I Felt their PRESENCE, their PATIENCE and their LOVE"

I recently returned from a visit to Costa Rica. I was able to spend time with Marsha and Mark and their wonderful sweet horses at the Horse and Soul Connection. I had two special experiences. I will never forget the feeling of lying down with the warmth and the breeze and the horses standing by; Prince and Sammy. I felt their presence and their patience and their love. I had one brief but powerful experience of light energy streaming in all directions and I lost the feeling of the boundaries of my body. It lasted only a second but I know that it was real. When I meditate now I remember the comfort of Sammy and Prince. The other experience was with Sparky, leading him through the labyrinth. At first I had to pull him and he stood firm. My intention was not strong enough and he taught me that. I made the decision not to waver and I let him know that. From that point forward I was able to lead and he came with me with no hesitation. I learned that I have to stay strong,know what I want and stick with it. Thank you Marsha, Mark and your special horses.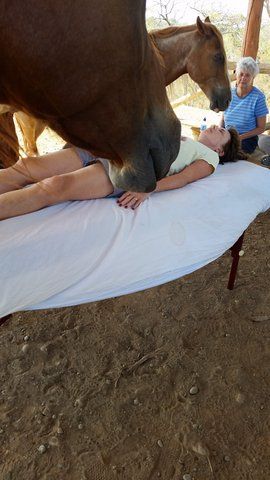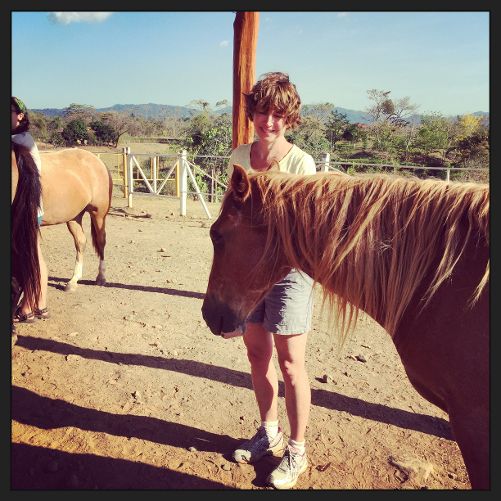 Jen March 2015
"Truly Magical"

The experience at your place was one the absolute high points of our trip to CR. I will NEVER forget my meditation with the horses, and opening my eyes to Daisy in my face. It was truly magical!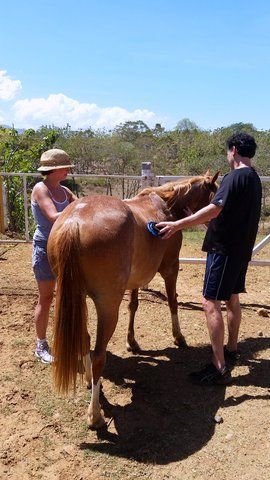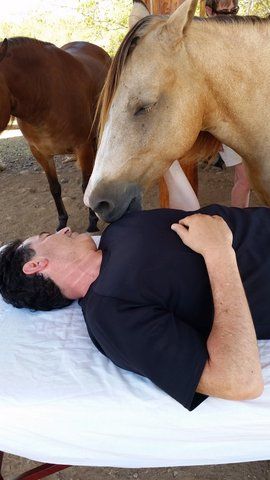 Richard 2015
"It Is An Experience Like None Other"

It is difficult to capture in words what a magical experience it is to interact with the horses at Sweet Prince Ranch. You do not need to have any previous experience with horses. They are so calm, loving and welcoming that you cannot help but fall in love with them and make a connection and a sense of peace that will last long after you leave. It is an experience like none other, and I cannot recommend it highly enough.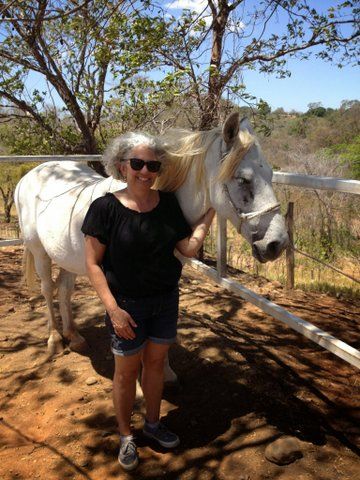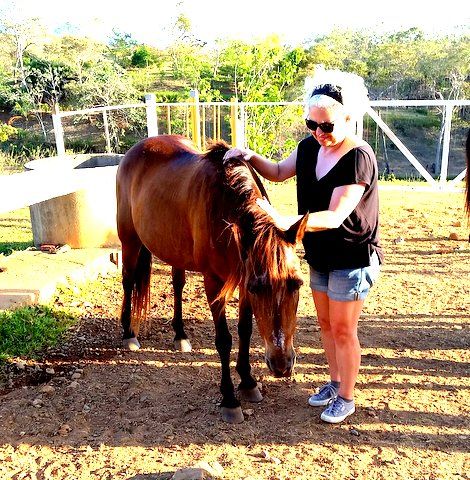 Holly 2015
"was the most obviously transformational event I have witnessed and been a part of in all my years of leading retreats"

My experience of the depth of the healing power of the spirit of the horse deepened considerably during our time together.
It was so affirming on the second day when I arrived with my hair down and Prince virtually rushed over to me and greeted me with such recognition and love.
Even the first day when I went into mind/heart meld with him I felt such empathy from him, I couldn't stop the tears. He felt and acknowledged my longing to be in his world of love and reciprocated the longing back. It was overwhelming.
During the table session when he participated in my healing and licked my leg and knee and brushed his nose on the table repeatedly I felt such a release of a deep holding pattern which I know is forever reverberating in my soul.
Rainbow too was so assertive in her approach of me in the corner where i sat on the bench, to continue the healing with more licking and yawning. Amazing!
Of all the retreats I have lead this experience of bringing people to the two day intensive with the spirit of the horse under the loving guidance of you and Mark, was the most obviously transformational event I have witnessed and been a part of in all my years of leading retreats
I have a deeper appreciation of how amazing and unique you and Mark are in your approach to this work, if you could call it work :) I am so blessed and so grateful.
You are such gifted healers, creative souls and courageous humans to believe in your visions and manifest them for the betterment for human and horse kind.
You have such an intuitive connection with the horses. You have been doing this for many lifetimes. I am honored to be a part of this process and hope to continue to do so.
I am already envisioning next year. Thank you and all of the horses from the bottom of my heart.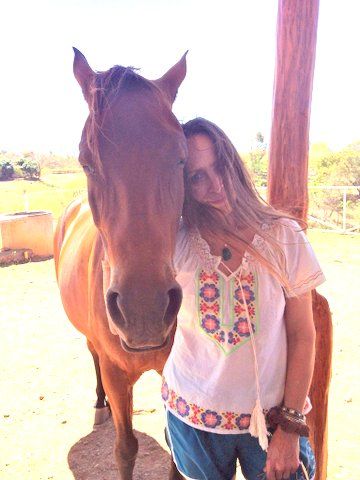 Always and forever in gratitude Neva Group Leader of Coming Home Retreat
March 2015
"The Horses Encircled Me"

Thanks so much for the photos. Especially love the one of Daisy yawning and the two of us taking a standing nap together - an experience that stays with me especially.

I'm a "word person" - it's very hard for me to turn off my conscious, language-driven brain and just be. One nice thing about being with the herd though was knowing that I could be silent; or if I spoke out loud to the horses, what they'd mostly "get" was tone of voice - so it didn't matter if I worked to find the exact "right" words to express my thoughts. During the time I spent in the herd, while I found my stream-of-consciousness slowing, turning, I made no effort to turn it off completely, as I would in regular meditation. This helped me to transcend the dualism that plagues us "civilized" tribes - I could be both body and mind, words and silence and awareness, without making the effort to suppress one faculty or another.

While on the massage table, I closed my eyes and did a more traditional sort of breathing exercise to quiet my conscious mind. The horses encircled me - Prince at my feet like one of those faithful greyhounds you see in grave bronzes in England, curled under the velvet slippers of the deceased Lord or Lady; the others shifting positions like a set of living, moving, horse shaped Tarot cards. I listened to them lick and chew - even tried a little of that myself, and then sent out an intention for Daisy to come over and join the rest of us "girls." Her presence completed the circle, except for Sammy--whom I now think of as the Grandfather Spirit Horse, and who stood guard at the paddock gate.

I cannot thank the herd enough for preparing me for this next phase of my own life - for setting their examples of community, detachment from the material world ("if it's not grass, what's the point?" I can hear Daisy say) and simply being present for one's life. If Rainbow and Daisy can be with their mother/grandmother Sugar through Sugar's aging, and if Sugar and Sammy can hold their daughter, granddaughter, and granddaughter's special friend in a cohesive yet flexible circle - well, then so can my human family.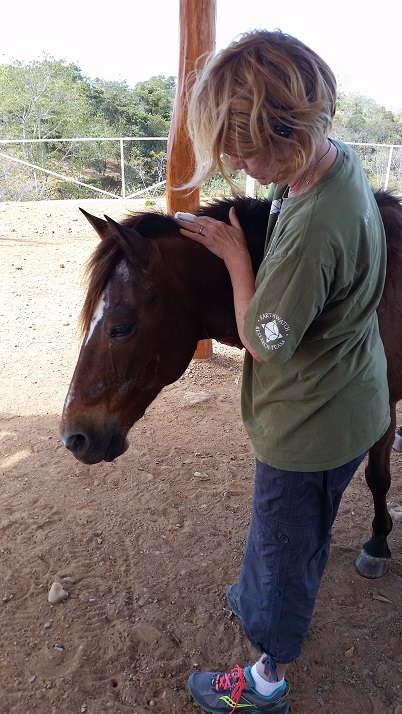 Patty
January 2015
"My Table Top Therapy Healing"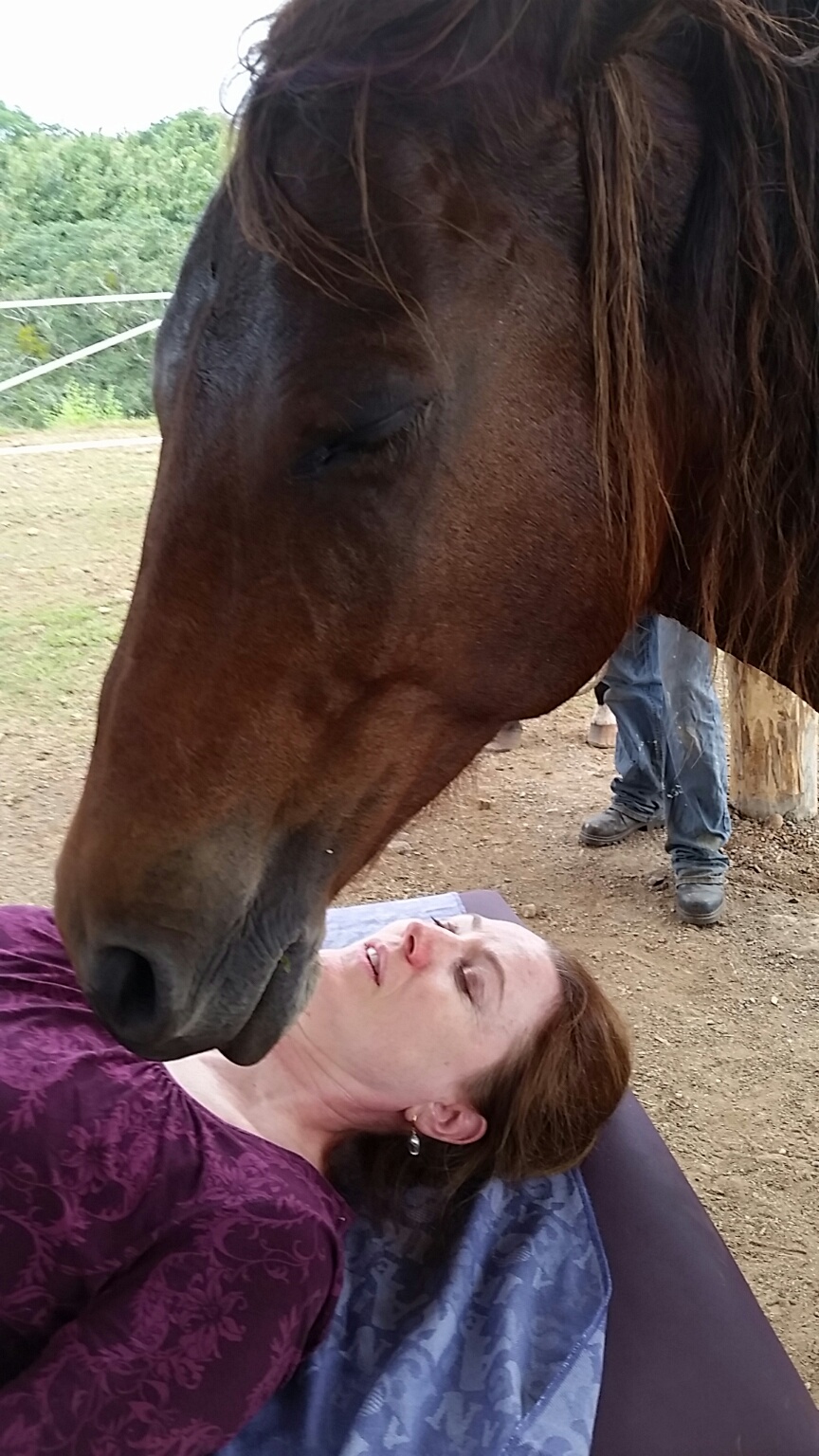 My Table Top Therapy healing with your herd is still so vivid - laying on that massage table with the horses surrounding me. It will remain one of the most extraordinary experiences of my life. Whenever I think of it, I can still feel Sweet Prince's immense presence breathing above me as if suspended in time.
Nothing can take away the EXPERIENCE I lived of being HELD in time and space and....LOVE? Was that love - or is that our human translation for that depth of (god) presence that just is, that is all accepting, all there - completely THERE FOR ME, utterly containing.

It was the closest thing I have felt to what some would call a "religious" experience. It gave me the felt-sense of what I imagine it would feel like to be consciously and palpably visited by God. Or at least a big fractal having the capacity to perceive me completely. They knew where all my physical and emotional injuries were and went right to them in gentle, perfect sequence - unlocking each one, chamber by expanding chamber.
It was as if my subconscious, historic, foundational pains were brought to light, magnified, made kinesthetically conscious, and then were deeply soothed in the safety of their majestic presence.

To experience those big beings who had nowhere else they needed/wanted/were drawn to be other than right there with me, completely of their own volition and generosity, their own desire and instinct -until I felt complete - helped me to feel the ultimate...that I mattered that much. To someone, to them – and if that much to them, then to others.

Into the cells, that went. It was life-changing to be able to let in that depth of unprecedented, altering experience. I felt like I gained some major secure attachment in just an hour! And Sweet Prince and the other horses were not only deeply healing to me but taught me so much about how to be a better healer. I have invoked Sweet Prince in many of my sessions since, guiding me in that depth of being, holding, presence; standing like a sentinel for the deepest of transformation for my clients.
I send you my deep gratitude and appreciation for your vision of animals' powerful capacity and rightful place as healers. Thank you for your daily care-taking and stewardship of these amazing furry light-beings who grace this planet and are just waiting to be recognized...

And for making that magnificent healing experience possible for me. It was a true and precious gift.

Alison M
December 2014
"MY CONNECTIONS WITH ALL THE HORSES WAS MAGICAL!"

Magical!! No other word exists to describe my experience with the horses at Horse and Soul Connections. I came to Costa Rica for a sound-healing retreat. I was in great need of healing, constant chronic pain and fatigue plagued me daily. I could barely participate in the retreat. Yet one excursion I knew I needed to attend, and that was to the horse farm. The group gathered for an introduction, and the moment I saw the horses, I began to cry. Emotion overwhelmed me, their beauty, their spirit my pain. When it was time to interact with the horses, I entered the area and Prince, a giant, regal male, gave me a loving, playful nip on my butt, encouraging me to keep moving on to the other horses.

First I went to Sammy, the youngest, the Omega if you will. I spoke to him, related to him, and told him that I'm the youngest of nine kids, and I get it. One day I told him, you won't be on the bottom of the totem pole. Then I moved over to another area where Captain and Romeo roamed. Captain nestled up to me but then was occupied with another person. I moved over to Romeo, who immediately connected with me. He began to lick my hair and massage my head with his teeth. He nestled up to me and put his head on my shoulder. He gave me love because he understood that I was in need of love and healing. Reluctantly, I left Romeo, and made my way over to Captain the Alpha. Captain too, sensed my need for love and healing. He licked my hair, tugged at my shirt. He even gnawed at my cell phone in my pocket. My friends joked that he wanted to "get my digits". Captain then put his head on my shoulder and nestled up to me. He turned around and put his rear end in my face, clearly asking me to scratch him.I stood behind him without fear of being kicked. I knew it was pure love he was conveying to me. The interactions with the horses brought tears to my eyes. They could sense my pain and knew I was in need of love and healing.

I did not want to leave Captain or Romeo, but I wanted to interact with other horses. I left that area and entered another where Prince was, the one who gave me a love nip to send me on my way when I first entered the arena. I stood face to face with Prince. He put his head up to my forehead and remained there for several minutes, as if he had something important to transmit to me. He then moved his lips up to my lips and gave me a gentle kiss. He gave me the gift of patience and contemplation.

Although it was hard to move on to meet other horses, I was drawn to the arena off in the distance where three horses where, but only one person. I asked if I could go and meet those horses. I made my way over, and Lori, my cousin who was there with me said immediately, "Stay away from that one, he's grumpy." I asked what his name was and she said, "Benny." I had a sense Benny and I were of the same cloth. From a great distance from Benny, I bent down and put my arms out to show him I was submissive and was not a threat. No one told me to do this, I intuited it. After a few moments, I stood up, walked a few steps, and bent down to do the same thing. I did this three times, each time inching closer to Benny. When I was still some distance away, Benny approached me. He licked my hair as the other horses did and put his head on my shoulder. And then he allowed me to pet his face. I gently stood up. I stroked his head and even put my knuckles in his ears to massage them. I stroked his badly bent back. And he moved so that I could stroke his behind, too. Benny trusted me, and I trusted him. I sensed that Benny wanted love just as much as the other horses, but put up a pretty tough front and a signal to stay away. I understood that because I too do the same thing.

When we re-gathered together as a group, I was told by Marsha and Mark, it was remarkable to see Benny interact with someone the way he did with me, in the seven or so years that they have been his guardian, it was the first time they had seen him really open up. And then they shared with me that Benny was severely abused by prior owners. They asked me how I did it, how I connected with Benny. And then I shared with the group that I too, was abused when I was a child by my father. I did not know Benny's history when I first met him. But from afar, I identified myself in him. I too, put up a very tough front telling everyone to get away, while inside I ache and yearn for their love, touch, and presence. But it's hard to trust that people will not hurt me the way I was hurt as a child or in any other way. And I saw the same yearning in Benny. That's why I knew how to approach him, in a very submissive way, so that he would know I was not a threat. And that's why he trusted me, because I knew how to approach him, I knew how I would want to be approached.

My connections with all the horses were magical. The group called me "The Horse Whisperer". Really, what I think is that I was open to receive the gifts that each horse had to give. And I was in dire need of help and healing. The experience with the horses was transformational. Benny and I formed a connection that I will carry with me always. In my interaction with Benny, I was a healer and healed. I understood myself better by seeing Benny exude the same behaviors that I have as a result of being abused. Benny was in need of touch and love, and so was I.

I will always carry with me the love and tenderness that all the horses gave me. When I'm feeling low or alone, I look at the pictures of the horses and me. The memories come back and comfort me. Beyond that, I again feel the connection to the horses that transcends time and distance. Benny and I are forever bonded. We healed a part of each other.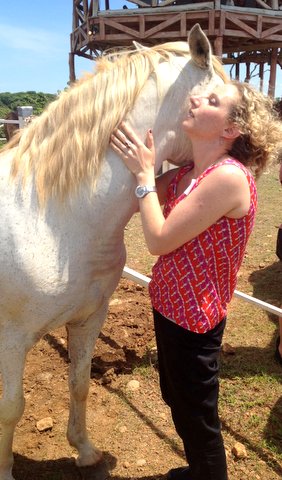 Emily
June 2014
" If you have ever questioned if an animal has a soul or if they have emotions and understand humans"

--- visit to Finca Sweet Prince, you will never have any more doubt.
This will be the most amazing experience, when you look into the eyes of these beautiful creatures and make the heart connection with them, you will be so overwhelmed. This was my second visit, on my first one I was dealing with a personal grief situation and made a connection with a beautiful sweet horse named Sherry; she was so special and gave me such strength. On this visit I was hoping to see her again, but was saddened to find out she had passed on.
I could still feel her spirit and she guided me to her son Sammy. I am in a situation now where I am starting a new chapter in my life and was feeling unsure of myself. Sammy gave me the confidence to trust myself and proceed.
This was confirmed by Daisy and Prince, two of the other beautiful souls there. All of the horses at Finca Sweet Prince are so special, they are very lucky to have Marsha and Mark as their caretakers and Marsha and Mark are so lucky to have these special and unique horses as their companions.
Mark and Marsha are wonderful guides in helping you connect with the horses and they understand what you need. For those who are enlightened enough to understand the connection between humans and animals you will have an amazing experience. I was having a hard time writing this testimony, because how do you describe something indescribable.
You have to experience this yourself, everyone has different issues and it is different for everyone, but it will be unforgettable. I carry the wonderful spirit of these horses with me and can feel the connection even though I am thousands of miles away. I look forward to my return visit.


Marquita
Florida
July 2014
" It Was a Unique and Beautiful Experience"

My first trip to Costa Rica was going to be about the rainforest, exotic birds and monkeys, beaches and zip-lining. I had a free day, and decided to go to Horse and Soul Connections to meet and spend some time with the herds there.
I have always enjoyed being around horses. It ended up being much more. It was a unique and beautiful experience. I connected with some of the horses and learned things about myself, in a loving, accepting environment.
The farm is very peaceful. The experience with the horses is very powerful and positive, and will always stay with me. Everyone should try this at least once. I look forward to returning and spending more time there. Thank you Mark, Marsha and all the horses for a wonderful, and for me, life-changing experience.


Anne
Boston,MA
June 2014
" Each Individual in our Group was Transformed in Some Way"

You can read about Horse and Soul Connections in an advertisement or online, but words and pictures only begin to describe the magic of this very special place.
I was drawn to visit after I heard someone else talking about their amazing experience at Horse and Soul Connections. This person told me the horses knew things about you and that when you make a connection with a particular horse, that connection would provide you with insight about yourself.
I was intrigued even though I have very little experience in being around horses. I am always up for a little bit of self reflection and learning things I didn't realize about myself! Horses are majestic and powerful, and these horses especially have the ability to help you change the momentum of your very existence. Each individual in our group was transformed in some way (for some it was spiritual, for others mental and/or emotional, and undoubtedly some were physically transformed as well).
For me personally, the message/lesson was one of self love and it was powerful. As a collective, our group transformed together as well.
In those hours we spent in close connection with the horses, we were bonding with each on a very deep level. There were Reiki practitioners in our group, myself included, and the energy generated among the people and horses was absolutely beautiful and incredibly healing. (You certainly don't have to know or use Reiki to have a deep and meaningful experience here!) The owners are gentle, warm, friendly, and inviting. They welcomed us as though we were family. They are incredibly knowledgeable about the horses and they are gifted intuitive group leaders. If you're seeking depth, self awareness, transformation, direction, peace, love, forgiveness, healing, connectedness, intuitiveness, to face and overcome a fear, and/or just a really cool experience then this is the place for you! Every time I return to Coast Rica, I will make it a point to return here because I love the horses and the people so much! It feels like "home". With deep love and gratitude,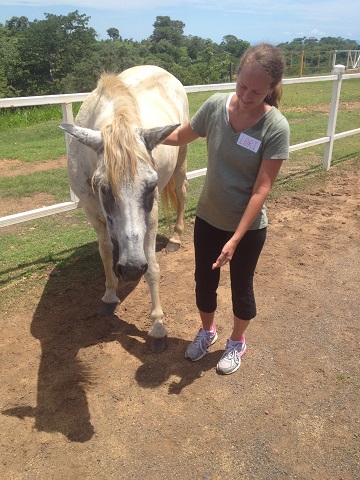 Lori
June
2014
" It's an incredible experience and everyone should try it!"

I find it difficult to put my experience into words. Words do not give justification of how magical and enlightening it was to be with the horses.
My first time with the horses began with going up in a mirador, overlooking Marsha and Marks amazing property we were given information about how to connect with the horses and have a memorable experience.After this we went down to meet all the beautiful horses. I had a special connection with a beautiful horse called Sammy.He opened up my heart and made me feel so much love. It was due to this connection that I felt I had to come back and see the horses a second time.
This time being with Sugar Plum was also very important, she gave me the guidance and direction to keep following my heart.. I came out of these experiences with such an appreciation for the horses and also what Mark and Marsha do They are changing and making people's life's better.. This is such a remarkable gift.. Thank you from the bottom of my heart for letting me experience this love. It's an incredible experiences and everyone should try it.. Go there with on open mind and heart.. X X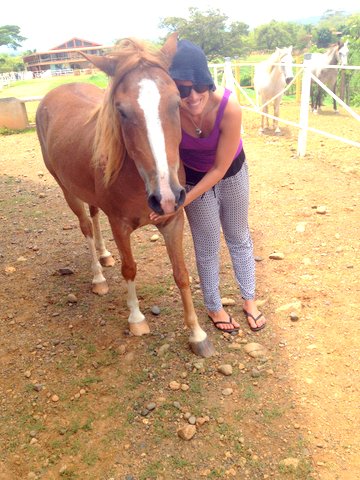 Lauri
Australia
April 2014
"One of the Most Therapeutic experiences I Have Had "

Coming to Costa Rica, little did I know I'd have one of the most unique experiences of a lifetime here.

I wasn't sure what to expect, but knew that I'd never spent a lot of time with horses and was open to the idea of spending quality time with them in order to experience something special.

The horses helped me open my heart up, be vulnerable, and remember to be kind to myself and the world. Simply being with them, looking into their eyes, breathing with the horses, and talking to them, was one of the most therapeutic experiences I have had. I will hold this experience in my heart forever and remember to go back to it when I am feeling burdened, stressed, or overwhelmed in the future. Thank you Marsha and Mark.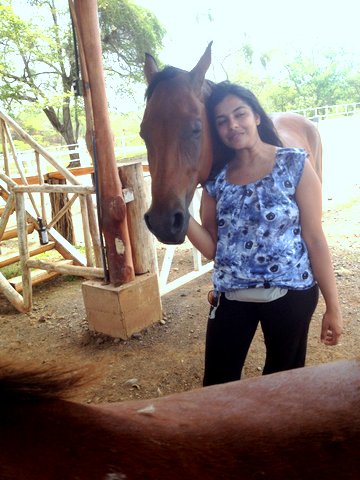 Avni
San Francisco
April 2014
"I want to Thank Captain first of all for his Wisdom and Healing!"

Wanted you both to know how magical it was to spend the day with Gael's group (Sisterhood) on your ranch working with the horses. If you remember I was hurt in a fall the day before we got there and was experiencing a whip lash, concussion, and broken rib from my fall.

While their Captain laid his head on my shoulder and around my neck, as well as pulling my shirt at my center of gravity repeatedly. That night captain came to me in my dream time and told me I need not hold onto the pain in my neck or concussion that I could just relax into it and let it go. The exact message was to lift my back heal, stay in my center of gravity and just relax.

My pain was instantly better when I arose from the dream and has continually improved ever since. The neck brace the doctor felt I needed was no longer needed.

I want to thank Captain first of all for his wisdom and healing! I also want to thank you for providing such a healing space and wonderful experience.

If I ever am able to return to Costa Rica I will for sure return to Horse and Soul Connections.
In gratitude
Janice Devaney
March 2014
"It was the most wonderful revelation of horse and human mind & Spirit connection!!!"

I would like to say that the experience with your group was phenomenal! I was made to feel very much at ease with the horses which is not usually the case for me in the discussion before meeting all of our equine friends. Taking time with each one and finding the connection with Sunshine was amazing to me. I felt as if I were being "drawn" to communicate with Sunshine.

Still cautious I worked my way into her zone. I told her how I felt & & I believe she felt the same way as I was getting this energy between us. It was the most wonderful revelation of horse & human mind& spirit connection!!! I'm getting goose bumps even now as I tell this event in my life. It has changed me in my feelings in my life & I hope it continues to help Sunshine in her life. Nothing is impossible in our world of horses & humans! I hold you, Marsha, & Mark, & Sunshine in a very special place in my heart for awakening emotions for me & my beautiful equine friend, Sunshine.

Sending you both hugs of love & please give hugs of love to Sunshine, too! Miss each & every one of you! And may you continue to help people & horses with all of the goodness you each have inside you.

God Bless.
Bonnie
March 2014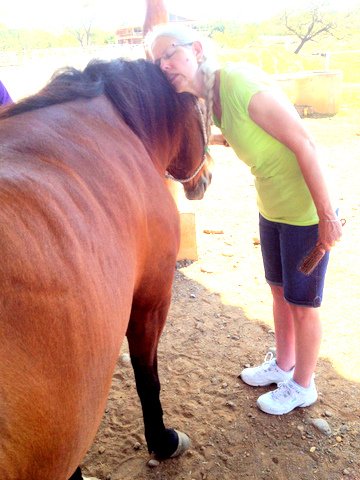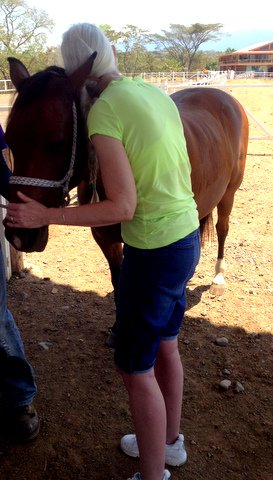 "Being in your Extraordinary Space and Place was an Honor"

Marsha and Mark,
Thank you so much for the work you do with people and horses. My experience with your herd, especially with Sammy, was awesome.
You gave me the time and the space to connect with one of the most magnificent creatures on earth in a gentle heart to heart way. It increased my appreciation of all living creatures past present and future and our ultimate connection to everything in our universe.
Being in your extraordinary space and place was an honor and I share my experience with everyone who cares to listen. My goal is to research equine therapy for my autistic grandson who loves to ride horses and could be connecting on a deeper level. My wish would be to get him to Costa Rica to meet Sammy and his whole herd.
Thanks to you both and to quote a mutual friend, "be well, be happy and be peaceful".

Enlighten Up Retreat participant
Sharon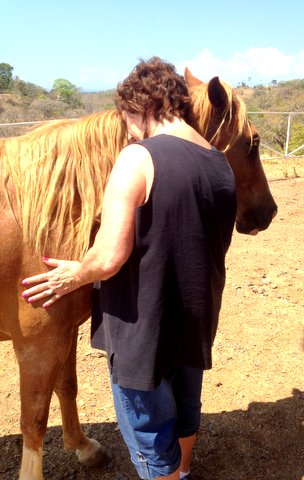 "It was an Experience of a Lifetime!"

I can still see Prince in front of me...strong, grounded, and connected and the loving "dreamy" eyes of Prince, as I was honored to practice a little yoga in your beautiful location. The reflection of your horses showed me the traits I have in myself. It was an experience of a lifetime! You are a beautiful, respectful couple who are truly sharing love and light in the world, especially mine! Namaste with Love and Gratitude~

Nancy May
Enlighten Up Retreat Leader
March 2014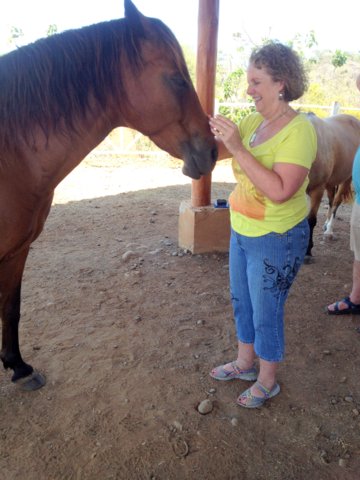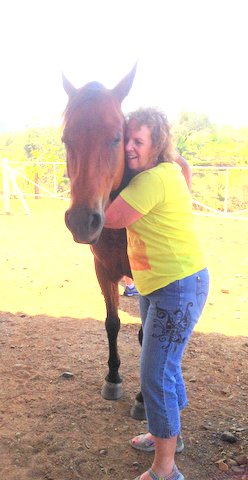 "One of the Highlights of our trip to Costa Rica!"

One of the highlights of our trip to Costa Rica was the day we spent at Horse Connections Costa Rica.
We spent the day with Mark and Marsha, two beautiful and talented souls devoted to sharing the experience of being with their family of horses. It was a very fulfilling and exciting adventure; peaceful and serene too. Hard to express how uplifting the day was. I came away with a new appreciation of my relationship to horses.

Thank you Mark & Marsha!

Lew
Enlighten Up Retreat Leader
March 2014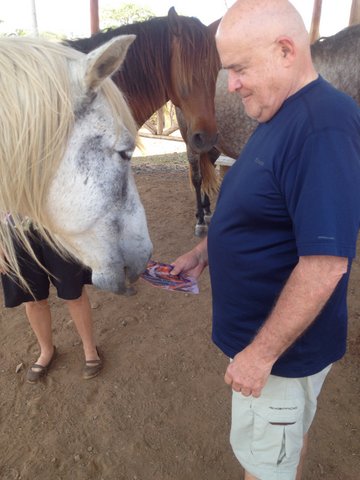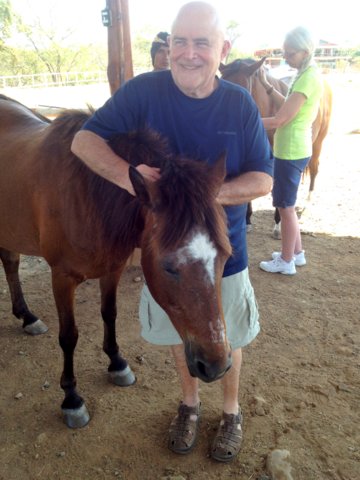 "My Day with Mark & Marsha & the Horses Surpassed all Expectations!"

As a horse-lover, I knew that a day spent with the herd would be good but I had not quite expected the deep level of feeling and the real sense of peace, connection and pure joy it would evoke in me! As someone who lives a hectic city life and is not given to emotional outbursts, this is really saying something. I am very open to new experiences and believe I have a high level of consciousness, but still my day with Marsha, Mark and the horses surpassed all expectations!
The horses meet you as you are, see straight through all the layers of stuff we all put out as protection and offer you a connection that is pure, innocent and true. And judgement free. Unconditional love, acceptance, courage, wisdom, play and strength are all words to describe what I felt from them and, perhaps most importantly, I felt fully understood as Me. How often can we say that?! A truly special feeling!

The day started with a warm welcome from Marsha and Mark and an introduction to the beautiful setting that is their home. They explained the ideas behind healing and connection with horses in a simple yet powerful way and created a supportive and fun atmosphere for us to start to explore interacting with the horses. The horses, when called, came galloping into the arena from the other side of the property just to take part and their enthusiasm was infectious, I knew then that the day would great!
We initially spent some time with part of the herd and I quickly had some strong female love, support and wisdom from a mother and daughter (also a mother herself), they were constant in their strong energy with me.....and yes, the tears flowed almost immediately. Don't let this put you off, it was actually a fear of mine as I am not prone to crying in public but somehow the wall was released and the barriers did not make any sense so I let them go. It is hard to explain well with just words, but the heart connection is so strong your head is released from duty and somehow the feelings are allowed to just be. A rare opportunity in this world these days. The result was a deep and fulfilling comfort that I have not felt in a long time.

We then had The Boys in the pen and the play energy was so strong I just couldn't stop smiling - I was playing with them too and Marsha told me she almost mistook me for a horse! Again there was one horse who had some things to teach me it seems and who shared his strength and friendship willingly and generously - thanks Sparky! He picked me a wonderful picture card in his cheeky, decisive way (there are a whole number of games/exercises you can do with these guys that are just amazing). Each interaction was different and the time literally flew past, I wish it had stopped altogether so we could have carried on!

During and after each interaction, Marsha and Mark were unobtrusively, gently yet powerfully observing and coaching us to an understanding of what was taking place or coming up for us and how it might fit in or show up elsewhere in our lives. As I said, I know I love horses but learning and experiencing such connection at this level with different horses and doing so consciously, was one of the most rewarding and powerful experiences of my life.

Horses are patient, loving and willing teachers for us if we will only take their lessons - nothing is asked of you or of them that is not freely and happily offered and in order to have the experience at whatever level you want or need it, all you have to do is show up.

If any of this resonates with you or if you are curious and wondering whether it is your thing, don't hesitate or allow the doubts to rule you anymore and give yourself this experience! It is a true gift and one you will remember and treasure for a long time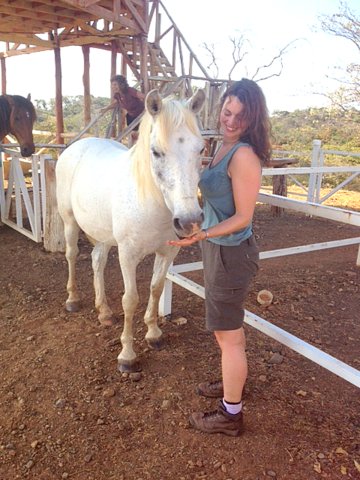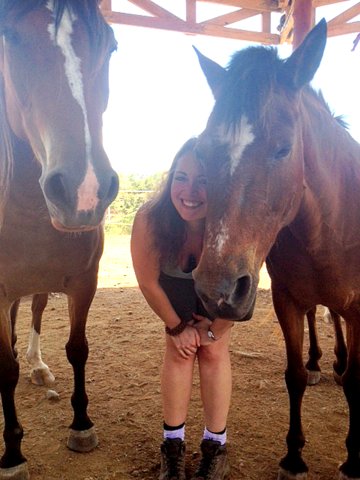 "A Heart opening experience we will never forget"

My mom and I came to Horse & Soul Connection as an unexpected adventure having found Mark & Marsha's brochure in our hotel. Something about it spoke to us both. So we came with few expectations other than deepening our connection with animals we both love and respect. It was a heart opening experience we will never forget. With Marsha & Mark's guidance, we learned to understand 'horse culture' … how to observe and listen to them, how to communicate with them, and how to just be with them. Such a proud and magnificent soul is the horse. And I am a better person for having the chance to be together with them and share their world for just little a while. For my mom (age 78) it brought back many memories from her childhood of growing up with horses. She was equally touched by experiencing this deeper dimension of the relationship between horse and wo/man J. The experience makes us understand how closely linked we humans are with the rest of our 4-legged friends we share this earth with. Thank you Marsha & Mark for the work you are doing bring this awareness back to our planet.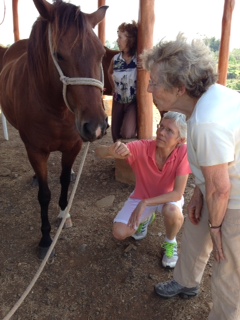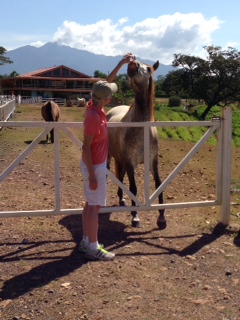 Nina & Margaretha Nobel
January 6, 2014
"I learned I am special and unique in my divine mission"

I learned about love and the universality of divine consciousness from the horses at the Horse and Soul Connection center in Costa Rica. I was blessed to visit this magical place through the recommendation of the owners of Amatierra, a lovely Wellness Center, where I recently hosted a yoga retreat. My little group of yogis will never be the same after spending time under the guidance of horse caretakers, Mark and Marsha Friedman and their powerful and loving horses. How can I put words to an experience that was psychically transmitted and spiritually transformative? Meeting with these free beings taught me about heart consciousness. That is where they live and it is from there they communicate. Their communication is unconditional love. In short, they give healing energy freely and in abundance. I learned the potential of living from heart consciousness, which is to be in communion with all that lives and breathes, to feel one's innate power and dignity as a human being and living soul on this planet and in this universe. I learned I am special and unique and supported in my divine mission which will unfold as I follow this heart space they strengthened in me. They helped me reclaim my power. They took away my pain and shared their own. They showed me images of past lives when I ran with them, wild and free. I will never be the same and I am eternally grateful for the time they gave so generously. Thank you Mark and Marsha for following this vision and doing this important healing work. I hope to see you soon.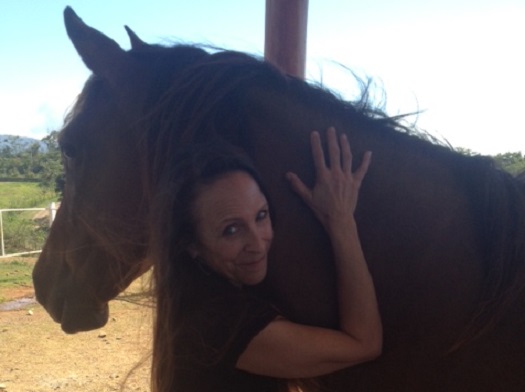 Love and light
Neva Ingalls
Director of Inner Domain
www.nevaingalls.com
The love, magic, and beauty that lives at Finca Sweet Prince is real!!!

Marsha, Mark, and their beautiful horses... Not to mention their visually stunning property and all of the love that has gone into the making of it. I knew from the moment I read about the work that Marsha and Mark do, I wanted to go. In fact, for whatever reason, I felt emotional just reading about the possibility of interacting with these beautiful creatures in a therapeutic way.

My visit to Finca Sweet Prince was something I will remember for the rest of my life. It's been a month since I was there but I can still think back on that special day and easily recall the wonderful experience I had. It was more than wonderful! It was magical, profound, and deeply spiritual. To start with, Mark and Marsha were wonderful hosts and leaders. They made me feel so comfortable, which allowed me to be open and trusting. After spending quality time talking together, they led us to the horses. From this point on I was transported into a sea of love!! It's hard to explain in words and I don't think I could ever give the experience justice by trying to, but I can say this... My experience with one horse in particular will live in my heart and soul forever! The minute I saw this horse, I was drawn to him (at the time I didn't know his name or if he was a male or female so this proves to me that it was simply his energy that I was drawn to). In the beginning, we just stared at each other until Marsha prompted me to make the first move (lesson number one since I usually let others make the first move).

From this point on we were inseparable. It felt like I had reunited with an old soul mate, but even this does not describe the feelings and energy that were exchanged between me and this beautiful horse. Saying goodbye to him was heart-wrenching! But it was also comforting to know that he felt the same way, as he resisted leaving the area and following the other horses through the gate. It's not that I'm glad that he was unhappy to depart ways, but it showed me that the experience was not one-sided and something I conjured up. The emotions I had were real and the experience was completely unexpected. In fact, I remember saying to myself (right before meeting the horses), "whatever happens, happens. I may not have anything special happen and that's ok. Just being here is so wonderful on its own that I don't need anything more." Wow! I received more than I could have ever asked for! Even though it was painful to say goodbye, there was something very special that happened that day and I know that it was important for me to experience it.

Perhaps this is what I needed at this time in my life... The confirmation that this is what life is about... Unconditional love, and that there will always be a mystery to our experience here on earth, regardless of how much searching we do and regardless of how many things we think we have figured out. Deep down I've always known these two things but I get lost in trying to figure it all out and having everything make sense. Especially lately, I have been going through a challenging time and it's been hard to make sense of it all. This in itself causes me turmoil. So what better way to experience this reminder!? THIS makes sense! : ) I've always felt that horses are so incredibly spiritual and earthly at the same time. I think that's why, when I read about the work that Marsha and Mark do, I became emotional and knew that I had to visit them. And I'm SO glad that I did! It was truly a day that I will never forget and one that I am ever so thankful for! The love, magic, and beauty that lives at Finca Sweet Prince is real!!! Thank you Marsha, Mark, and all of your beautiful and amazing four legged creatures! And a special bucketful of love goes out to you know who. : )

With much love,

Sheiva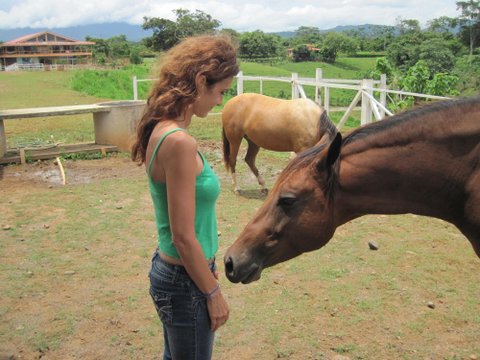 "It was True Honor for me to have been in the Presence of such Beautiful Souls"

I am back home and I was able to look through the pictures, and again reflect on that blessed day. It was a true honor for me to have been in the presence of such beautiful souls - you, Mark, Captain, Sweet Prince and the rest of the family. I will forever remember what Captain gave me. You are all so generous, so loving and so very supportive.

My experience with Marsha, Mark and the rest of the beautiful family is one that is hard to verbalize, but it is an experience that will stay with me for a long time. I immediately connected with Captain, and he was so present for me, and so supportive. I will forever be grateful to Captain for giving me ME back. Oh sweet Sweet Prince, you filled my heart with all the bright colors of the rainbow. And Sugarplum imparting your sage advice. And the rest of the family that were so open and loving. Throughout the process, Mark and Marsha were so nurturing and compassionate in their support and guidance. I am glad to have had the opportunity to experience this. It was transformative. I can't thank you enough for all that you gave me on that day. You two are amazing at what you do, and very special people. I look forward to my return trip.

With much love,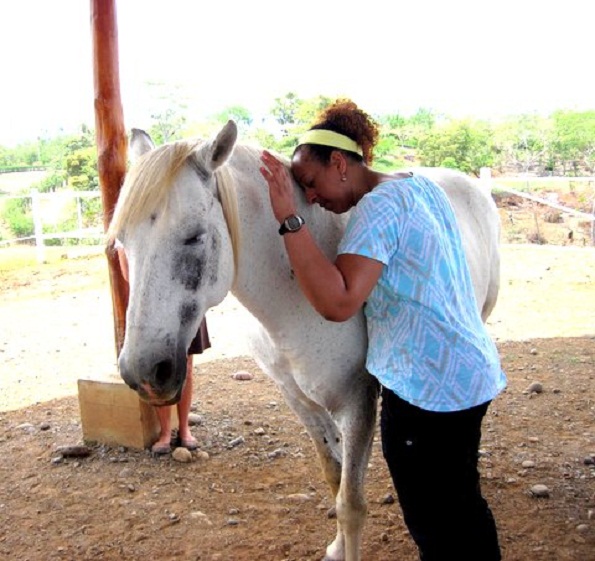 Meron
May 2013
"The whole experience from beginning to end was truly magical, beyond the beyond"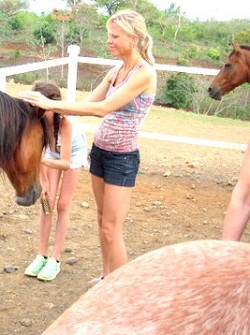 Having led many retreats both in Costa Rica and here in the United States, it is always a precious gift to observe participants step away from their busy lives to experience something fresh, new and life enriching.
This past April, we had the pleasure and honor of taking a group to Ama Tierra in San Pablo, Costa Rica.
Upon our arrival to Ama Tierra, we had an orientation to get acquainted with the beautiful premises as well as the many offerings and excursions that would be available throughout our stay.
That evening we met Marsha and Mark, and were immediately compelled to experience "Horse and Soul Connections.
So, on the sixth day of our trip, we ventured out to the horses to have an experience that would truly transform our lives.
Although there was some familiarity with Equine round/pen therapy, this was much different than anything we had seen or read about.
First, Marsha and Mark oriented to the particulars of the horses and other important details of the group experience. We then had a group discussion and offered our intentions and openly expressed any concerns in interacting with the herd
We went down and first got acquainted with the horses. It was very casual... Sometimes one of us would be drawn to one the horses, other times, a horse would willingly come into our space and connect with our energizing. We each connected with some or all of the first eight therapy horses in our own indigenous way. This was quite moving, as each of us had our unique life experience, healing request and reasons for being there.
The connections were Grace-filled, and so loving. Once the horses went into the round pen, the energy shifted. They were very happy to be there, and seemed to demonstrate that with purpose and intention.
We were told that the horses are functioning at the Alpha brain wave frequency most of the time. When we began facilitating yoga with the group, we, in a sense, entered their world. It was quite palpable to all who were present. The horses started one by one, walking over to us as we were in the middle of our yoga
experience. The energy of the entire group of us sentient beings, both human and horse alike began to sync together in an amazing force field of energy. Oneness was no longer a concept; it was an embodied feeling that moved in, through and around us organically. This was the one of the most authentic and absolutely magnificent yoga classes we had ever facilitated. Yet it felt like something else was facilitating us all.
The whole experience from beginning to end was truly magical, beyond the beyond. It was as if we stepped into another world. This world was one where a state of unification and deep transformation exists, where the possibility of miracles and unconditional Love is a blissful Reality.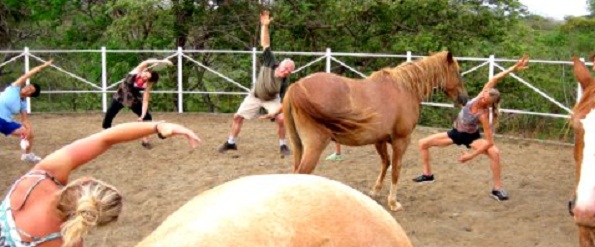 Shata Ben-Avari, E-RYT-500
Yoga Instructor and Retreat Facilitator
"Grateful to have met these powerful healers"

Marsha and Mark are truly gifted in their healing abilities and have such a nurturing, calm demeanor. My experience with them and the horses far exceeded my expectations. I felt my own fear subside as I surrendered to the powerful, loving animals. Marsha and Mark made me feel very safe with the horses. I've been processing a lot of grief since my father passed away a few months ago and the grief horse was the one that was drawn to me most. I cried as I felt the love and support from the horse and since my experience there, I've felt a little lighter in my heart. I'm very grateful to have met these powerful healers and highly recommend the experience to anyone!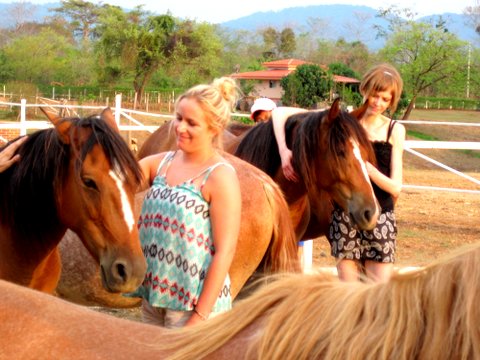 Brittany April 2013
"It was Transformative!"

I wasn't sure what to expect when I signed up for the horse experience with Marsha and Mark, but I knew it would be totally unique. Not only was it unique, it was transformative! Mark and Marsha along with the herd know how to meet you where you are at and teach you not only about how to interact with horses, but also how to be present and have a deeper appreciation for body language. I bonded with Captain and he chose a very special message for me, one which I still think about daily. If you are even remotely curious about Horse and Soul Connections, do not hesitate! You will never regret or forget it!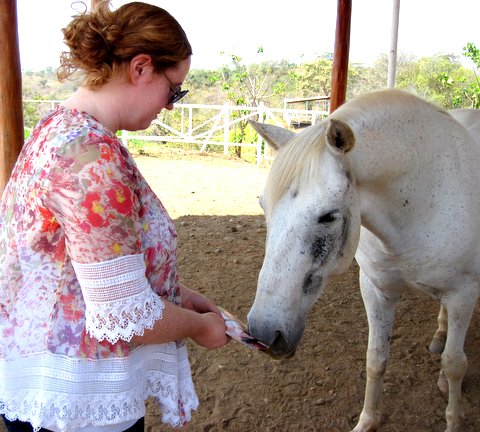 Lauren February 2013
"They give you what you really need!"

My experience with horses has always been nice, but this experience was totally different!!!!! The horses really moved my heart, it's so amazing that they feel your mood and basing on that, they give you what you really need! It was very clear to me when the horses were connected with me. i had a strong connection with Sweet Prince and Romeo, I could feel the energy they gave me. It was totally amazing... i will remember this experience my whole life!!!!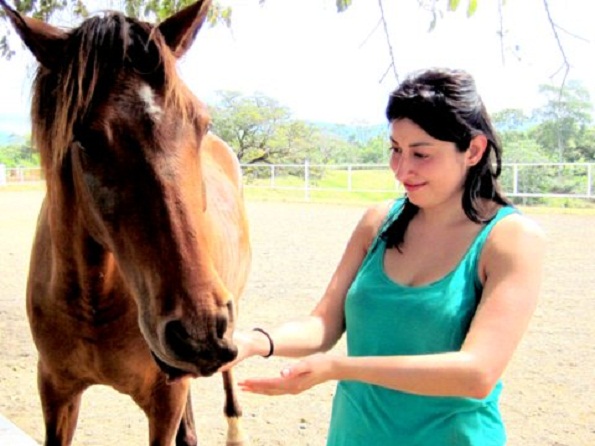 Maria
January 2013
"Truly gifted souls who open up a whole new worlds of possibilities"

When I signed up to visit Mark & Marsha Friedman and their horses at Horse and Soul, I knew it would be a very special experience. Well the experience far exceeded my expectations! The Friedman's and their horses are truly gifted souls who open up a whole new world of possibilities that can expand your life and provide you with truths that you never realized or understood about yourself. Nothing I could say would prepare you for this wonderful journey into your inner being! Don't pass up the opportunity to visit these unique and special beings when you come to Costa Rica!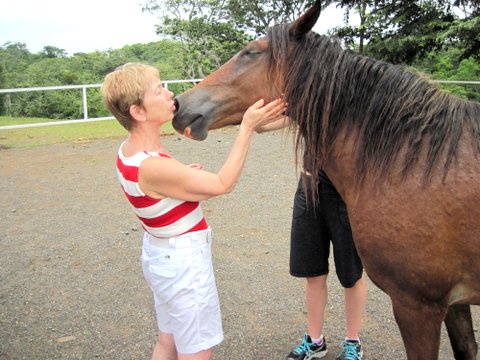 Carol Kelly
" The experience was unique and has been with me everyday"

I really want to tell you that the experience that I had with your Horses was unique and has been with me every day, so powerful it was. I'm a really blessed person to be guided to go to Ama Tierra and get to know you guys and your horses was a real blessing in my life and I'll be back one day and I'm sure the Ladies will be proud of me. I received the pictures and I will always look at them to remind me of the powerful lesson that I received. Thank you so much again and receive my deep appreciation for the work that you two do and my respect and appreciation for the horses that so calmly stood with me until I was able to receive their messages , Many blessing from the bottom of my heart!!!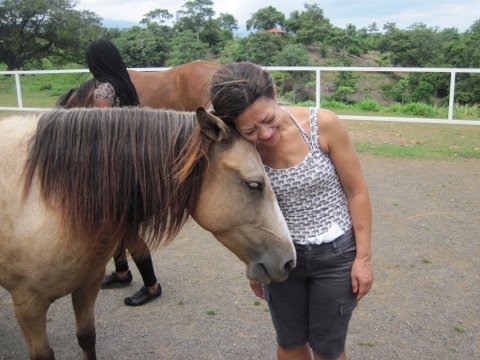 Elide
"Become one with the Horses"

"What ever your expectations are let go of them. Become one with the horses - one with the herd and be present in the here and now. For me, interacting with the horses was truly magical - they let you still your mind and experience. Not experience something else, just experience what ever it is that you may notice at that moment. Something that is very difficult for me to do. Another thing I realized really just today as I am writing this, being within the herd forced me to trust you two (Marsha and Mark) and rely on your experience and knowledge with the horses. And i felt comfortable, I felt more relaxed by allowing you to guide me with the horses; your explanations of their behavior put me at ease and I loved being with them.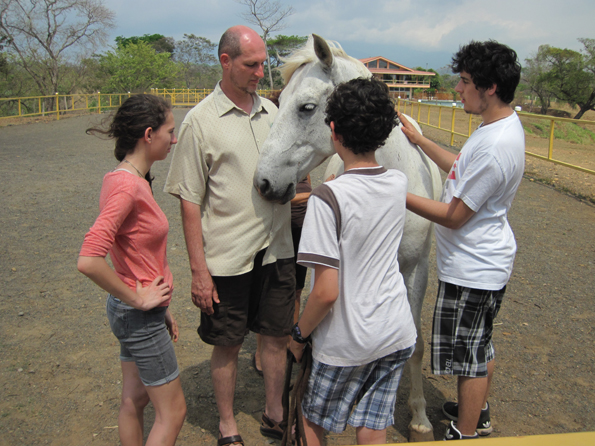 "A trip to your farm is worthy any distance, any effort, any cost"

"THANK YOU from my wide open heart for facilitating our "family meets herd" event. You guys are awesome. I felt you are doing exactly what your role in this world is, nothing less, nothing more. Your life with the horses in Costa Rica flows so perfectly natural. In being so much blessed, you bless us all! I am cherishing the five distinctive lessons the horses tought me in just a few hours. Lessons I would otherwise take a lifetime to learn! My children seemingly absorbed the horses' wisdom too, and we left your beautiful farm and adopted country as a better family and better individuals because of you -- humans and horses. A trip to your farm is worthy any distance, any effort, any cost. I can't possibly imagine going to Costa Rica again and not visiting you for more!!! Our trip was the best vacation in recent history, with only amazing daily excursions, but for me, meeting the horses with your wise guidance was the best of all."
Namaste.
Davis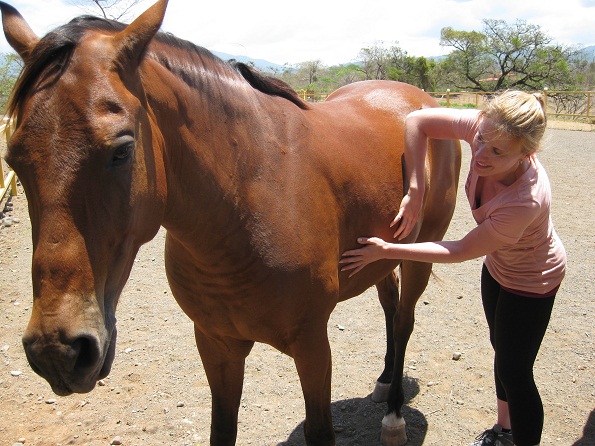 "I felt it in every cell of my body, mind & spirit"

"Words cannot express my day with the horses, dogs & Marsha & Mark. Notice the horses are first because they had & still have a huge impact on me, who I am. I recommend everyone to experience this day. It is a chance to feel Mother Earth under our feet, the beautiful, abundant, vibrant air we breathe all around us & human & horse intermingling earth, breath & spirit. It is a chance to just be, just listen, and just be still. Marsha & Mark are wonderful, compassionate guides in this process. They will make you feel safe, educate you on things you may not have even thought about in your entire existence & bring you love. Of course the whole atmosphere of being greeted by the gracious dogs, the stable & house, & the ocean vistas all make this a worthwhile, unique experience to be taken advantage of. I felt it in every cell of my body, mind & spirit & the whole experience lives in my heart.

Thank you everyone, I will be back."

Kathy Keating-Kay
"One of the most spiritually motivating experience of my life"


Spending the day with Marsha, Mark and the wonderful beings of the horses was one of the most spiritually motivating experiences of my life. Each horse brings to you something different and unique to what they have to offer you. Words can not describe the time spent together, you have to experience it for yourself. Marsha and Mark are authentic, caring and open. I will definitely be back!
In Abundance,
Anna
"Unexpected Connections..."


I went into this experience hoping to feel more comfortable around horses.Marsha and Mark were amazing, as were their horse companions! I was so
thrilled and impressed that they completely changed their careers, and were able to bring therapy into a whole new arena. The experience was
emotional in a very positive way and it gave me insight into how I communicate outside of the corral, it was really interesting! I want to
thank you both and your equine friends in helping to make my trip in Costa Rica so memorable. Oh, and one more thing, my horse riding experiences
after my visit to your ranch have been so much more meaningful!
Much love,
Krystal
"TODAY WAS TRULY A GIFT...."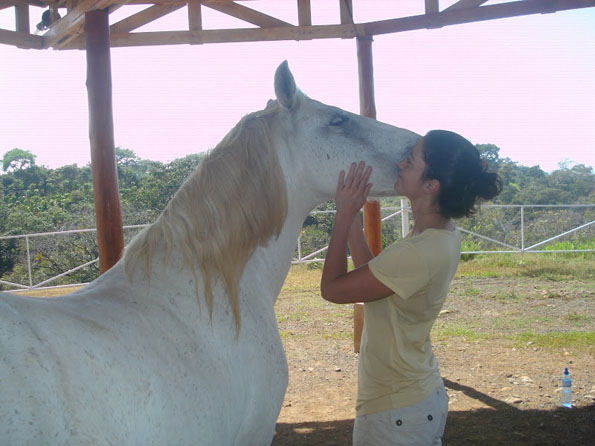 Marsha and Mark,
Thank you both so much for opening up your home, hearts, horses and place of healing to me. Gratitude does not come close to how I feel. I walk away with a stronger connection with myself and a greater understanding of the power within.
Today was truly a gift and I am already missing the horses. I will be writing about all of this for some time, and may share. However, I wanted you to know that I am forever grateful.
Love and light,

Bridgit
"A TRULY HEALING EXPERIENCE"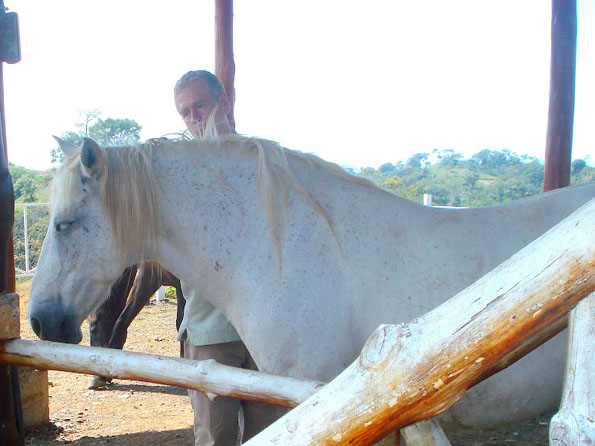 I just wanted to thank you for such a wonderful experience.
Captain Zen and Sugarplum have joined my list of great teachers.
Your expert coaching helped me to take my time with them, to deeper levels and a truly healing experience.

Ken
"MOST AMAZING TEN DAYS OF MY LIFE"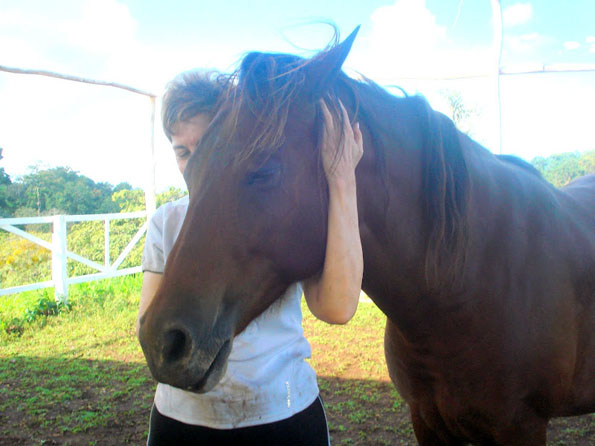 As I write this, ten days after my return from the most amazing ten days of my life, I am filled with the memory of the peace and serenity I experienced being with Mark and Marsha Friedman, and their beautiful animals. I came with no expectation that I would really connect with the horses, having had very little contact with horses before – and never feeling comfortable when I did.
With Marsha's guidance, I approached these sweet creatures cautiously, knowing that trust would need to be built on both sides. As I relaxed, the horses worked their magic, and each one found a place in my heart. I'm told I was accepted as a part of all three herds! It's hard to describe the feeling of joy I had when I cuddled Captain's head in my arms, or stroked Daisy, or watched Moonbeam nursing from mommy Sherrie. Prince, so scary to me at first because of his size, became a special friend. Watching Sparky and Romeo joust – wow! Sweet Brownie, stately Benson, shy Sammy, mommy Sugar Plum protecting Rainbow, strong willed Sunshine and friendly Champion – I'll be back soon to see you all. There is nothing I can do in my "other" life that begins to compare with my time at Finca Sweet Prince, and I can't wait to return to continue my self-discovery with these beautiful animals.

Terry
"I COULD NOT HAVE EXPECTED MORE"


Thank you for your kindness, intellect and love! My day was wonderful and I could not have expected more! It is an interesting dynamic how open I was to the horses and cookie; however, they too were open to receiving me! I feel that is a behavior learned by those teaching you!
If you ever come home and find Cookie, El Capitan and Sunshine missing, Look no further than Fort Lauderdale!
From my heart, thank you!
Theresa
"HEALING AND PEACEFUL"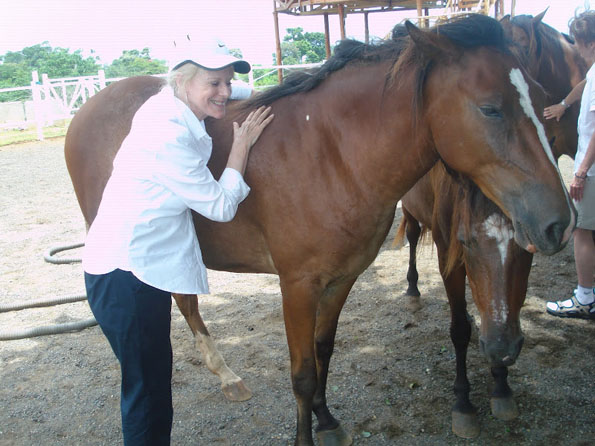 My day spent with Marsha and Mark and their wonderful group of horses was amazing. Being surrounded by and part of the warmth of such beautiful and open animals was healing and peaceful. Everyone should take time out of their lives to just be in touch with warm animal spirit we all carry within us. I will never forget this day and am so grateful to Marsha and Mark for making this experience available."
Sharon
"I feel truly blessed to have had that experience! "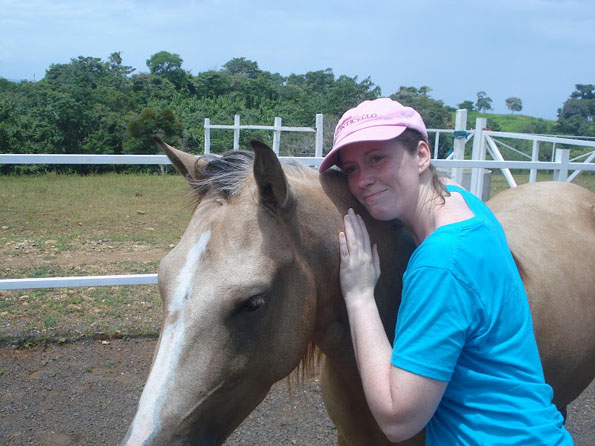 "I just returned from a magical experience in Costa Rica. One of the highlights was meeting Marsha and Mark, and their 14 horses. What an incredible life changing experience! The horses teach you so much about yourself and give you deep healing around things you aren't even aware need healing! They surround you and give you what you need in the moment. They reflect your truth. I have never experienced anything like it! I feel truly blessed to have had that experience! . I feel very connected to all life right now thanks to that experience
Alexandra-Opera Singer
"What a wonderful experience to have the horses come meet me"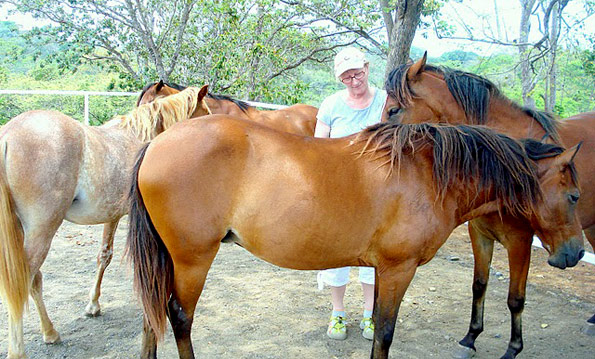 I came to Marsha and Mark's ranch with no pre-conceived notions. They were extremely welcoming and I felt comfortable right away. We had a talk and then did a meditation which was settling and then prepared to meet the horses. What a wonderful experience to have the horses come and meet me. I really enjoyed being with Rainbow and Sugar, learning certain things from them both.
Of course the best was when I met Captain and he followed me. It was an unforgettable experience and one I shall never forget. Horses are wonderful spirit animals and at the lowest points in my life I have always found myself turning to horses.
Thanks Marsha and Mark for a wonderful experience, the things you said to me really will be life changing and of course thanks to your beautiful horses too. (Not forgetting your really sweet jack Russell)
You are doing a lot of good for a lot of people.
Andrea
Canada
" A Year's Worth of Therapy in 3 Hours: "

I came to the Equine Experience from AmaTierra, a wonderful yoga retreat in the Costa Rican mountains. It was one of their "day excursion" offerings that they highly recommended. I had come back to Costa Rica, just three months after I had been there previously, having been called home early when my mother passed away at the beginning of my last vacation. So, I was still grieving and processing this significant loss in my life, on top of an extremely difficult work year, when I returned.

Marsha and Mark's place is absolutely a beautiful place to be in and of itself. They greeted me and another young woman who came to experience the Horse and Soul Connections, with warmth and a sense of intention that we would gain something from the three hours we were to spend there. They prepared us with information and a wonderful meditation that opened up our hearts to receiving and communicating and to just see what insights we would gain from communing with these intuitive beings. There were no expectations, except to just "be" there. As we watched the horses enter the area, I was immediately overwhelmed by their grace, power, and beauty. It was stunning.

I entered the corral and despite an initial apprehension that the horses would just ignore me as I had very little experience with these creatures, I was greeted by Rainbow, who immediately and literally "showered me with love," just nibbling and licking me up and down my arms and all over. She couldn't give me enough love and wanted nothing in return. The tears started flowing as she was comforting me and loving me. Then, I related to her mother, Sugar Plum, who opened up to me and opened me up to her on various levels. I was communing with mother and daughter horses, which was incredible and healing. I found myself just sobbing and releasing as Sherrie let me lean on her strong back, stroking her and taking in a lot of my bottled up emotion (I am not normally much of a crier....).

Then, we were able to commune with three male horses. Romeo, a large and beautiful male (aptly named), approached me and allowed me to stroke him. It felt like obstructions in myself were just melting away, and a strong awakening in my being to the sensual side of my nature that had been buried inside of me due to the "headiness" of life and work, was opening up and reminding me how much I cherished that part of myself. It was unreal.

With Marsha's guidance and counseling along the way, interpreting the horses behavior and giving me the space to express what I was feeling in an open and non-judgemental environment, I was able to gain so much insight into myself, overcome some obstructions and open up and release, that I ended up feeling like I had a year's worth of therapy in those three hours.

I hope to have the opportunity to return there someday, as it is a powerfully, healing experience. I highly recommend it, and I am grateful to Marsha and Mark and all their beautiful horses for this wonderful, life-changing experience.
Mikki from El Cerrito, CA. March 2011
"My heart filled with so much love..."
Visiting Marsha and Mark's ranch and communing with their horses, who are like members of their family was an exceptionally moving experience. When I faced Prince at the paddock fence and felt his huge open heart, my heart filled with so much love I was astonished. And the wisdom and gentleness of El Capitan was very profound.
I am grateful to have found your ranch on the internet. To link heart to heart with such beautiful creatures was an unforgettable experience. I have never felt so connected to an animal before, and I found that I experienced the connection in a way far more profound than I felt possible.
Laura K. Golden, Montreal, Canada
"Healing Horses..."
I was so amazed by the power of "HEALING HORSES" eyes so soft and moist, large hearts that vibrate with loving force, moving deeply within, a feeling so profound, it brings tears to my eyes as they witness my Soul.
Oh how they wait to be chosen....Me.... Pick Me....I want to "help"...I know what you "need"...It's the reason why I am "HERE" Helping Mankind and thru you Mark and Marsha, I truly understand that "horses" are here as messengers of love, healing us and and the Universe.
Truly, Ivette Kenney
"Healing happened..."
Thank you so much for your time, love and energy during our visit. It is an experience that will remain with us for a very long time. We appreciate the work that you all do. Healing Happened!"
Debbie & Shanell from Bermuda
"The experience far exceeded my expectations..."
Dearest Mark & Marsha, I came to Costa Rica to escape the intense stress I was under at work in a high pressured job in the big city, I was truly at a breaking point.
The experience I had at your ranch renewed my spirit, restored my faith in myself & gave me guidance to not take myself so seriously. It also inspired me to make important changes in my life. It was an honor meeting both of you; your warmth, kindness, openness - gentle souls, the sincerity in the way you care for (& see the beauty in) every human being & all animals is immediately evident.
You prepared me with what to expect & helped center me prior to meeting the horses so that I can be fully present with them & you were both there to fully support me the entire time I spent with the horses. The experience far exceeded my expectations, the connections I made with the horses, the important messages I received from them & the insights I got during & even after I left were amazing. I have to say, the whole experience was truly Magical !!!
There are no words to describe how much it meant to me. I am sincerely grateful. It's an experience I will never forget it.
With sincere gratitude, Chaya
"Life changing..."
"We all had a great time, productive and fun. It doesn't get better than that. Many found the lessons of the horses life changing - when the student is ready the teacher appears - and all found it a powerful experience. So thank you all two legged and four legged alike."
Reata and Chris, psychotherapists & Group Leaders from Southern California
"This indescribable place has changed our lives..."
"Our favorite excursion was our trip to the horse ranch to visit Marsha and Mark. This indescribable place has changed our lives. Yes, I said changed our lives. Marsha and Mark have created a TRUE harmony and balance between the environment, horses and humans.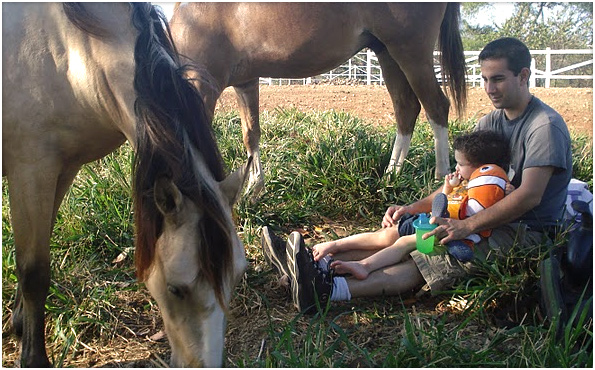 From this balance emanates a powerful energy and peace. This allows you to live in the Now and therefore creates a portal to a vertical dimension in which you access your formless self; your true Being. Sound crazy? It's the truth."
Ben from Michigan
"I cannot describe the experience in words..."
I am still overwhelmed by my visit with the horses. I carry Sherry with me when things get tough. When I think I can take no more her face appears before me encouraging me and then I feel Prince's strength as well.. I cannot even describe the experience in words at your farm. It will stay with me forever. Everyone of your horses are such special beings.
Marquita
"And unforgettable experience for me..."
My experience was amazing. I was with 3 other people, and we started out by participating in a short meditation that Mark and Marsha guided us through in a small tower where we could see all the horses. During the meditation, which started out very peaceful and quiet, at a point we heard the sound of screaming birds, which lasted at least a minute or two and became louder and louder, almost deafening at one point, coincident with our being told to "listen to the sounds around you." After the meditation, not a single bird sound could be heard. We all remarked with shared amazement that we felt deeply that the birds somehow came for us. A woman in our group with whom I shared this later expressed that according to Hindu tradition, those birds represent our ancestors, who must have been there to witness our experience.

As it started out with the horses, the horse Sunshine came over to meet the four of us. She was very docile as she warmly met all of us, and at the very end, she nipped at me as she lunged a bit toward my chest. I did not think much of it but it was noticeable to me. As we were led to meet the rest of the horses, one of my next experiences ended similarly with a horse nipping at my leg. At that point I sensed that perhaps I had too much fear in me and worried that the horses sensed that, and the next couple horses I met I just had a pervading sense of fear and discomfort being around, and felt very vulnerable. I also felt extremely left out, because the other 3 people I was with seemed to be getting along much better with the horses. At this point Marsha came over and led me to 3 other horses that were gated off from the other 8, as she thought that I would get along well with Captain, this amazing white horse.

As I came into this other gate, another horse that was across the fence came over, and Captain loudly shooed the other horse away. I was thinking "great... another really 'tame' horse." When I met Captain, I still had the same sense of unease, and then he aggressively went for my chest. Only he somehow made it obvious to me despite how afraid I was, that he was only trying to break through with me, that he sensed how I was feeling, basically saying, "hey man, relax... I'm just PLAYING with you. See?" Marsha then told me that he really liked me, and I finally did experience a real connection with this beautiful animal, playing with him and resting my forehead against his at some point. Then the two other horses that were there, Romeo and Sparkie, came over and were playful and aggressively affectionate as well. I won't go into all the realizations I had and analogies I drew as a result of this experience, but will say that regardless of whether Sunshine did or did not like me or what the reasons were, that I very likely misinterpreted how the other horses were being with me prior to meeting Captain, due to that initial encounter, and the fact that I had not been around horses before. The way that mirrored certain parts of my life made it an absolutely exceptional, spiritual, transformational, and unforgettable experience for me. Oh, and not to forget (and I'm not making this up), there was a full rainbow that we saw as well to top off the experience!
John from Chicago, 2010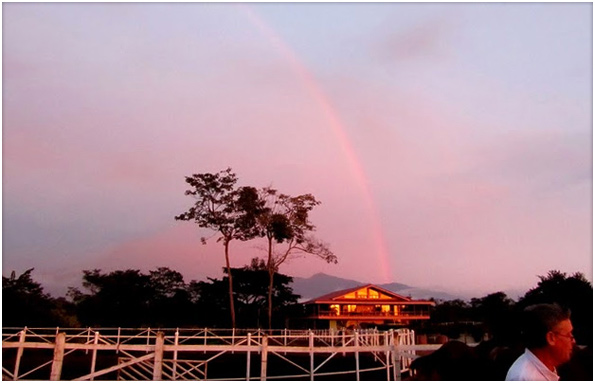 "It can't get better than that..."
When I first decided to go to your horse farm I didn't know what to expect. It helped greatly that you and Mark were so warm and inviting. You set the right tone for approaching the experience in a positive manner. I also appreciate that you provided us with a crash course on communicating with the horses. Up until that moment I had no idea how horses communicated with humans.
Nothing could prepare me for the amazing and magical experience that I and my friends had. The farm has the greatest views over a beautiful valley. One cannot imagine how expansive your farm is until they walk to the backside of the house. Immediately, I saw grand views of rolling hills with the most magnificent horses scattered everywhere.
I think it was perfect that you and Mark take your clients through a meditation before they go down to the corral to interact with the horses. It sets the intention for the experience. The meditation was such a mystical experience for us as a group. The meditation began with soft music and from nowhere came the most amazing animal sounds I have ever heard. One moment the air was still and quiet, the next the air was full of all sorts of animal calls. It was as if Noah arrived with his animals on the Ark just for us to hear them. What a concerto those animals created! I was filled with the most incredible joy and finished the meditation in total awe.
After the meditation, we walked over to the corral to begin our "horse whispering" experience. Clearly, some horses were more excited to meet us than others. The first horses to come to us were very inviting and made it easy for us to begin our interaction with all the horses in the corral. As we got more comfortable, it became evident that each of us were attracted to certain horses. The interaction was definitely up close and personal. The time we spent with the horses was so rewarding.
As if the afternoon wasn't already perfect, God decided to send us yet another sign of his/her greatness. The most beautiful rainbow arose from one end of the land to the other right before sunset. It can't get better than that. I knew that the visit to your farm was heaven sent and one of the most memorable excursions of my trip to Costa Rica.
With my most deepest appreciation,
Maritza Marrero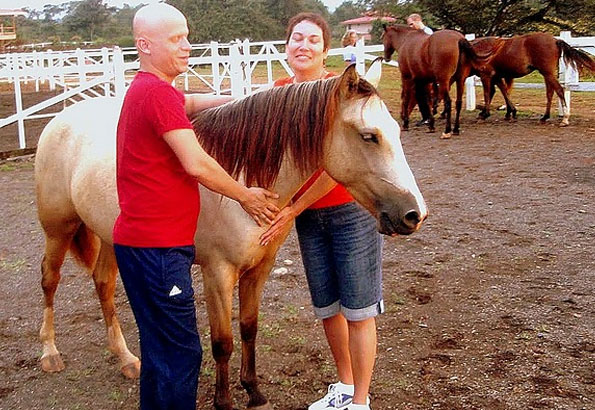 "I am humbled by my experience..."
From the moment I arrived to your home I knew it was going to be a great experience. I felt the warmth in your home right away when I saw the stables inside your home. Your energy and Mark's was so calming and pleasant. Both you and Mark made us feel very comfortable. I really enjoyed the orientation you gave us. We all came to your ranch open and without expectations. I'm so glad you taught us how to communicate with the horses and signs to look out for, it came in very handy.
The moment we left your home and walked toward the stables we were first approached by Daisy she definitely made us feel welcomed, than Benson came immediately after. What a welcoming, he is a great spirit, loved his sense of humor.
The meditation we had before we went out with the horses was surreal , all the animal calls we heard during the meditations was magical. I don't even have words to explain that incredible experience. The birds and I don't know what other animals were around us was so moving I felt like I was in a movie. I will never forget that incredible experience.
As soon as we were done with meditation and we went to meet the horses, my heart was filled with love and gratitude. I felt so comfortable around the horses, now I have never done this before. I asked for their permission before I would approach them and some were more excited than others. I was especially drawn to Benson, Daisy and definitely Rainbow. My heart and my soul were filled with love and gratitude. You asked us to ask them questions if we had any, I couldn't think of any because I was so moved by the overwhelming love, my heart was so filled and touched by the love and attention I received from the horses. Their was a moment that I felt I was dancing with Benson and with Rainbow i was able to breath as you taught us to put your nostrils next to theirs, what an experience. I felt the horses happiness, they were so free, so loved, so respected and each one was loved uniquely by you and Mark. Then when you think it can't get any better the most beautiful rainbow appears before our very own eyes. What a blessing form the Divine. I agree with my friend Maritza the visit to your farm was heaven sent and definitely a memorable experience in my trip to Costa Rica.
Marsha and Mark I am humbled by my experience with you and your horses. My experience with the horses will last me lifetime. Thank you for sharing your most prized possession with us. We are so grateful and forever touched.
In Love, Light and Gratitude, Lourdes S. Garcia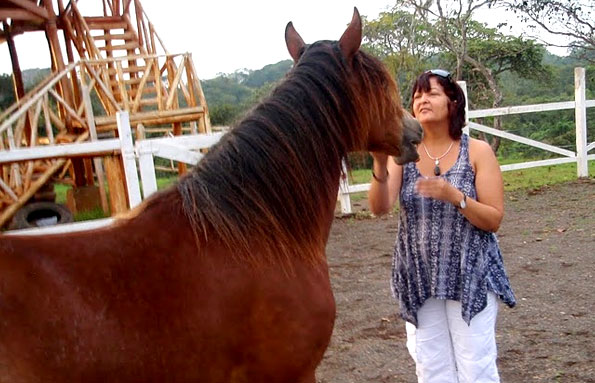 "Our family came away stronger..."
"My family benefited enormously from our Equine Experience. Marsha and Mark are highly skilled and provide a structured, warm and nurturing atmosphere in which to explore. The horses were incredible and highly intuitive. It felt like a magical & almost spiritual experience. Our family came away stronger, more centered and even closer than we were before. The photos were also a gorgeous bonus! It was also a nice way to explore the local Costa Rican countryside and culture. Thanks M & M!"
Cheryl
April 2010