About Us
Marsha and Mark Friedman
Hello, thank you for looking up our website. We would like to share a bit about ourselves. For over 47 years we have lived, loved and worked together. In 2002 we made the fateful choice to move from the United States to beautiful Costa Rica.
Horses have been calling to us all our lives through our hopes, fantasies and dreams. In Costa Rica, we were able to answer that call. We live with our wonderful horse family, spending time playing, working, just being. Through them we have learned to be better human beings, to be at peace with ourselves and all of life. For us as psychotherapists, with over 50 years of experience, it was natural to incorporate our abilities and to team up with our horses, to provide others with unique experiences to learn, grow, and heal.
We both have Masters degrees in Counseling, were licensed professional counselors, with extensive additional training in transactional analysis, gestalt therapy, transpersonal counseling, neuro linguistic programming, family systems, experiential learning, hypnotherapy, and behavioral, cognitive and body centered therapies.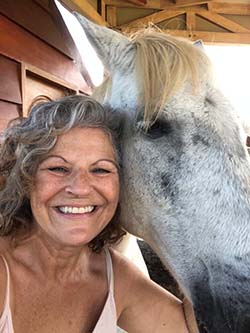 We have recently added the skills and energy of Rita Rempel, who initially came to us as a participant in 2016, but quickly grew to be a great friend and assistant since then. Her connection to the horses and to our family made her a natural fit to become our partner at Horse and Soul Connections. She is a practiced Oracle card reader, has and continues to study under us to learn the different aspects of horses, she is a yogi and meditation guide.
Together we have created and led seminars and groups, on building self-awareness and positive self- esteem, eating disorders, relationship workshops, adult children of dysfunctional families, parenting, inner child work and organized and led couple and family retreats.
We have worked with people of all ages, individuals, couples, families, and groups.
We believe that the most important ingredients in working with our clients, is to have an open, caring heart, trust our intuition, and be 100% present. This is what horses do naturally.
In the field of Equine Facilitated Mental Health,we have been instructed and trained by pioneers in the field, Barbara Rector, Linda Kohanov, Tracy Weber, and Carolyn Resnick.
Everyday we learn from the best teachers of all... the horses.