Horses, Spirit & Play
Our 4 hour experience.
What to expect from this workshop
THE ORIENTATION
You will learn the physical language of the horse, their gestures, their family harmony, nuances and movements and how this articulates into a message to other horses and humans. You will learn how to use their language to communicate and connect with them.
You will have the opportunity to:
set an intention to receive clarity on a personal issue
view the horse as a metaphor for how to engage in life
or simply enter with an open heart, to whatever comes from your interaction with the horse.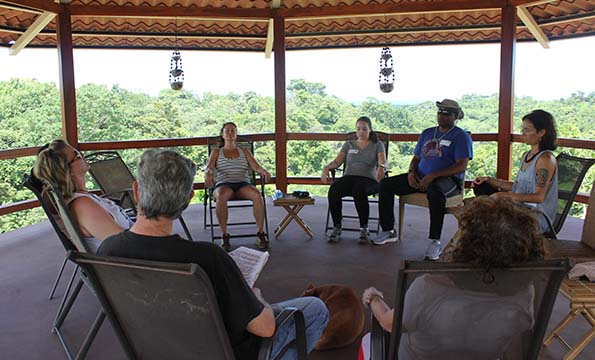 FIRST GLIMPSE
From the upper deck of the mirador, you will observe the herd running up the hill to meet you and have the opportunity to observe their family harmony. Your heart will certainly flutter at the sight! Once they are settled, you will join them and begin meeting and connecting with each horse.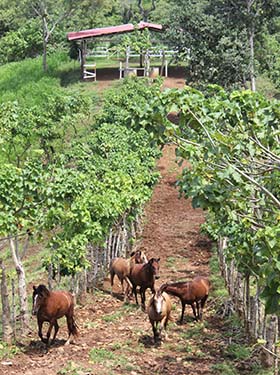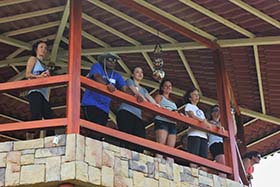 CONNECTING
You will feel yourself tuning into the peaceful energy of the horse upon your first touch. As you meet each horse and begin to exchange breath and touch, you will form a connection that will nourish your heart and inspire you into love, peace and harmony.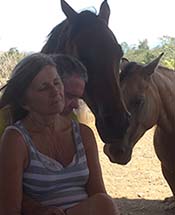 GOING DEEPER: TABLE TOP HEALING
Table top healing creates a space for the horses to step fully into their role as healers for humans where they will invite you to step into mindfulness. This can transform our world into one of compassionate openness - one of deeper awareness, enhanced perspective and richer creativity.
Following the Table top healing, you will have the option of having one of the horses choose a Tarot/Oracle card for you. We will then retreat to the upper deck where you will have the opportunity to reflect on and share your Aha moments, healing moments and fun moments. We will also provide refreshments during this time.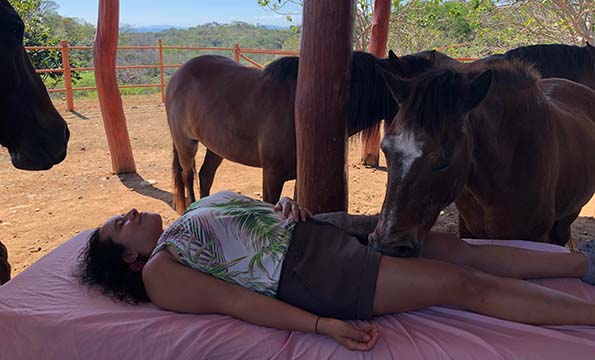 Other activities possible in longer sessions

Spiral walk or Obstacle Course

A sacred space consisting of a single path used for personal, psychological and spiritual transformation while walking alongside your horse partner.

Grooming exercises

Metaphorically brush away what no longer serves your higher self while giving love and comfort to your horse partner.

Meditation / Visualization

Guided meditation while standing next to your horse partner can open your heart and provide a safe space to heal.