Horse and Soul Connections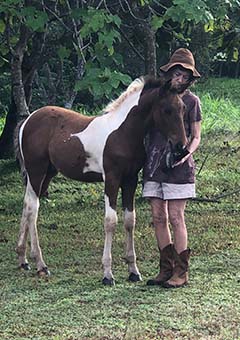 If you are searching for a profound, heart-opening, soul moving, transformative experience, we warmly invite you to JOIN THE HERD! Fifteen gentle hearted, fun-loving horses are waiting for you at Finca Sweet Prince.
In the beautiful Central Pacific area of Costa Rica, surrounded by lush forests, rolling hills, majestic mountains and ocean views, you will feel supported by the healing forces of nature.
Your facilitators, Marsha and Mark Friedman, experienced psychotherapists and horse professionals, along with our new associate Rita Rempel, will escort you into a brand new world, where the horses will welcome you with their warm eyes, brush your hand with their soft, velvety muzzles and brighten your vibration with their big hearts.
From the top of a breathtaking lookout, you will watch the herd enthusiastically gallop up to the mirador and into your hearts. You will join them under the mirador, and begin creating a personal connection to these magnificent beings. As you develop relationships, and become part of the herd, the horses will lead you deeper into your true self and help illuminate your path.
This transcendent experience will live in your memory forever and guide you as you go forward in the journey of your life.