The Basics
All activities with horses are done on the ground. Please wear closed-toed shoes, comfortable clothing, sunscreen and a hat if necessary.
No prior horse experience is necessary. Safety precautions are thoroughly reviewed for each session. In addition, we ensure that participants understand horses, their nature, language and how to stay safe while engaging with them.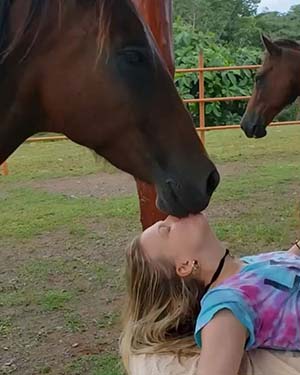 We honor both the human and the horse and our intention is to create a setting that brings the best out in both beings.
You have the choice to choose a program listed below or we can help you create a customized program to best suit your needs and desires. Aspects from any of our programs can be put together to offer the best experience. For those who have specific goals to accomplish, or those who want to learn more about themselves or simply to connect with these beautiful beings.
Programs can vary in length. Come by yourself, with friends or family or a group and enjoy a thoroughly unique experience with the horses.
All the individual, group sessions and workshops include combination's of meditation, centering activities and gentle body work to prepare you for experiential activities with the horses. There is reflective discussion and dialogue among participants after the experiential work, as well as suggestions for integrating the experience into your daily life.